It must be a confession for so many women out there, that leaving their favorite denim alone even for a while is tough. After all they are as comfortable as they can be, and they give you the freedom to just put them on with anything and your are ready to go.
But then, what about having a distinct appeal in the crowd and yet being relaxed. Denim dresses can give you just that! These give you an opportunity to be casual yet well dressed and since we are all so accustomed to denims in our lives, it does not take you far from your comfort zone.
Glamcheck shows you how to wear this trend in three different settings.
Wearing Denim Dress to a Party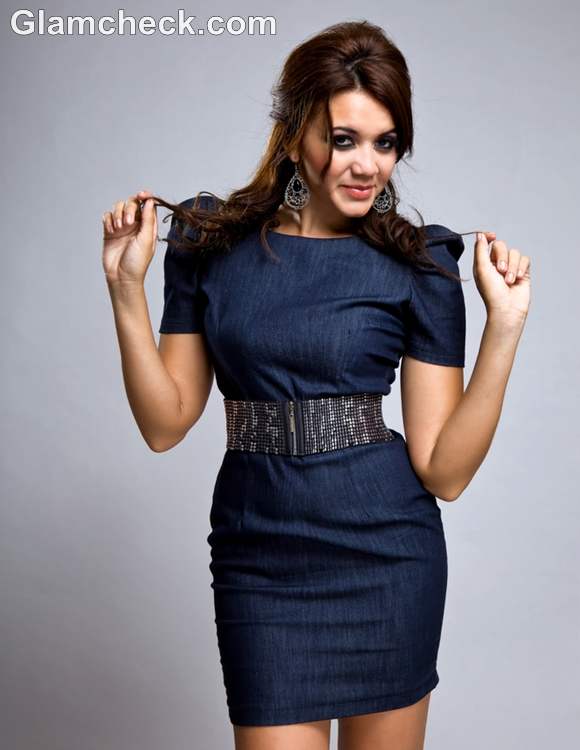 Denim dress for party
Sometimes when going out, the LBD ceases to interest you and you want something sexy yet casual. Choose a fitted denim dress at those times.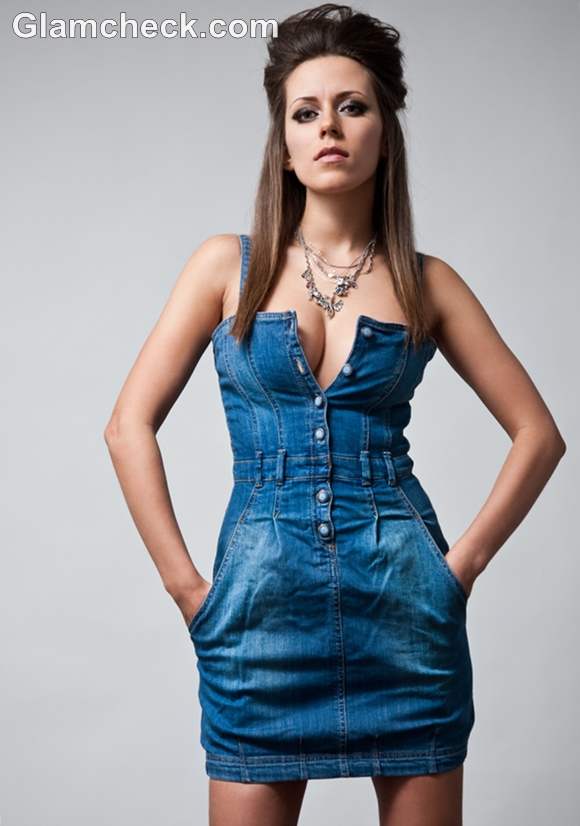 A well fitted button up denim dress, preferably with sleeveless styling will definitely bring out the sexy in you.
Team up a multi-strand silver charm necklace as it complements the blue beautifully.
Since the outfit is casual choose smoky eyes and a neat hairdo. You could straighten your tresses to perfection and pin the crown section of your hair high up creating volume. The contrast of volume and straight tamed hair looks stunning with a denim dress.
Go for your booties or your suede pumps in black. Don't forget to match a small bag with it.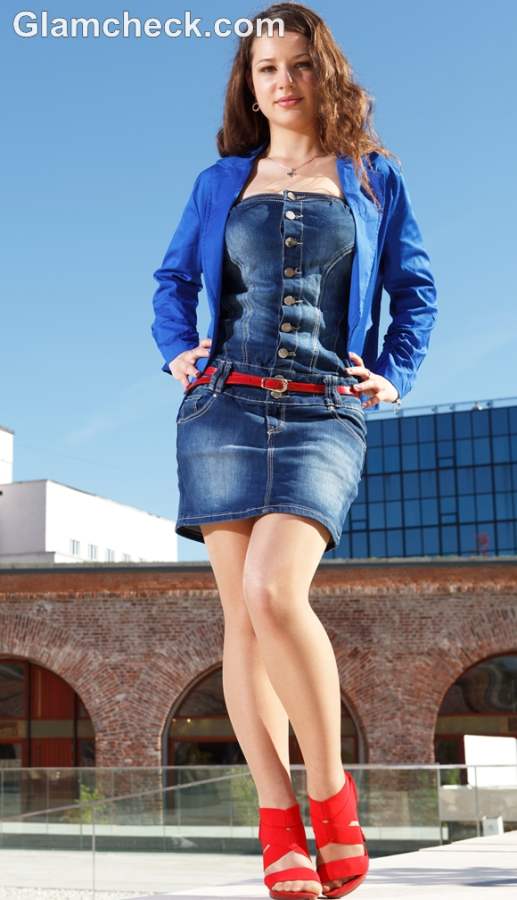 Wearing denim dress to party
To channel a cool chic look, you again accessorize but with a difference.
Wear a button up denim dress and pair with a structured blazer in blue. A boyfriend blazer can work well too.
Choose a thin leather belt in the color red to cinch your waist. Match a strappy pair of sandals with the look.
Also add a silver necklace with a small pendant to your neck, as it would save the look from looking half-done.
To keep the hair casual, scrounge them while wet or lightly crimp them with a flat iron. Finish with an anti-frizz spray.
Wearing Denim to the Beach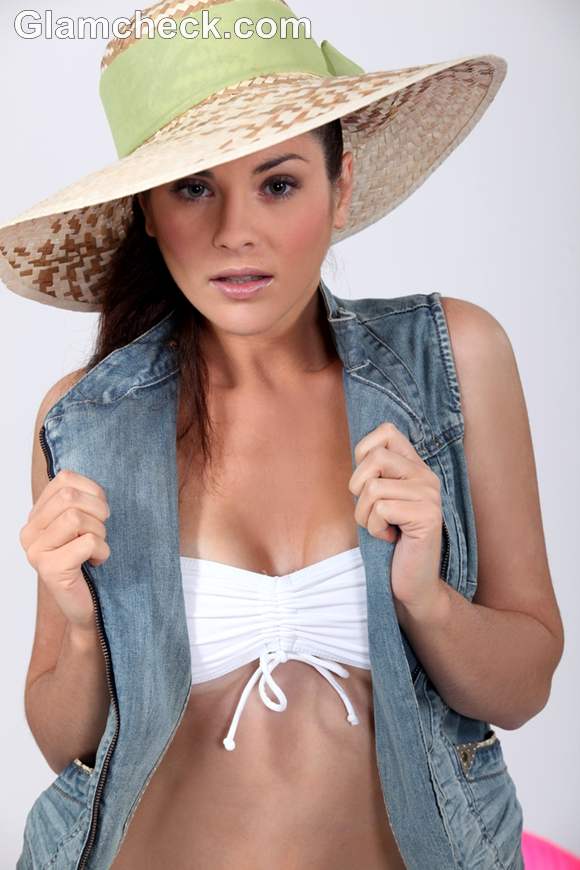 It's no news that the charms of denims extend to your resort wear too. And wearing a denim dress to a beach is not tricky if done thoughtfully.
Take your zip up denim dress and wear it as a beach cover-up.
As washed denim looks rocking with white (can you ever forget the classic white shirt blue denims combination) choose a bandeau ruched bikini in white to team up with your dress.
Since the ensemble is safe and classic colors, show off your bold side with a bright sun hat. If you do not own one wear a raffia sun hat and tie a bright scarf like a bow on top. It's the easiest way to rev up an old hat.
Keep the hair natural and your feet would feel blessed in a pair of bright flip-flops.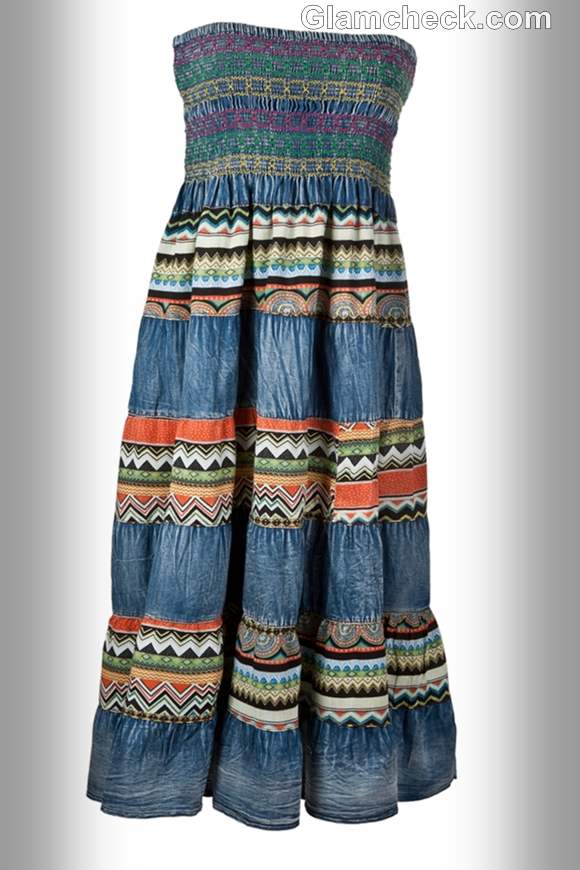 Denim maxi dress 
If you would rather not indulge in a lot of skin baring, a denim maxi is the right option for you.
Choose a strapless smocked maxi dress with an Aztec or geo-tribal print. Printed denim is all the rage right now, and hence your piece will be tight on trend.
Let your tresses stay loose and naturally wavy.
Pair up a sea-shell necklace with this maxi or even a neon one.
Strap up in Greek sandals or relax in flip-flops.
Denim to a Date
A denim dress in the right silhouette can show off a relaxed romantic side of you on a date.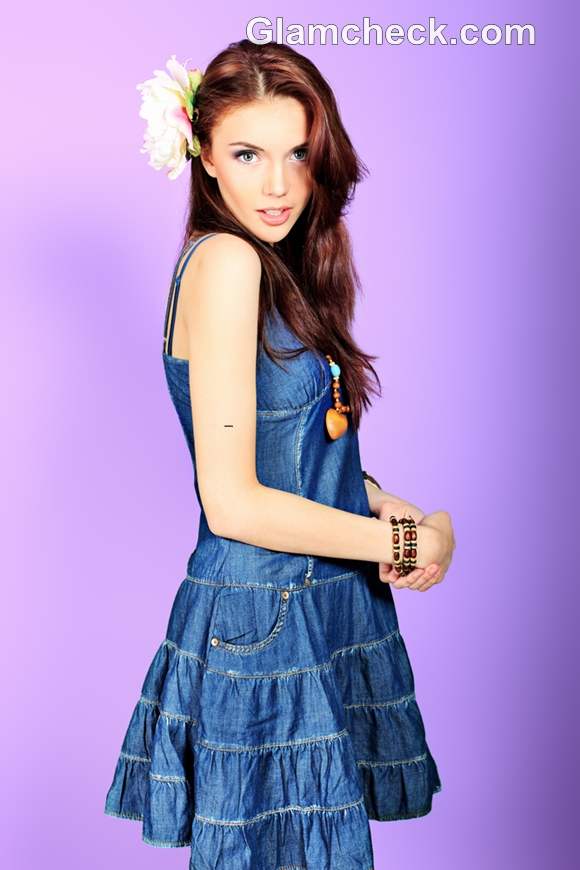 Choose a feminine cut, fitted at the body and with an attached ruffle skirt.
Side part your hair and pin up a real flower in your tresses, on one side of the ear.
Wear beaded necklace and bracelet for a bohemian twist.
denim dress
To appear sexier on a date, choose a denim mini dress.
A fitted mini with a ruffle hem and a halter neckline looks endearing and flattering.
Straighten your hair and wear suede pumps along with.
Wearing Denim Dress Everyday
Denim dresses can be worn on occasions but it does not mean you can't flaunt them when off to shopping, or running some errands.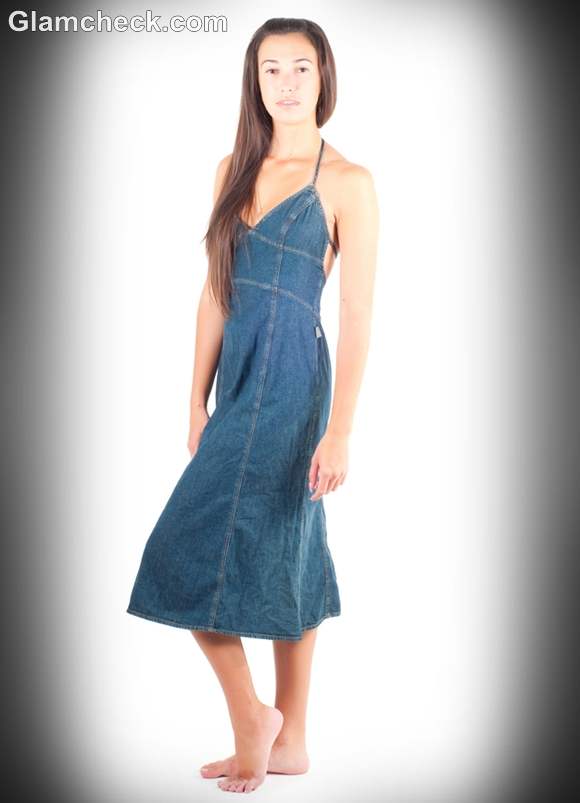 Glamcheck guides you to wear incorporate your denim dress in your everyday wear.
Off to a stroll in the park or walking your dog? Why not do that in style.
Wear a halter denim midi. The more the seams, the better as for a denim garment the wash is most visible near the stitch.
You can choose to sport a watch along and a pair of classic aviators to save you from the sun and look stylish along with.
Don your feet in a pair of flat ballerinas in black or nude color.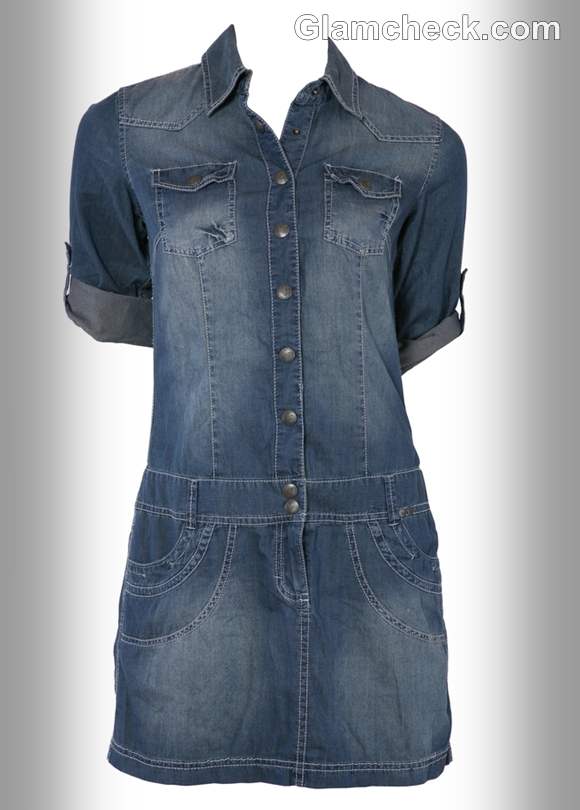 A denim shirt dress with roll up sleeves is ideal for your everyday lifestyle.
Choose a dark wash in case you want to sport it in your office on a Friday.
Friday Dressing is casual and hence you can get away with this one if your footwear border more towards formal and so does your bag.
Choose a thick waist belt in black and that could turn your look into Friday work wear too.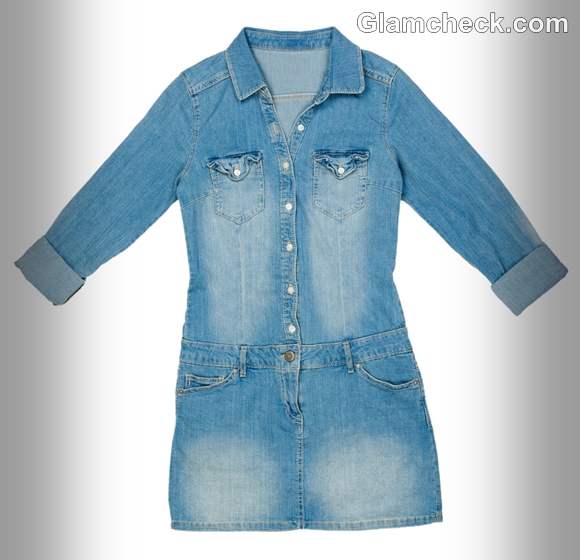 A lighter hue of a denim shirt dress is best kept casual
Sport a studded leather bag in black and roman sandals with messy hair and bold lips.
Shutterstock