As multiple warm layers wrap your body in winters and mostly your neck is hidden under a scarf, the face and hair take center stage. We have talked about winter beauty and makeup in our articles before, but hairstyle ideas that can make you shine on an everyday basis are a must read for everyone too.
Depending on your hair length and the amount of time you are willing to spend on a style, you can choose from the multiple equally stylish options we have talked about below.
For Short Hair
Micro twisted hair
Cute bobs, don't necessarily need styling, but one can have fun with even such short hair.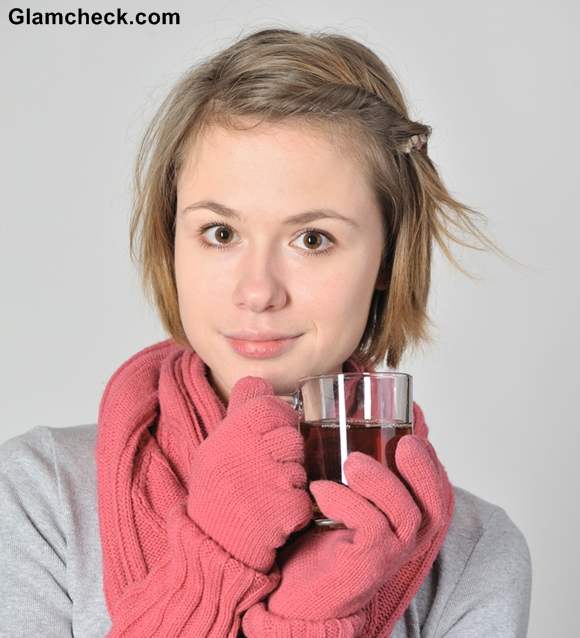 Everyday casual hairstyles during winters
Apply styling mousse or texture enhancer to towel dried hair.
Scrunch sections of your hair in different directions or swish them front and back to achieve a slightly tousled look.
Part the hair on one side and take a small front most section.
Twist tightly and hold it in place either with a cute clip or hide it underneath the hair layers with a pin.
The Styslish pixie
Side bangs in a pixie cut look great and can be enhanced with colored extensions.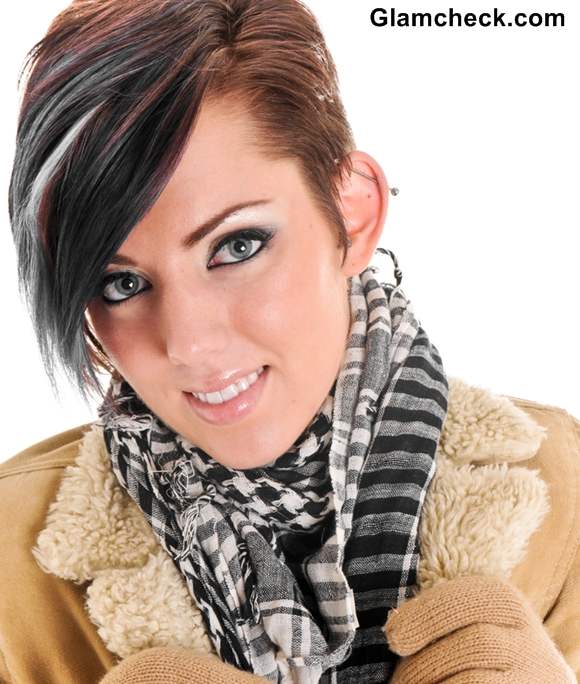 Pixie haircut – winters casual hairstyle
Attach the colored extension to your scalp underneath your first hair layer, to hide it efficiently.
You can use multiple extensions and while selecting a color keep your natural hair color, skin tone and ocassion in mind.
Blow dry your hair, with the extensions attached, so as to achieve a more natural look.
Applying a little styling mousse or gel, run your fingers or a wide tooth comb through your bangs.
Repeat for the hair on the side, while styling them away from the face and using more product than the bangs.
For Medium Length Hair
Straight with a part
The Center part has made a come-back this season and paired with straightened hair, it looks all the more chic.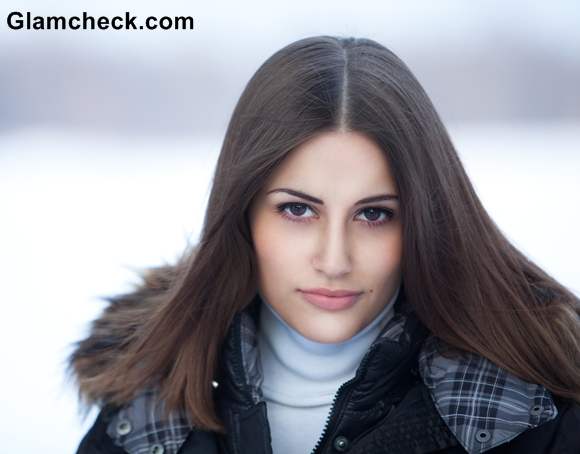 Winters casual everyday hairstyle
Your towel dried hair can achieve this look with a straightener or a dryer.
Part the wet hair first and use a paddle brush to comb through.
Separate into 1" horizontal sections and straigthen each one with a hair straightner.
Or take bigger sections and blow dry your hair down the hair shaft. Always start by holding the dryer nozzle above your head and then moving towards the tips. Use a paddle brush along.
Apply Anti-Frizz smoothening product to achieve the final finish.
Zig-Zag Curls
A highly textured hairstyle which takes time but is worth all the efforts. Works nicely on already wavy or curly hair but takes a little more hardwork for straight hair.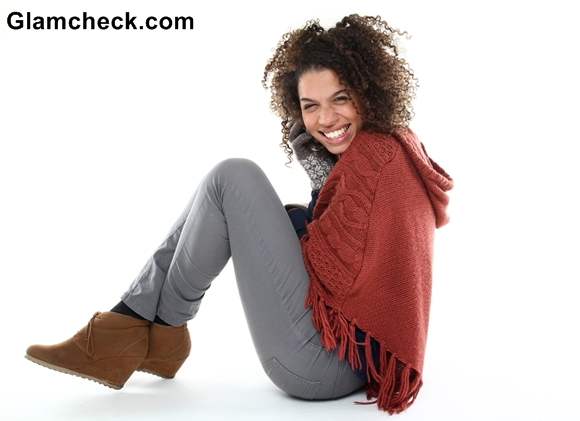 Winter hairstyles curly hair
Apply a texture enhancer to your hair and comb it through.
Take ½" section of your hair and put a hair pin over it with it's U shaped end cupping your hair section from above.
Wrap the hair section inside and out around the hair pin.
Clamp the hair between a hair straightener.
Let it cool for a minute and remove the pin carefully to find a zig zag curl.
Repeat for full hair. Separate the zig zag section further out with your hands at the end.
Finish with an anti-frizz hair spray.
Tousled look – Blow Dry
Isn't it the easiest and most convenient way to have gorgeous looking hair. But just like everything else it needs practice to perfect.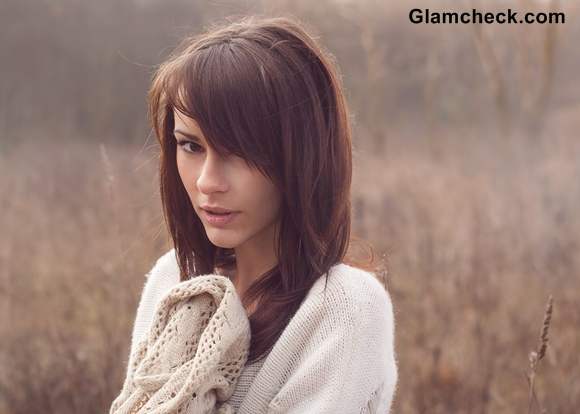 Winter hairstyle for medium length hair
After washing your hair, get ready with a round brush which will give some volume and provide easy bending of hair.
If your hair are very thick and wavy use an appropriate mousse or a little straightening cream.
Section away your hair horizontally. If you have thick hair, stick to 2"-4" sections, for thin hair 3-4 sections of whole tresses usually suffice.
Clip away the rest and dry the first section while starting from the top of the head ( roots) and moving down. Move your brush along the dryer. Repeat for all sections in slightly different directions for the tousled look.
For bangs pay special attention to curling them inwards  in one direction with a round brush for a fuller effect.
Beach waves
Don't just go on the name. The hairstyle is perfect for winters too and can be done without heat.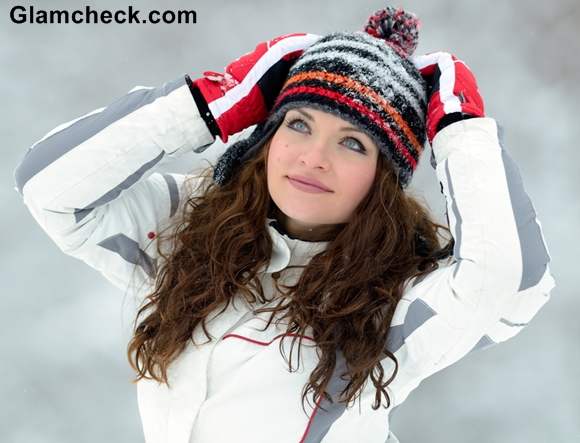 Everyday winter hairstyles beach waves
Either wash your hair at night or spritz them with water to dampen them a little.
Tightly French braid all of them and tie with a rubber band at the end.
To achieve much defined waves, take two rectangular scarves and knot them in the middle to get four equal strands. Further wrap one of those strands on the knot itself to be left with only three strands.
When you braid, add the scarf strand to each of your 3 hair divisions, in order to get a way thicker braid.
Leave overnight, and open the braid when you wake up. Toss and separate the hair.
A hair spray could be used to make them retain shape for longer.
For Long Hair
Curls at home
Freshly clean hair is recommended to keep your curls long lasting.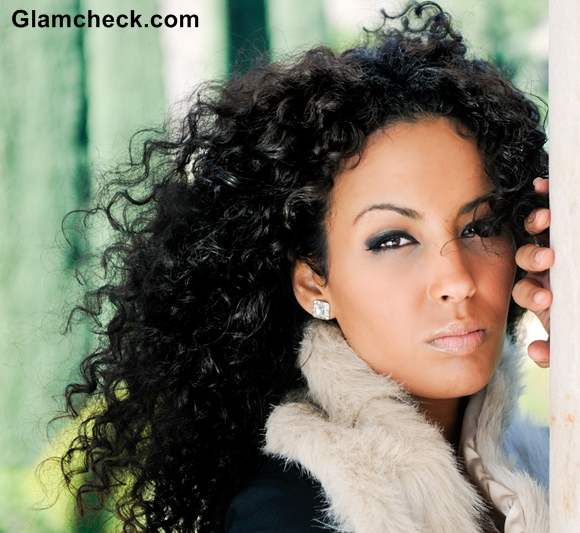 Hairstyles winter – curls
Detangle all your hair with a wide tooth comb and apply a texture enhancer for curls.
Take a vertical section of the hair from near the nape of your neck and clip the rest away.
Further dividing into smaller sections, take a thin ½" section and wrap around a barrel with less than an inch diameter.
Hold and release. Repeat for the rest of the sections moving from nape of the neck to the top.
Reaching at top, maintain a center part and curl the sections on either side.
Finish with an anti-frizz spray.
Front waves
Just a little step further than leaving your long hair open naturally. This is a great combination hairstyle of straight and soft waves – Quick, easy and effective.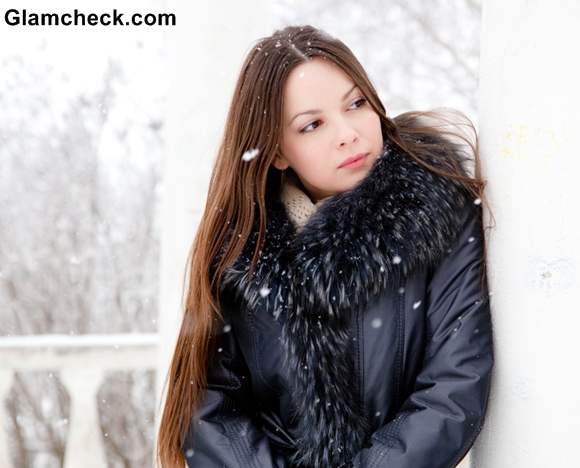 Winters everyday hairstyles
Comb your hair through de-tangle and part the hair in center.
If your hair is straight, the hairstyle takes almost no time. In case not. Straighten your tresses first using a flat iron.
Take the section of your front hair and wrap around a curling 1" iron, from the middle of the strand.
Make sure to wrap it around only once or twice to achieve a slight wave.
Repeat for the other side of the head.
Use a mousse for shine and run the front waves with your fingers once, to complete the look.
Quick Hair Bun
When you are in a hurry and you are looking to put away all your long hair away from your face but in style, this is your go-to hairstyle.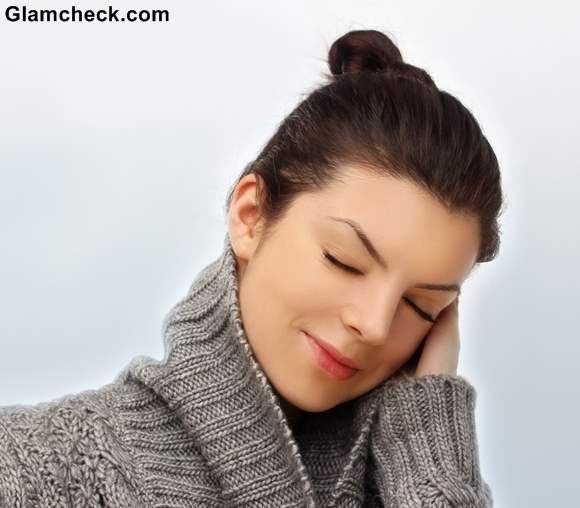 Winter hairstyle quick bun
Optionally, using a 1" barrel curl (bend) hair under quickly.
Flip them over and run a comb through them to form a high pony tail securing with a rubber band.
Tightly twist the ponytail and wrap around the base of the bun.
Secure with hair pins.
Use a hair spray if required and smooth away any fly-aways in the process.
Now, go ahead and give your favorite style a shot. With you being spoilt for choices, you can sport a new one each day too until you find your best of the lot!
Shutterstock