Celebs have access to the best and latest in fashion which is why they look out of this world at red carpet events and any other time they are in the eye of the press. However, many of them have good enough style sense regardless of their designer threads which is what makes them style icons and fashion gurus in our books. After all, it's easy to look like a star when you have a posse of makeup artists and fashion consultants creating your look. However, putting your own look together using your own god-given skills – that's rare and something we appreciate when we spot it.
Take for example Princess Letizia of Asturias as she departed from the Madrid Clinic in Spain after visiting with King Juan Carlos post his operation on March 3. She wore a pair of bootcut dark blue jeans with a simple grey tee, rounding off her ensemble with tan boots and a tan leather jacket. A designer tan handbag was her only other accessory.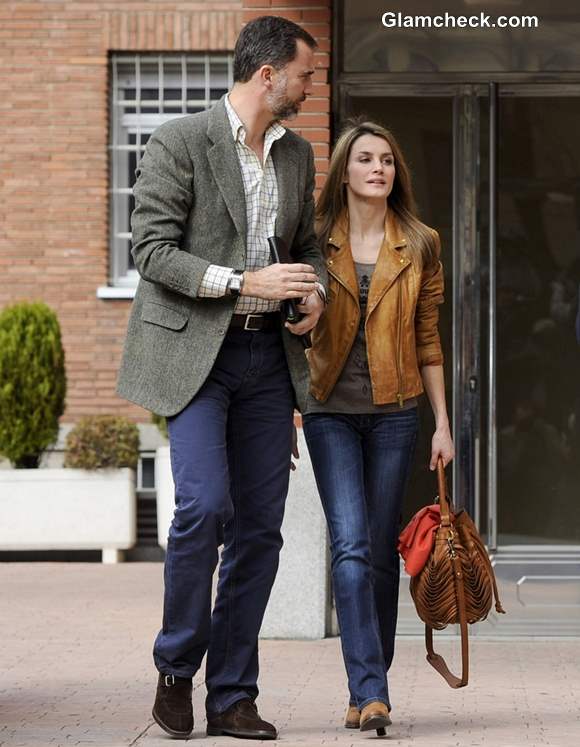 Street Style – Princess Letizia Casual Chic
The Spanish royal left her auburn hair loose and wavy, opting for a very natural look with her makeup.
The ensemble is an incredibly simple one to throw together, but its simplicity does not make it any less inspiring. We often tend to think that we need to buy this or that, usually a very expensive this or that, to dress well and look good without realising that a few well-chosen pieces are all it takes to put together a classy ensemble over and over without looking outdated or appearing repetitive with our outfits.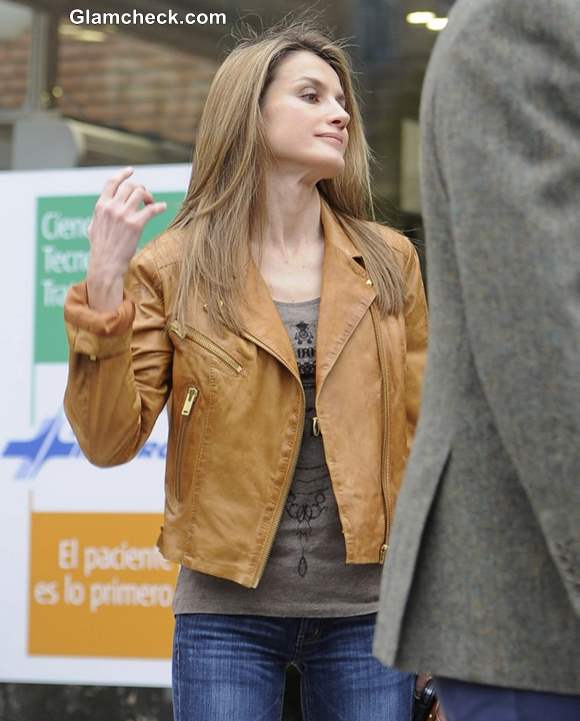 Street Style – Princess Letizia
The Princess appreciates the idea of simplicity and is obviously an advocate of understated elegance too. So taking a page out of this particular look will not only give you an outfit idea for the next time you're heading to the mall but will also set you up, wardrobe wise, for some nifty outfits in the future too.
Get the Look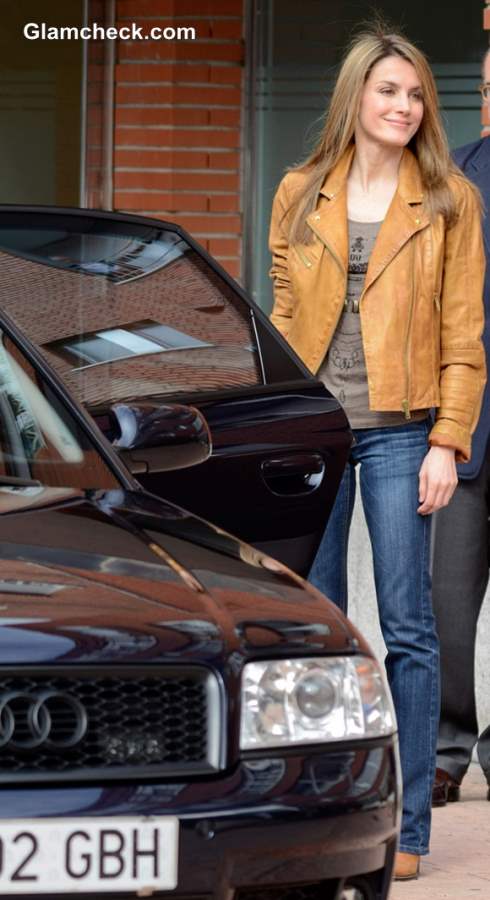 Street Style -Princess Letizia Casual Chic Look
The blue bootcut jeans are a given in any modern-day wardrobe. With a pair that suits your body type, you always have half an outfit ready. Team your blue jeans with a grey or white tee, the latter being a staple that you can easily lay your hands on.
Since the accessories make up a large part of this look, take your time in going through what you own to select the boots, bag and jacket that go best together, preferably in the same color. If possible, invest in tan boots and a jacket and bag. The shade is timeless and you'll get tired of wearing it before it goes out of style. Meanwhile, you can try another colored leather jacket like red or brown. Avoid black as it will make you look too rocker chic.
Don't forget to wear your hair and makeup in the style that is most natural to you. You don't have to go for the almost-straight waves that the Princess has going if you do not have the time. Your curls or thicker waves will do just fine.
You can give the look your own personal touch by adding a ring or understated chain that you are very fond of, just so that you put your own stamp on the ensemble instead of letting it wear you.
P R Photos