This season fall in love with the exotic tropics and show-off that love on your skin too. Think bright, think tropical seas, think the peculiar flora in the most vivid colors. All this inspiration would serve just right to introduce you to a palette of teal, shocking pink, yellow ochre, tangerine and bright green. So when you travel pack your favorite tropical look in that vanity box, and stun the beautiful surroundings with a beautiful you.
Look 1: Peacock eyes, petal lips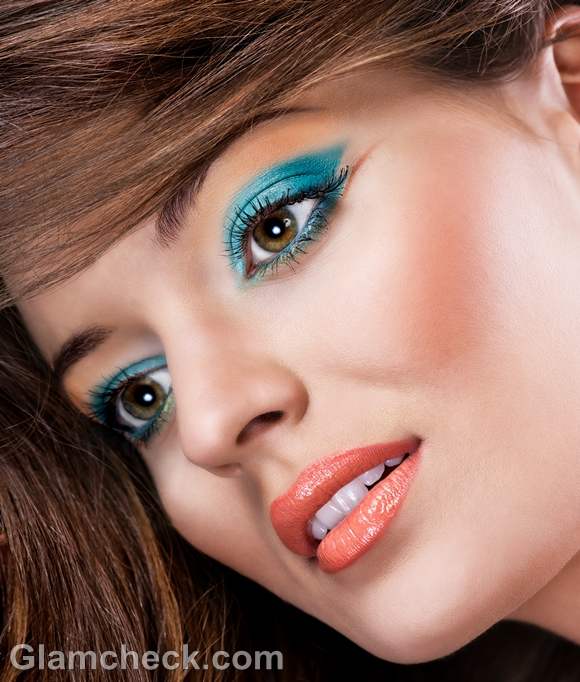 The color blocking trend that has been rocking the fashion world has made its way to the make-up world too. If your skin tone is somewhere in the midst of dusky and fair, then these colors are perfect for you.
Choose the right shade of tangerine for your lips. Opt for a glossy lip color instead of matt and moisturize well before applying it.
Apply a teal eye shadow to your eye lids. Apply a more natural color on the brow bone just to highlight the area right. Be sure to apply the same teal on the lower rim of your eye too. Next apply generous black mascara.
Finish off with a light blush on your cheekbones, for the right delicacy.
Look 2: The Island goddess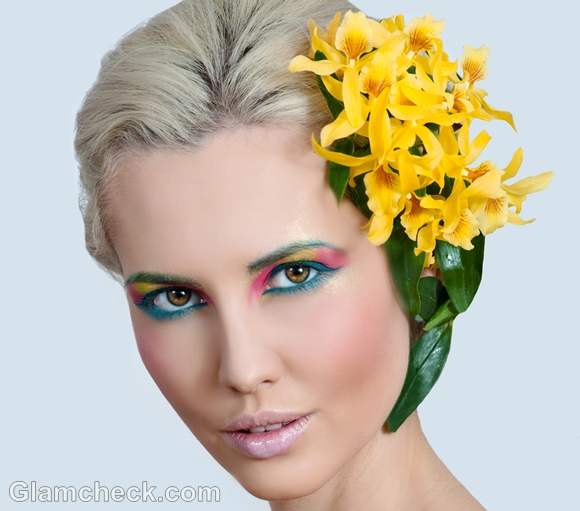 As the name suggests, the look is going to more divine and distinct than your fellow mortal travelers! And as a goddess, nothing is OTT and nothing can make you look anything less than gorgeous.
Do the easiest part first, a light natural pink lip color with a medium shine.
Next the eyes, which should remind of the feathers of an exotic bird. Think deep pink, teal and a sunny ochre. Apply the teal on the lower lash line all the way to the corners as well as the eye lids – leaving brow bone completely. Start applying deep pink from the inner corner of the eye extending upto the brow bone, up till a little before the mid of the eyebrow.
Start merging the ochre from that point onwards continuing almost to ¾ of the brow. Complete with the deep pink again. Apply light mascara on the lashes.
Be sure to blush your cheeks, appropriately to your skin tone. Don't go overboard.
Last but the most important tie your hair in a bun, and adorn it with a bunch of flowers and leaves on one side. Choose small sized flowers locally available at a holiday spot as opposed to bigger ones. The idea is a whole bunch and not a single piece.
Look 3: Pretty as a rose
For all the girls out there who religiously believe in power of pink, this look is perfect for you.
Choose a bubblegum pink for your lips, or any other flattering deep pink or shocking pink. Make sure it is glossy and applied evenly.
Add contrast to your eyes to make them stand out as well. Use a bright green on the eye lids and kohl on your lower lash line. Define it further with a slightly lighter green and using it only sparingly.
Define the brow bone with two shades of pink, darker at the corners lighter and softer in the middle. A little white at the very top, near your brow would be great too.
Match the color of your blush, and apply to your cheeks – upwards slightly meeting the extension of the eye shadow from the brow bone.
Choose a cute rose earring and sport a natural tamed mane.
Look 4: The tropical Flamingo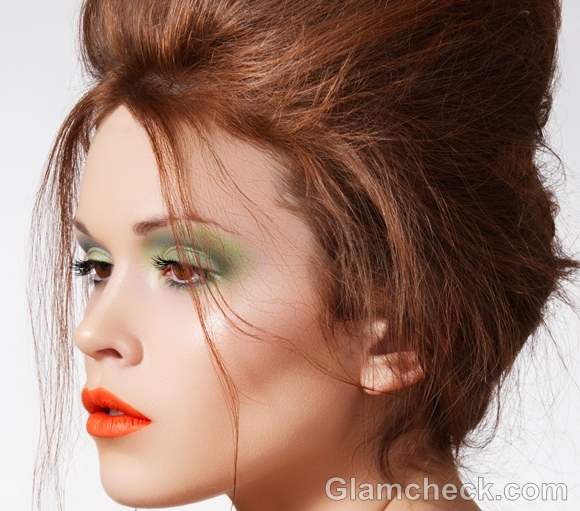 Here's a look for a wild flamingo character who's not afraid to show her true colors shining through!
Think of bright orange pop colored lips. If you have bow shaped lips then flaunt them by using this color. If you are not happy with the shape, outline it first with the same color and then apply.
Green eyes are the perfect compliment to that pout. But use at least three shades of green, to avoid the eye color looking flat. Define the lower lash line with kohl. Then choose the medium green to highlight a little. Use the lightest green first over your eye lids and bow bones. Define the corners of your eyes with the darkest green. So the same with the start of the brow bone. Lastly merge around the stark lines of light and dark green with a medium green. This would make the transition look easy.
Finish with a messy bouffant updo. The key is volume here, and the hair should not be too flat or silky smooth.
Look 5: Travelling diva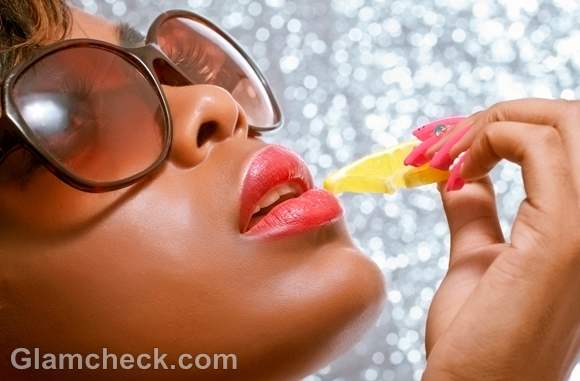 How about using pop colors but equally giving importance to accessories too!
Choose a tangerine color for your lips and apply it smoothly. Matt or glossy both work wonders with this look.
Define your eyes with kohl and mascara, but do not invest time in coloring your lids. Cover up with a pair of oversized sunglasses instead. Choose the shape wisely as this would be focal point in your look. Square faces look awesome with round glasses and oval with the way farer shape. Time and money invested in a flattering pair of sunshades always pays off.
Get your manicure and choose a hot pink nail color. Do not match it with your lips, just keep to same family if you must.
Look 6: The natural beauty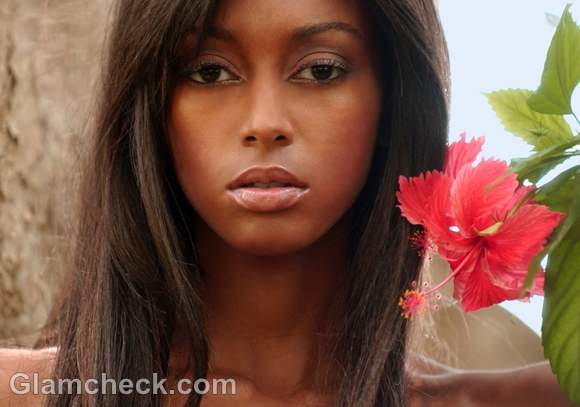 If applying too much make up is not your thing and you would rather enjoy a breathing skin, opt for this final look. It's quick, simple and it works.
A nude lip color with little gloss, works well for this barely-there look.
With very light hands define eyes with kohl on the lower lash line, but do not put too much quantity.
Apply a nude eye color on the upper lash line. Define the eyes with mascara.
Define the inner corner of the eye with the same nude color. 
Image: Shutterstock.com