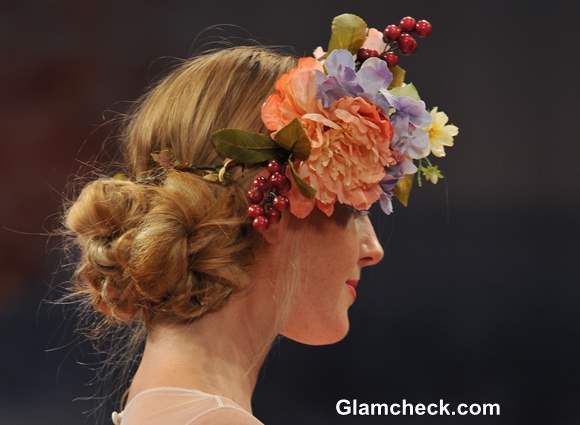 A wedding dress probably is one of the most important and invested garments of your lifetime. Irrespective of your personal style or taste no one ever believes in compromising their bridal outfits. A major reason why the bridal wear industry is a perennial one with scores of designers translating their creative energies to unbelievable outfits for fashion loving or non-loving girls who grow up dreaming of these.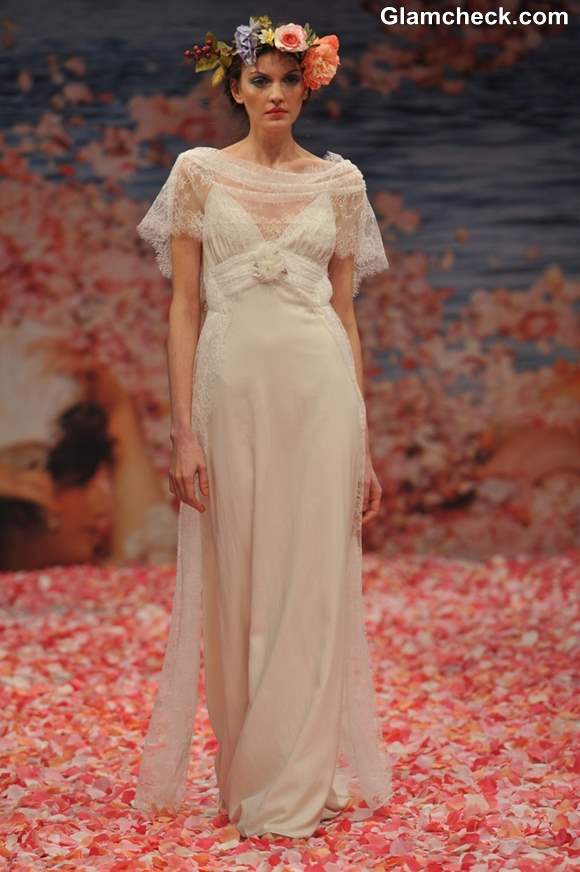 2013 Claire Pettibone Bridal Collection
Bridal wear often has certain traditions attached to them which channelizes a general direction however, these traditions are no excuse for sporting something plain, something seen. A special day deserves something special and more importantly something that reflects your inner goddess and is unique! It isn't just a white dress…every bridal dress is an output of sheer creativity with fine craftsmanship!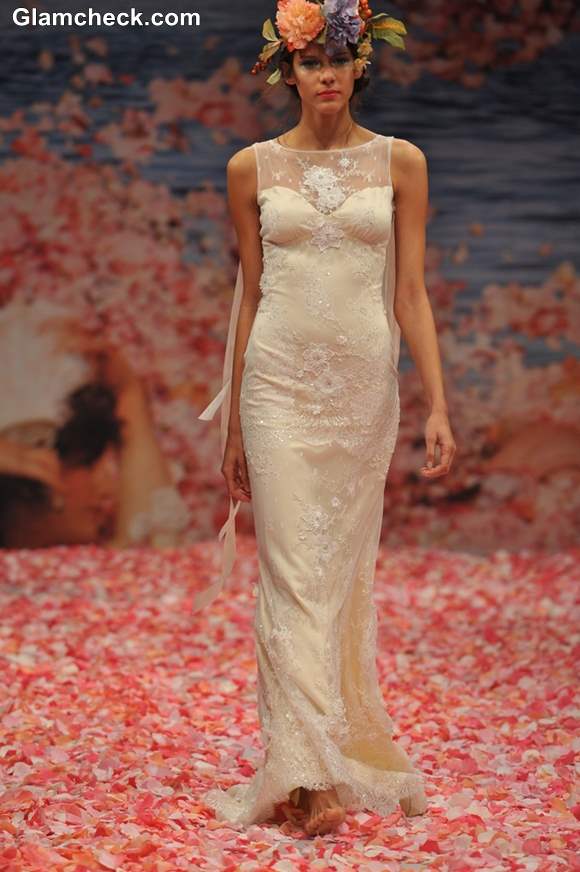 Bridal Collection 2013 Claire Pettibone
Claire Pettibone is one such designer who has an immense contribution to this genre of clothing. Her free spirited approach to bridal wear is what makes her work unique and a perfect pick for those who relate to the character of her aesthetics.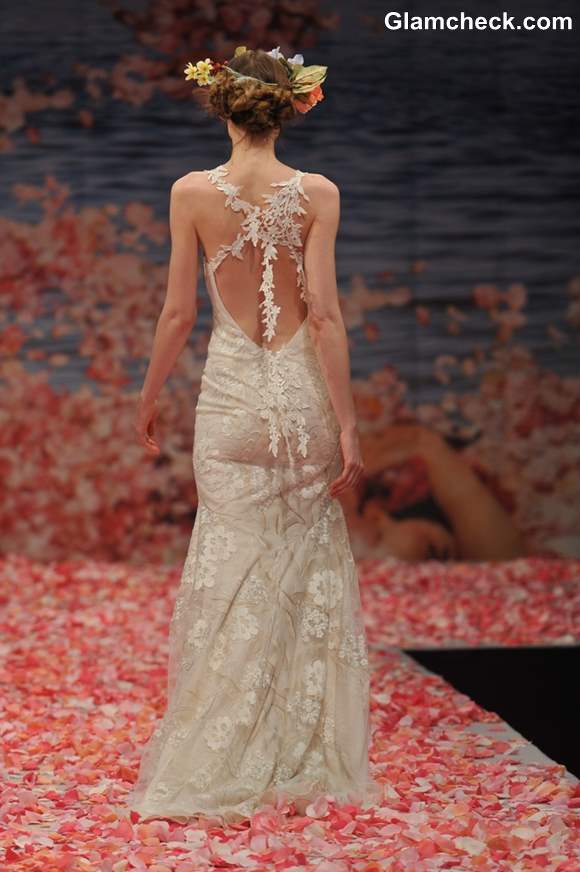 2013 Claire Pettibone Bridal
Bridal Collection Fall 2013: The Mood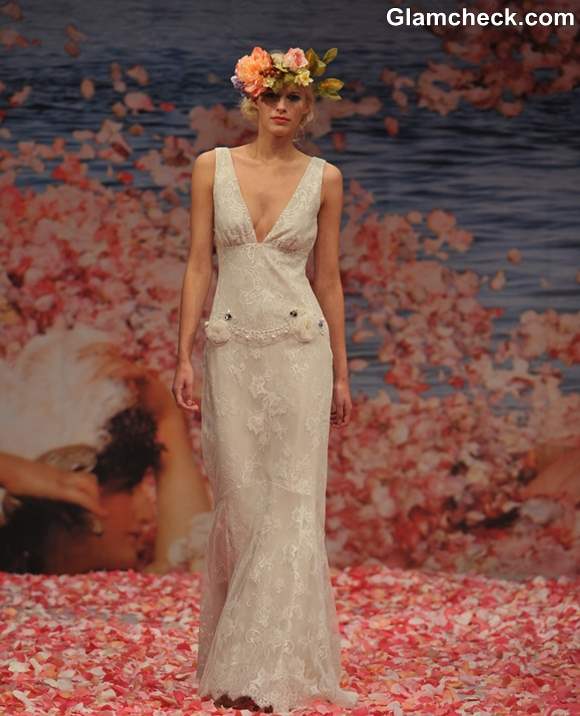 Bridal Trends fall 2013 Claire Pettibone
For designers clothes aren't the sole mode of expression and extend to all creative aspects they can touch. A good reason why the mood of the ramp was coherent with Claire Pettibone's clothes.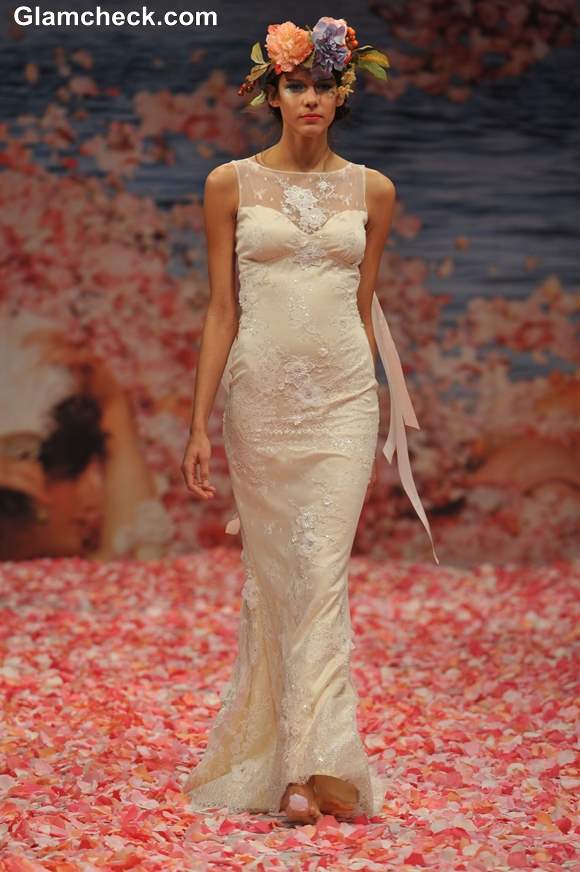 Claire Pettibone Bridal Collection 2013
A rose embedded ramp led to boho-inspired brides in elegant lace dresses with natural colours and forms added colour and broke the monotony of white. The collection broke a few rules of time adding some freshness literally and likewise resulting in something arty & whimsical.
The Collection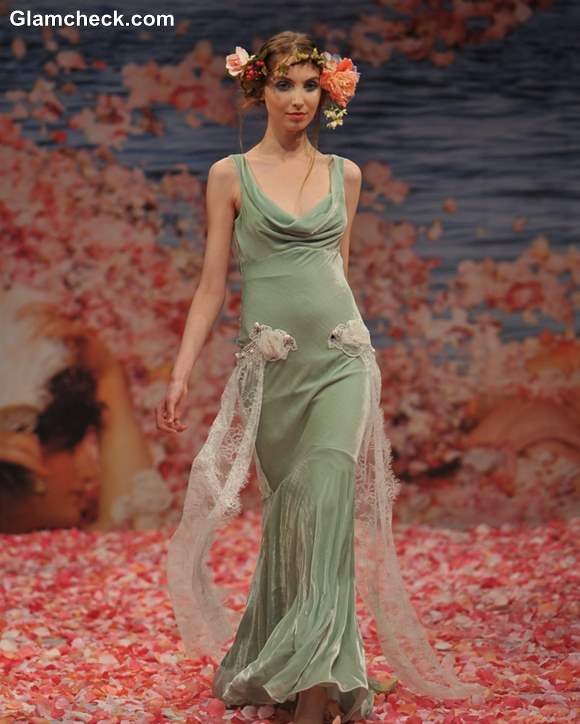 Bridal Trends 2013 Claire Pettibone
Claire Pettibone's Bridal Fall 2013 is a collection that oozes vintage considering heavy Baroque/Rococo inspiration in the approach. The nature thriving reflection of the clothes makes the collection feminine and delicate, two characters desired highly by the brides. The collection saw lace, sheer, embellishments and embroideries coming together creatively and tastefully.  The collection truly in the country girl style will powerful to touch the right chords of the bohemian loving brides.
The Backs!
Bridal gowns trend fall 2013
Easily the highlight of the collection were the backs of each of the gorgeous dresses which seemed to be the true creative outlet for the designer. Innovative delicate backs had a breath taking effect on all.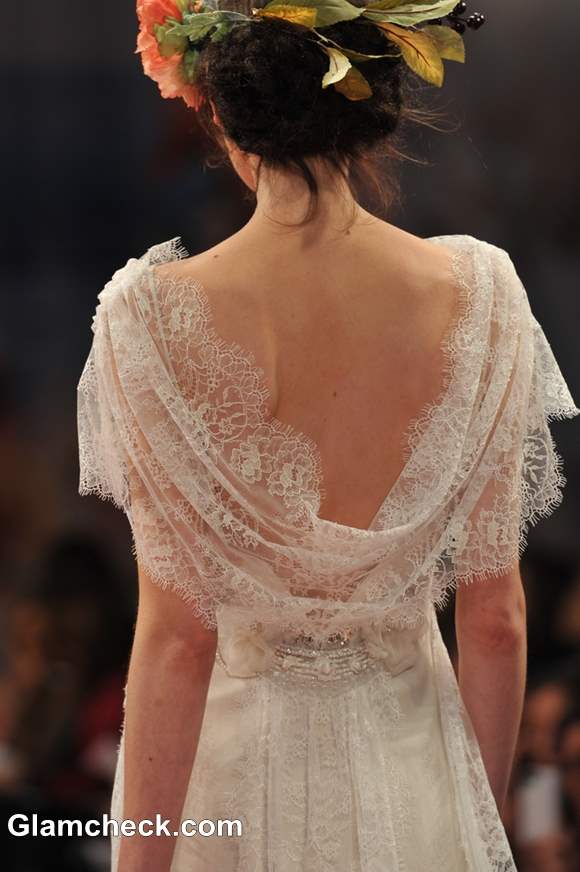 Bridal gowns fall 2013 collection
Claire Pettibone experimented with cowl back, sheer & lace, embellished cuts and lace patterns which left all in anticipation. Each dress had a unique delicate back character adding some oomph to the garments.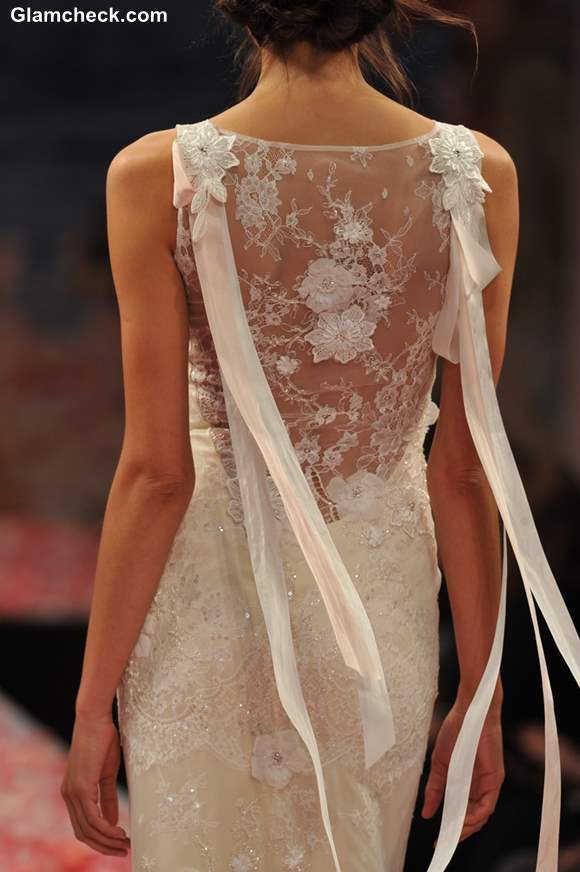 Bridal gowns trend fall 2013 
Accessories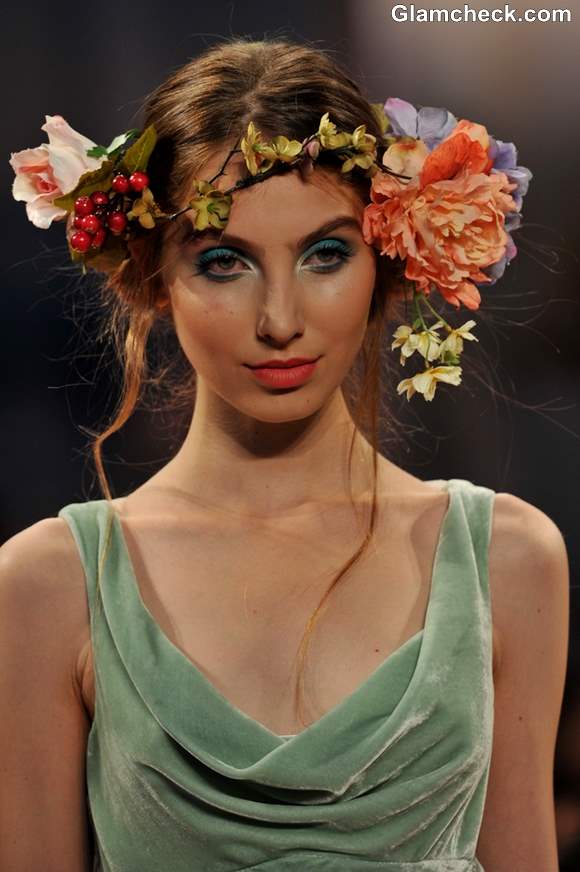 Bridal Floral Headgear trend fall 2013 Claire Pettibone
The designer truly made diamonds looked like a passé! Natural inspired forms like flowers, leaves & berries bunched together formed the unique addition to the pretty bridal dresses making it very young and come alive with colors.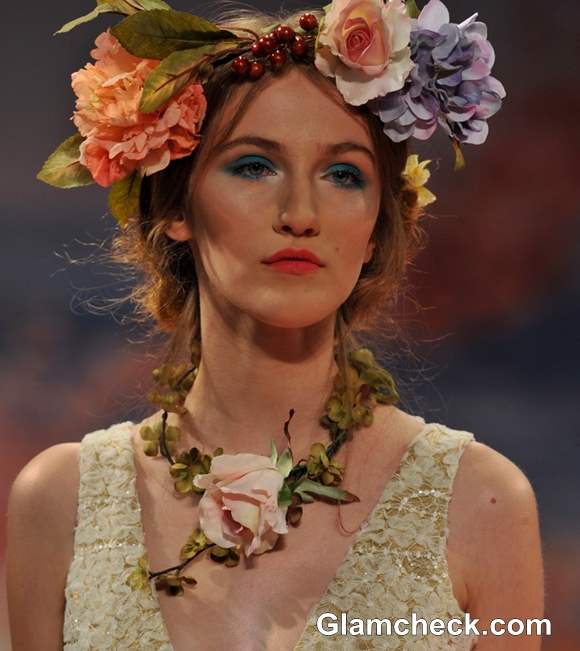 Bridal Headgear trend fall 2013 Claire Pettibone
Leaf belts, floral jewellery and magnificent headgears added a breathless touch and a delight for the experimental free spirited brides. Bridal accessories were truly redefined in the show. Seems to be raining flowers in the coming season.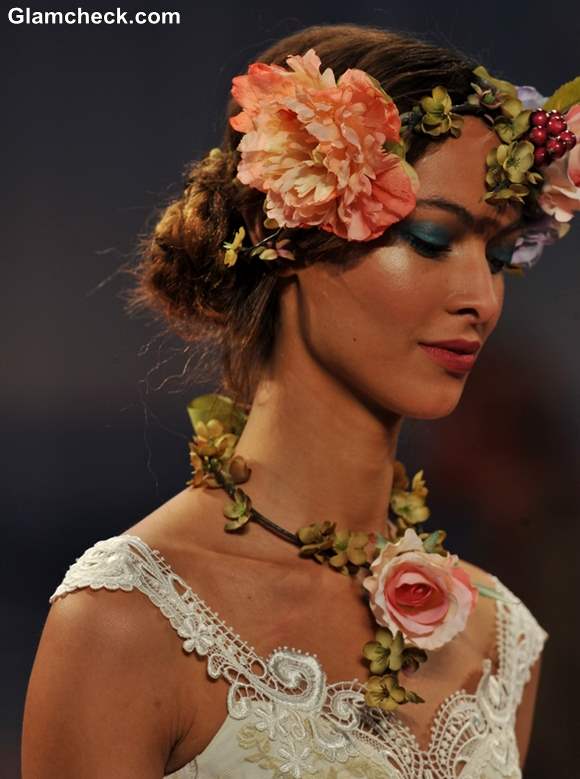 Bridal trend fall winter 2013 Claire Pettibone
Hair & Makeup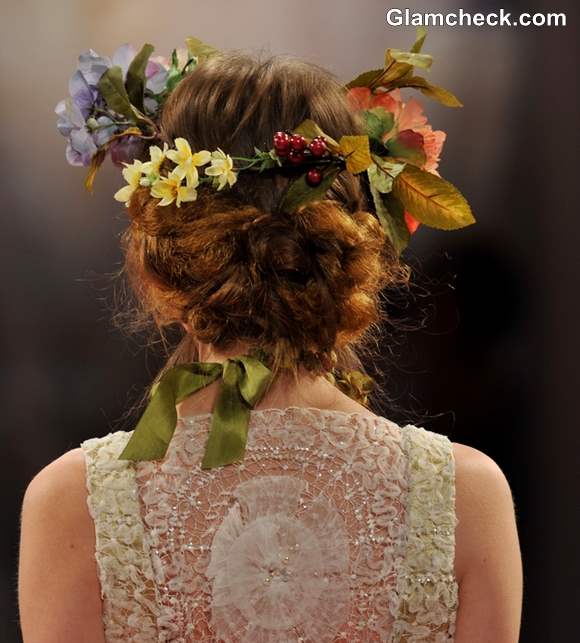 Bridal Hairstyle trend fall 2013
Keeping the boho spirit alive the approach to hair was a messy knotted bun forming a perfect nest to the pretty accessories. An integral requirement when a bride has such innovative backs to show off!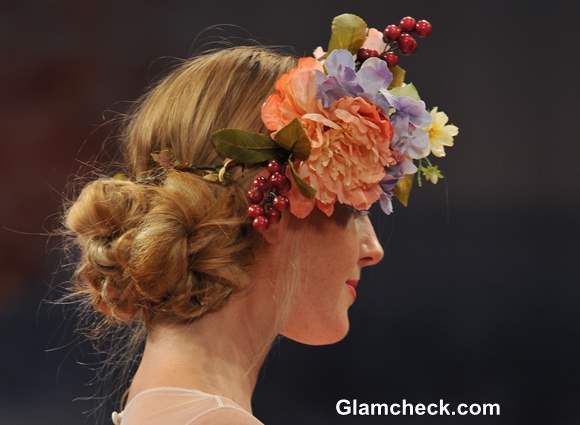 Bridal floral Hairstyle 2013
Claire Pettibone chose intense colour eye and lip make up and we don't wonder why! Experimental for bridal wear, the approach wasn't out of its place or agenda.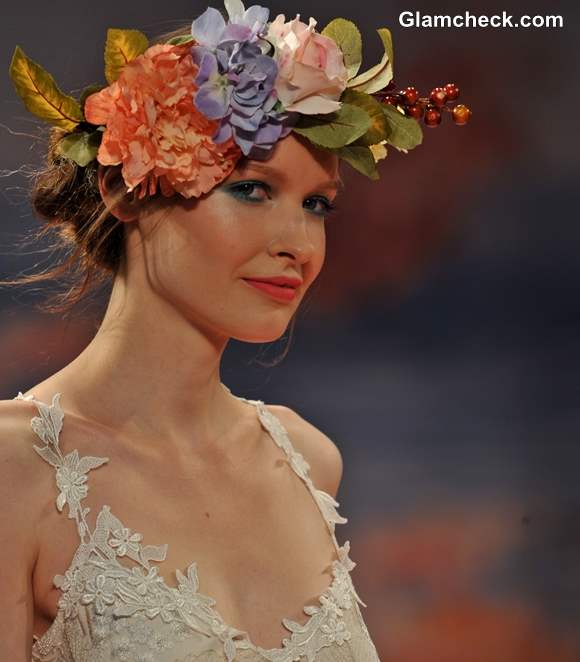 Bridal Makeup fall 2013
The makeup definitely completed the boho story of the collection to perfection. The green blue eyes were perfected by the peach lips.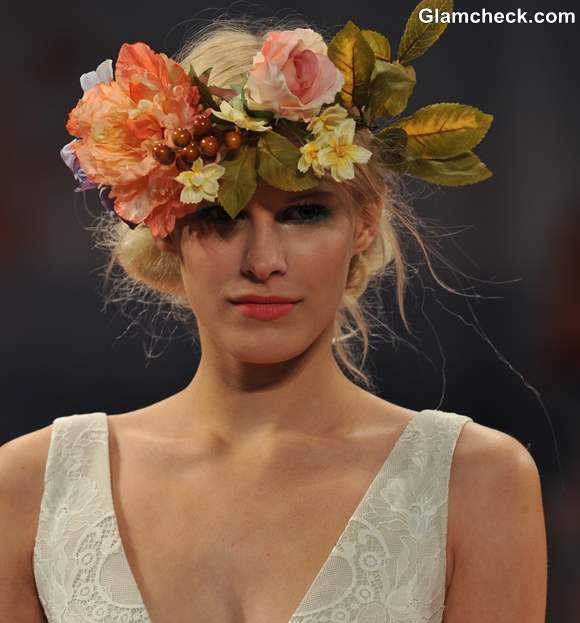 Bridal Hairstyle makeup 2013 
Overall, the clothes were a good expression of whimsical romance and have made a lasting impression achieving the status of one of the most desired collections for the Fall!
Shutterstock