A sleek ponytail is the way to go if you want something simple, low-maintenance and yet incredibly chic. What's more, it's one of those hairdos that seamlessly transitions from day to night. However, sleek ponytails aren't like other types of ponytails in that they tend lose their charm once the sleek factor starts to ebb. And that's inevitable with any do. Try as you might, your sleek ponytail will get a little frizzy or look a bit tangled as they day goes by. Here are a few tips that will help you tackle the problem.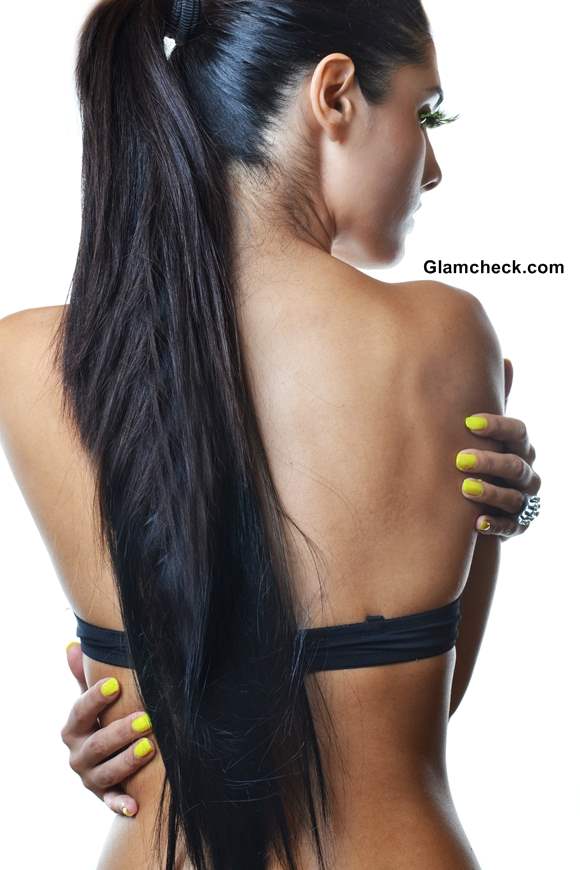 How to Keep Your Ponytail Sleek All Day
Apply leave-in conditioner to your locks after your regular shampoo and conditioner. The sleek ponytail look calls for smooth-looking hair so it will need the extra help from leave-in conditioner.
If you don't have naturally straight hair and have had to straighten your hair to sport the sleek ponytail look, then it is imperative that you prevent your hair from getting wet as this will undo the effects of the straightening. If you live in a place that has high humidity, you may have to apply straightening product on damp hair before your blow dry to prevent the moisture in the air from playing havoc with your sleek look.
Hairspray is a must to keep your sleek ponytail in place all day long. Spray generously all over your head, not just on the ponytail.
Another little tip is to first apply a little holding gel only to the fussy bits of your sleek ponytail and then add a generous does of hairspray. What this will do is make your ponytail look gloss, effectively manage those stray bits that can end up ruining your sleek look, and the hair spray will lock the gel in so the look lasts longer.
If you prefer not to fill your hair with product or you just don't have any on hand, then just carry your brush or comb with you and run it through your ponytail at regular intervals through the day.
The elastic you use to tie up your ponytail is just as important as any hair product you use. It should be a good quality one that holds your ponytail securely in place. This will make quite a difference to how your hair behaves as the day progresses.
Image: Shutterstock