Massage, in any way and of any part, is relaxing and makes you feel calmer. Moreover, foot massage is also believed to be beneficial for your health and well-being. Foot massage, also known as foot reflexology, is very popular all through the world as the best healing therapy. Foot massage therapy or reflexology works in the same way as acupuncture. Every part of your foot corresponds to one or the other body part. When each part of the foot is massaged, positive results are experienced on the kidney, liver, stomach, colon, etc. Besides, foot massage is also helpful in treating conditions such as plantar fasciitis.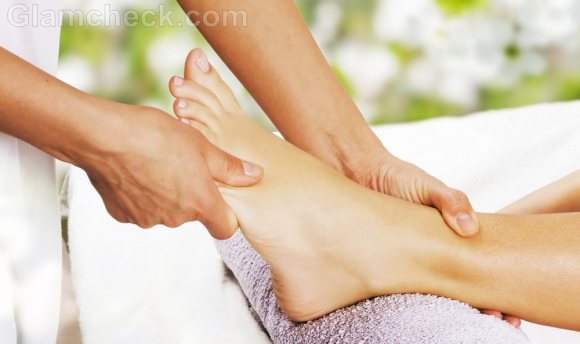 Foot massage is considered as a natural treatment technique after a tedious day at work. The art of foot massage treatment is being practiced in China for about last 5,000 years. Besides, in ancient Egypt, foot massage or reflexology has also been seen as a medical treatment. However, with improving communications throughout the world, more and more people are getting familiar to the ancient massage styles.
Benefits of Foot Massage
Foot massage is believed to be an effective way to reduce or alleviate foot pain. This pain relieving massage can be done either with a massage machine or with hands. Also, it is better to get the massage done by someone else even though it can be done by own self. This would provide you with better relaxation levels during the procedure.
Here are some common benefits of foot massage:
Fatigue and overuse
One of the most common problems experienced subsequent to a long hike or standing for the whole day on a concrete surface includes overworked muscles. The solution to this problem is foot massage as it helps in relieving the tired muscles by escalating the blood circulation thus providing nutrient-rich to various parts as well as enhancing the movement of lymph fluid to do away with irritating cellular wastes besides relaxing tired muscles which may be tapered to safeguard weak areas. For best results and to reach all the problem areas in your feet, it is advisable to use a combination of short and deep pressure strokes along with long, surface strokes.
Injury
An injury may lead to the unexpected inception of pain in feet. Foot massage can be considered as a good healing option for swelling and pain if there is no broken bone or any other severe damage. Start with a massage near the external edges of the injured area rather that starting directly on the injury site. As the sensitivity gets reduced and the point is capable of bearing pressure, try using light circular movement strokes to maintain the blood circulation as well as avoid the formation of scar tissues.
Orthopedic problems
Chronic pain in feet, lasting for a considerable time period, may indicate an orthopedic problem associated with nerves, bones, ligaments, or tendons. The primary step should be consulting a good doctor to recognize the problem as well as its causes and treatment. Also, it should be confirmed from the doctor if foot massage can be taken up as a treatment option. Generally, massage, through improved circulation, can produce conditions that support healing. Massage styles involving pressure on deep tissues, like neuromuscular therapy, proffers precise treatment intended for specific areas in the foot so as to relieve the muscle and nerves' pain.    
Relaxation and tranquility
Foot massage can help reduce anxiety levels besides leading you to a state of deep relaxation. Solar plexus reflex is one of the important points situated on both feet. This solar plexus point is just like a mini warehouse to store all the stress. On getting pressed, the point releases the entire stress thus rejuvenating the body.
Cleansing and better circulation
The blood moving through the body helps in transportation of nutrition and oxygen to the body cells. Additionally, the blood also frees the body from toxins and wastes. Well, on being stressed, the blood flow becomes limited. This makes foot massage beneficial for the body as it reduces stress thus allowing the blood to move unimpeded.
Homeostasis
Homeostasis refers to a state where the systems of entire body work harmoniously with each other to maintain a state of balance. A good foot massage encourages homeostasis so as to obtain good health.
Rejuvenation
Since foot massage provides the receiver with higher energy levels, foot massage is considered to be restorative. Moreover, on getting rubbed and palpated, the body gets energized through the combined efforts of all the elements of a good foot massage. As per the reflexology theories, foot massage is also effective in removing any kind of blockages which are responsible for holding back energy levels supposed to flow freely throughout the body.
Enhanced immunity
Massage facilitates stimulation in the feet thus leading to healing and relaxation. Besides, body relaxation through the way of massage is helpful in avoiding the harmful effects of stress affecting your body. Getting regular foot massage may also offer protection against various diseases resulting from stress.
Sensual bliss
Besides the various health benefits, foot massage can also form background for a perfect romantic evening. Foot rubbing is relaxing, sensual, nurturing, as well as loving. Moreover, it is a great way of showing the care for your partner.
Lymph Flow
There is a path of lymph channels contained by the foot webs, in between the toe digits. By massaging the upper part of the foot through the length of these lymph channels, the swelling fluid is made to flow out from the muscle fiber to the lymph channel. This lymph fluid is then moved to larger lymph nodes existing in the body, like the groin, so that the byproducts contained in the fluid can be processed properly.
Stress relief
As per research studies, foot massage improves blood circulation besides promoting the natural production of endorphins in the body thus relieving pain and healing the affected areas. Moreover, foot massage provides a complete feeling of relaxation with the help of sensory preceptors situated in the skin as well as the central nervous system. Moreover, it also helps the body to extricate from mental and physical stress thus reviving your body and mind.
Removal of Adhesion
Foot massage helps crumble adhesion resulting from improper shoe support and poor standing positions. Adhesion removal brings back the normal elasticity levels Along with a normal range of motion to the tendons and muscles in your legs and feet.
Reflexology
Research studies have proved that pain in feet can be relieved through specific reflex points on your feet. It can be highly beneficial to use a foot roller for foot massage. Various foot conditions can be treated with foot massage techniques by trained specialists. 
Muscles
The foot muscles are usually overlooked thus affecting the other body areas as well. Uneven distribution of weight on either foot can show effects on entire body in the form of different pains and aches, like back ache, headache, and nerve impingement. Foot massage helps by reviving the muscles, providing energy to the body, dispelling negative energy, improving blood circulation, and providing sufficient elasticity in your feet thus increasing the mobility for daily activities like standing, walking, stepping, as well as sitting.
Some Specific Health Benefits of Foot Massage
Numerous research studies have stated proven benefits of foot massage to treat many serious diseases. Moreover, there are no reported side effects of foot massage therapy while taking it as a treatment option. Some specific diseases which can be treated through foot massage include:
Foot ulcers
It is generally difficult to treat foot ulcers in diabetic patients. Diabetic foot ulcers take a reasonably long time to get healed up. It has been found through a research that the healing time of these foot ulcers can be reduced through compressed air massage. The underlying fact is that it improves the local circulation besides having the potential of
Cancer patients
Cancer patients might experience numerous changes in their mind and body. Foot massage can be taken as a complementary therapy to conventional medical treatments in cancer patients. Proven benefits off massage therapy for cancer patients include relief from nausea, anxiety, pain intensity, fatigue, and vomiting.
Post-op pain
Post surgery pain is very common in surgery patients. It has been proved by research studies that foot massage provided to surgery patients helps in reducing pin scores, respiratory rate, and heart rate. However, the massage should be carried out about 1-4 hours post pain medications.
Aging
Many times, numerous undesirable changes in your thoughts and moods as you reach middle age. In such situations, it has been proved that positive results are obtained through foot massage in the form of perceived stress, reduced depression, lower systolic blood pressure, as well as stronger immune system.
Artery disease
The blood flow in the body decreases due to peripheral artery disease which results from narrowing and hardening of the arteries. This blood flow can be improved through foot massage, specifically in the lower legs.
High blood pressure
In many research studies, it has been proved that foot massage has shown positive results on blood pressure and cholesterol along with life satisfaction. However, levels of blood cholesterol did not show any improvement with foot massage.
Menopause
During menopause period, there are numerous psychological and physiological changes occur in the female body. In such condition, foot massage helps reduce depression, anxiety, night sweats, and hot flashes.
Amputations
Those with leg amputations are generally seen suffering from phantom limb pain. It has been found that foot massage is helpful in reducing the intensity as well as duration of phantom limb pain in those who have one amputated leg.
Benefits of Foot Massage on the Brain
Our foot includes different reflex points which keep up a correspondence to each part, organ, and gland present in the body. In fact, the massage therapists can find a complete image of the body plotted onto the foot. Moreover, they also believe that slight manipulation with any part of the foot corresponding to specific body part, like brain, helps improve the energy flow to the related part thus making it function in a balanced and healthy manner.
Foot massage has shown proven benefits to the brain. This is due to the stimulated energy flow to the brain thus promoting a healthy balance of the processes of brain. Slight manipulation with the reflex points during foot massage can show positive results. Basically, foot massage relieves stress besides providing a state of deep relaxation. This helps in improving the sleep quality, provides relief from headaches (including migraines), as well as reducing depression and anxiety. It is, however, important to remember that foot massage is a complementary therapy and should be followed only after the advice of a doctor or an expert of the field.
Wrapping up, the health benefits of foot massage have, however, not been medically approved. Still, many people have claimed it to show positive results. It has also been found that foot massage removes body toxins, improves circulation, helps body functions, and also improves memory. Above all, it just feels wonderful.
Usually, foot massage is not painful. However, if you are apprehensive about pain or feature a painful condition in your foot, it should not be a reason to deter your decision of taking a foot massage. All you need to do is to inform your massage therapist about the low tolerance levels for pain and ask him/her to adjust the pressure level accordingly.
Image: Shutterstock.com