Actress Sarah Hyland arrived at the LA premiere of Lovelace at the Egyptian Theater in Los Angeles in a black shimmery flouncy dress. The outfit had full sleeves in a sheer material and featured dainty standalone ruffles. The Modern Family star wore a pair of black peep toed pumps to complete the ensemble.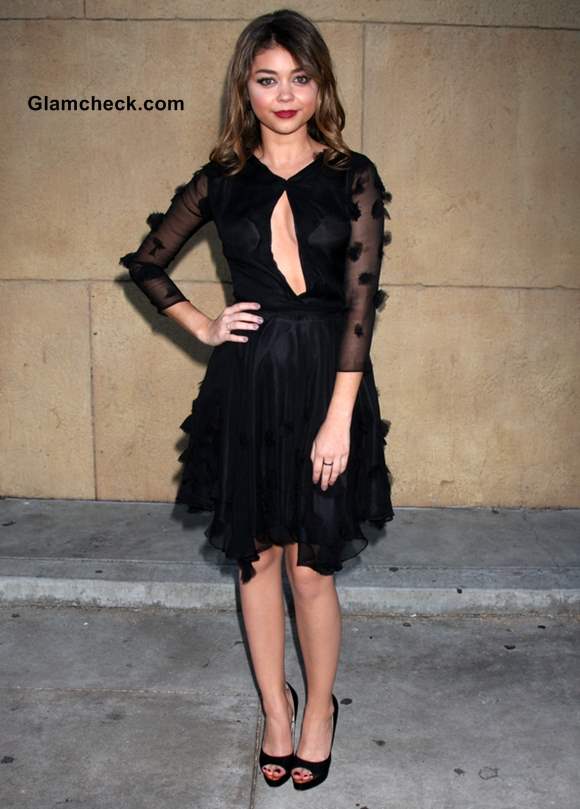 Neckline Inspiration – Plunging Keyhole Neckline
However, what caught our eyes is the plunging keyhole neckline on the dress which extended from the neck to the waist, and it is our neckline inspiration for the day.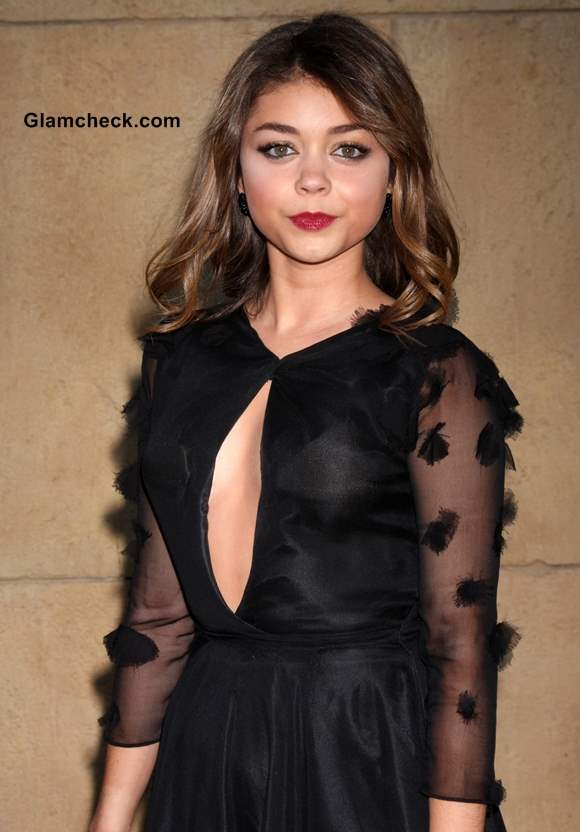 Neckline style – Plunging Keyhole Neckline
Plunging Keyhole Neckline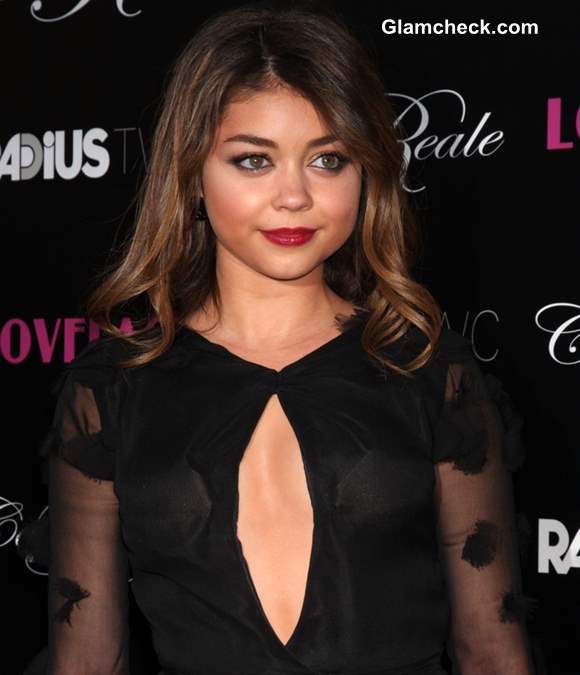 Plunging Keyhole Neckline
The keyhole neckline features a design very similar to an actual keyhole – and, hence the name. It starts right at the middle of the neck, below the collarbone, and can vary in length ranging from a little slit to a deep plunging one – as seen on Ms Hyland here. The black number that the actress donned had a wide oval keyhole. The shapes of the plunging keyhole can also vary, it can be circular or a simple slit.
The plunging version of the keyhole neckline is ideal for drawing attention to the bust line without being too daring. It is good for showing the décolletage. This neckline is also an apt choice for those who feel they are not too well endowed, as well as those who want to highlight a good bust line – without looking vulgar. Of course, one can always choose a narrower plunging keyhole neckline if they are not too confident or comfortable about showing skin.
If you cannot get your hands on an outfit featuring a plunging keyhole neckline then you can always incorporate it into one of your existing attires. All you need is a dress which has a high neckline. Take it to a tailor and get a customized keyhole – it will take a few snips of the scissor and a bit of stitching. You can also do it yourself if you are a pro with the scissor, needle and thread.
Check out more celebrities who have been rocking different lengths of the plunging keyhole neckline – like Gabriella Wilde and Kangana Ranaut. 
Image: Shutterstock