Buying shoes for kids can be a task in itself for many parents, what with children outgrowing their shoes every couple of months – leading to a new footwear shopping expedition all over again. However, let this fact not daunt you. Buying shoes for children should be treated as a fun event, especially if the kids are big enough to cooperate in choosing the shoes. As long as you know what to buy and when, buying shoes should be one of the easiest things to do.
We bring you a few tips to buy shoes for children: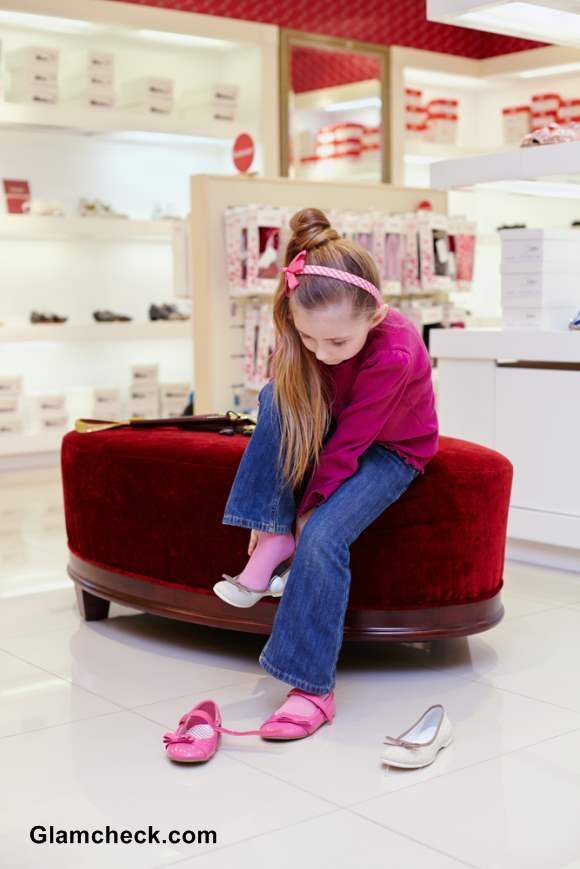 Tips for Buying Shoes for Your Kids
When to buy new shoes for your kids
You should keep a watch to gauge when it is time to buy new shoes. See if the shoes look bulging on the sides or if the big toe outline can be clearly seen through the shoe, or if the toes bend upwards. Worn out heels and stressed seams are other indications that it is time for a new pair. A lot of times, babies can't understand they have outgrown the shoes, so what they do is kick away the shoe from their feet. You may feel they are behaving unreasonably, however do stop to check if it is because their shoe is feeling too tight. Of course, many times they may themselves declare that the existing shoes hurt.
How to buy new shoes for your kids
Shoe shopping is best done in the latter part of the day, preferably in the evening. This is because the feet may swell over the day.
Take the measurement of the feet when your child is standing. There should be comfortable room between where your kid's toe ends and the inner edge of the shoe toe – maybe a gap of around half an inch.
The width of the shoe should not be too much wider than the feet, and neither should it be too tight – that can cut into the skin.
The heel of the shoe should fit snugly below the heel of the feet.
The two feet are usually different in size; therefore, pick a pair that is more accommodating to the larger foot.
Do not buy too large a pair – anticipating quick growth of your child's feet. This will serve no purpose, apart from making the little one trip, fall or develop foot problems.
Make your child walk around the store in the new pair of shoes. If the back of your child's feet keeps on coming out of the shoe while walking then skip that size.
Ask your child if they are feeling comfortable in the shoe. If there is the slightest pinching feel, then drop that shoe. You don't have to take a chance of the shoe opening up; it is not worth the blisters your baby might get.
If the shoes are meant to be worn with socks, then make your child wear socks before choosing the shoe. What size may feel perfect normally, can become tighter after wearing socks.
What type of shoes to buy for your kids
You do not have to indulge in too fancy or over the top expensive shoes, because your children will outgrow them. As long as the quality is good, inexpensive but comfortable shoes also serve the purpose.

Of course, it goes without saying that where kids are concerned it is comfort that should be the forerunning reason for choosing the shoe and not fashion!
Opt for shoes that have a fastening system like Velcro or laces. Give slip-ons and backless shoes a miss. These can make children trip, besides they do not offer enough protection to the soft baby toes.
Stick to flat soles. Heels are a definite no-no. Not only will your child have trouble in balancing, but it may lead to foot development issues. The sole should be soft and flexible and not stiff.  It should bend along with the movement of the foot.
Ensure that the shoes are light weight and not too heavy. Not only will your child not be able to walk but also not play or run around – and the latter two are the most engaged in activities for children.

Pick a pair made of breathable materials instead of rubber or plastic ones. This will keep the feet dry and prevent smelly feet, blisters or general discomfort.
Of course, you should take your child's input for choosing the color or pattern over the shoes – that is if they have reached an age where they are opinionated enough to do so.
Choose textured and patterned soles over smooth ones. This will help your kid from slipping, skidding and falling on slick surfaces.
Hopefully with these tips for buying shoes for your kid, a visit to the footwear store will be an easy, smooth, fun and a successful experience
Image: Shutterstock