The color burst tropical eye makeup is ideal for days you feel upbeat, are on a holiday or simply feel experimental. It is also good for pulling up a downward spiralling mood, after all when you play with so many wonderful colors you may end up taking from them and feeling vibrant and cheerful.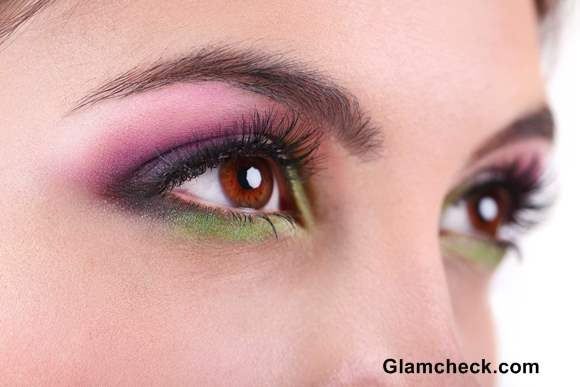 Tropical Eye Makeup How To – Color Burst
So, let's get started on the tropical eye makeup which makes good use of the eyeshadow color palette.
DIY: 10 Steps for Tropical eyes
Makeup Items Needed:
Eye shadows in colors like yellowish green, light pink, purplish pink, purple and greyish green. You also need black eyeliner and mascara.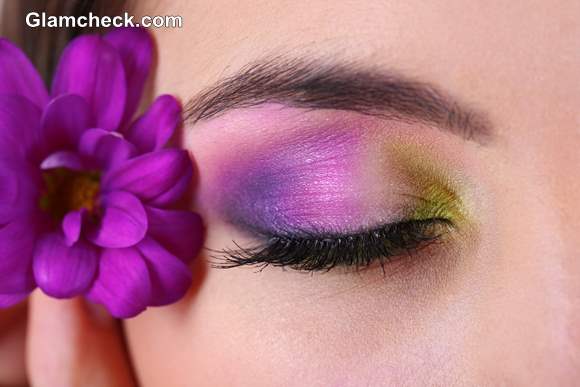 Tropical Eye Makeup tutorial – purple green eye shadow
Start by taking the yellowish green eye shadow. Use it on the inner corners of the eyes and extend it, onto the upper eyelid to, where the eyelash line begins. See that the entire inner corner is nicely shaded with this color. Use this eye shadow along the lower eyelash too.
Take the light pink eye shadow and apply it, starting from right where the yellowish green eye shadow ends. Apply it vertically extending it a bit beyond where the upper eyelash line starts. 
Next use the purplish pink eyeshadow over the eyeball area on the upper eyelid.
After this use the purple eyeshadow starting from where the purplish pink eyeshadow ended and extending to where the lash line ends.
The last vertical row of eyeshadow would be the greyish green one. Use this from where the upper eyelash ends – extending outwards from the outer corners of the eye in a winged shape. Use the same eyeshadow to extend outwards from the lower eyelash line too – blending the upper and lower line of the greyish green eyeshadow in the winged shape.
So, if you see carefully there are 5 vertical rows of different eyeshadow hues in a line – you just have to ensure that each section is blended well so that there are no sharp lines. One shade should flow smoothly into another.
Use the purplish pink eyeshadow again, this time from the middle of the creases of the eye – extending outwards and ending right below the eyebrows. This step will give more definition to the eye.
Take the light pink eyeshadow again and apply along the eyebrow bones in order to highlight them.
Apply a thin line of eyeliner only above the eyelash line – do not extend it beyond, either inwards or outwards.  
Finish the eye makeup by applying two coats of mascara on the upper eyelashes and one coat on the lower eyelashes.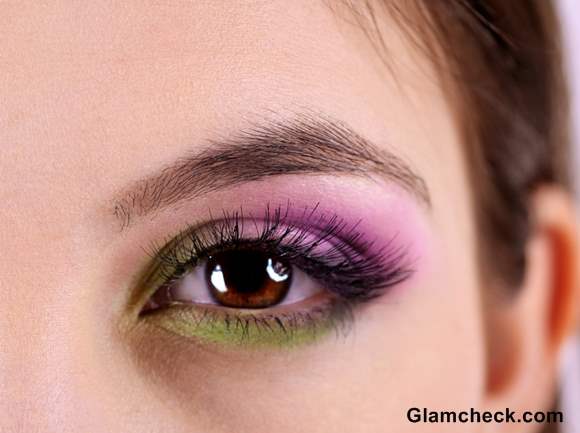 Tropical Eye Makeup – Purple Green Eye Shadow
 Experimenting with the tropical color burst eye makeup is a good way to not only pep up your look but also your mood.
Image: Shutterstock