Milly by Michelle Smith fashion show during the Mercedes-Benz Fashion Week Spring 2014 at Lincoln Center on September 11th 2013 in NYC categorized the designer's collection into the sporty modish category. Why we have picked this look is because it so minimal chic.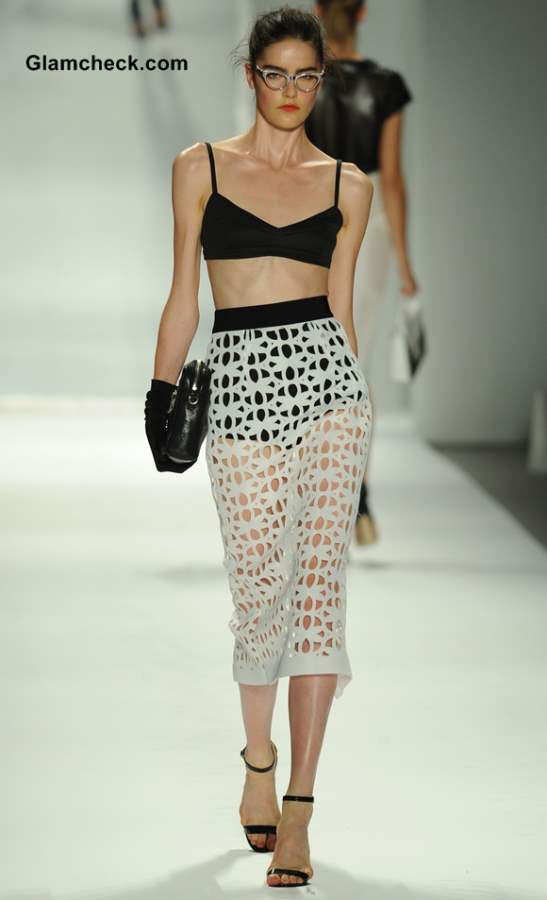 Monochrome Laser Cut Skirt Teamed with a Bralet by Michelle Smith
The colors used are monochrome – black and white, and the ensemble has been put together so well. The black bralet has noodle straps and a V-neck, perfect to show off your collar bones and your abs (if you have any, that is)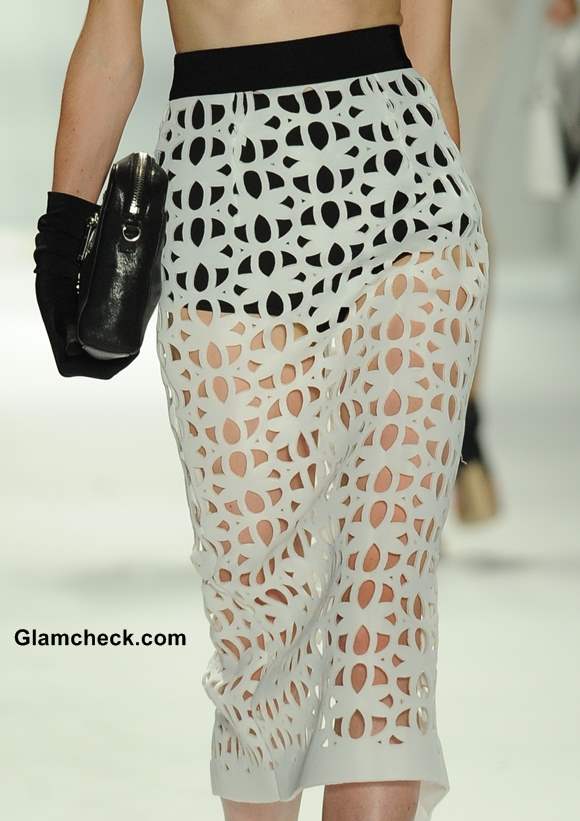 Monochrome Laser Cut Skirt by Michelle Smith
Her skirt has a repetitive laser cut pattern in white with a black band on top. The see-through skirt also puts her black control briefs on display (done to death at Burberry Prorsum this season and the last.) The fitted skirt hits on another big trend of the season, midi-length, ending 5 inches below her knees. What we love about this outfit is that it is not cluttered at all and yet, very appealing.

Laser Cut Skirt Teamed with a Bralet by Michelle Smith
The outfit has been accessorized with a black bag, open-toe black stilettos and white cat-eye spectacles. (was she trying to put together a look for office by any chance?)  Hair has been messily tied at the back in a bun and red lipstick has been dabbed onto the lips for some color.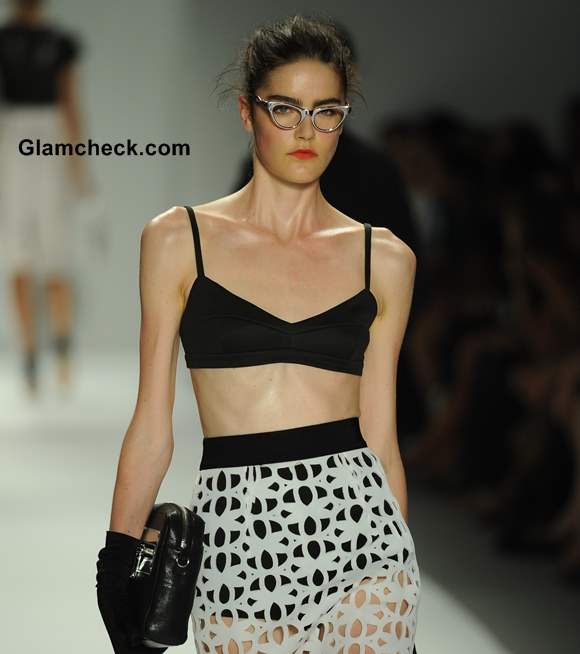 Laser Cut Skirt with a Bralet by Michelle Smith S-S 2014
Here is a tutorial on how to wear this trend:
Pick a laser cut skirt with a  contrasting color slip on the inside to bring out the pattern.
You can layer your tiny bralet with a sheer shirt on top if you are not confident enough to show your curves.
Laser cut looks nice on all-over dressed and tops, infact laser cut bags are in fashion too.
Once can make this a colour pop look, instead of sticking to safe monochromes and it would look perfect when colour blocked smartly!
Image: Shutterstock