All that glitters definitely is gold. Our style inspiration of the day is 'all gold' and we spotted some looks from the Moscow Fashion Week, where Russian and foreign designers presented their collections for spring summer 2014 held on October 30th 2013 in Moscow, Russia, to give you a better insight of the trend.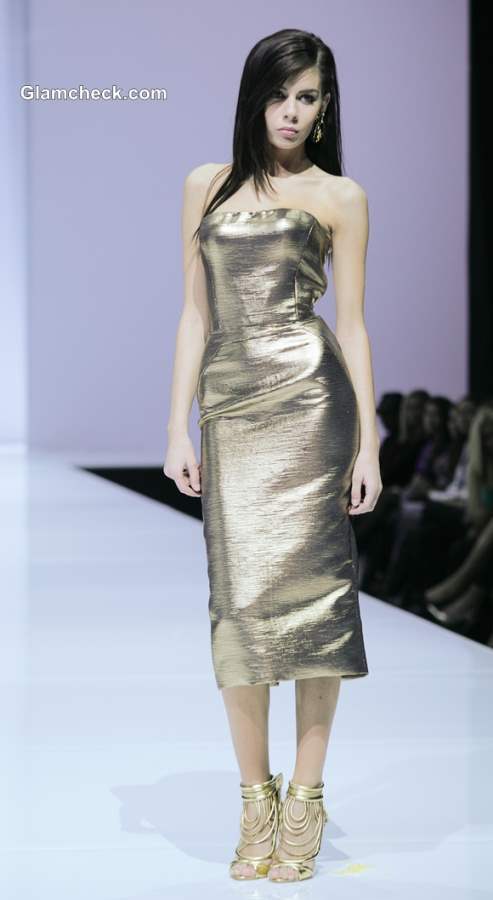 Golden Dresses for Christmas
The three models here are dressed in champagne gold ensembles from head to toe. The first one is sporting an off shoulder fitted dress with old gold coloured strappy heels which are to die for.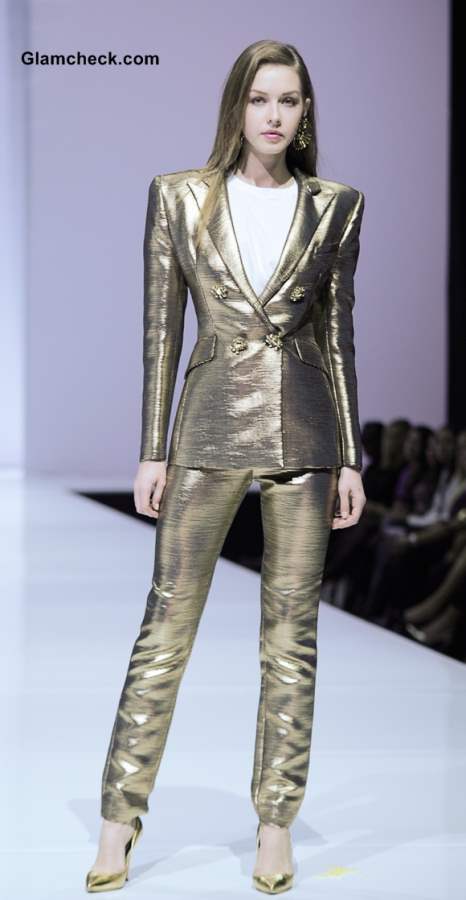 Dipped in Gold for Christmas
The second ensemble is a formal metallic blazer paired with a white T shirt inside and worn over a pair of straight fir trousers. Her heels are closed pointed stilettos which always go well with formal wear. Her accessories include gold earrings and shiny gold buttons on the blazer as details.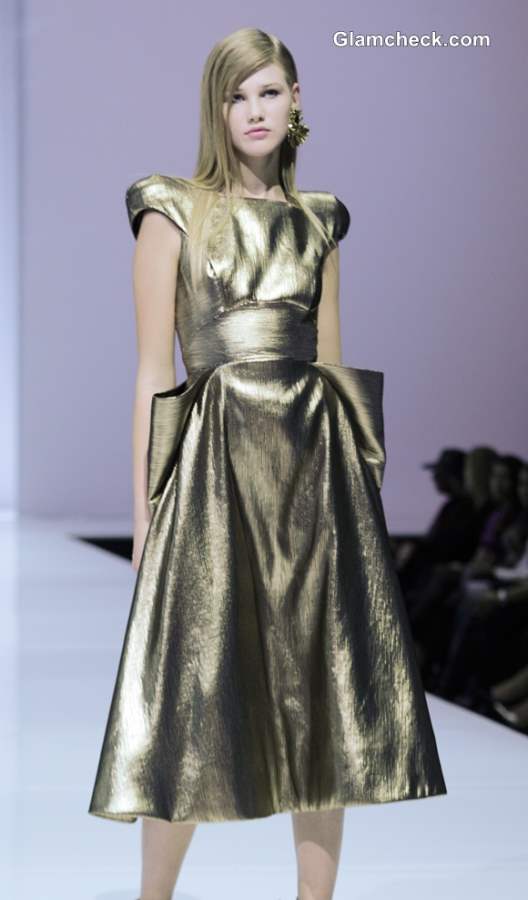 Golden Dress for Christmas
The third is a cute midi length dress that has cap sleeves and exaggerated pockets on the side. The dress is structured from the top bodice and flared into an A-line at the bottom. None of the models are wearing much makeup, except pink gloss and have left their straight hair as it is. We can clearly see how this trend looks fantastic in suits, cocktail dresses and girly ones.  
Gold on gold is a very hot trend this season. Donning the colour at full strength is no longer reserved for the red carpet elite; it has trickled down to the masses too. But it can look over-the-top if not worn in the right manner or at an appropriate occasion. Since, it is the holiday season and both, Christmas and New Years is right around the corner, now is the time to try out this look. Here are some tips on what all elements you can choose from for achieving this look:
Metallic gold embellished fabric
Pale gold sequin
Yellow gold embroidery on a sheer fabric
Gold appliqué on white
A few tips on how to wear the Gold Trend: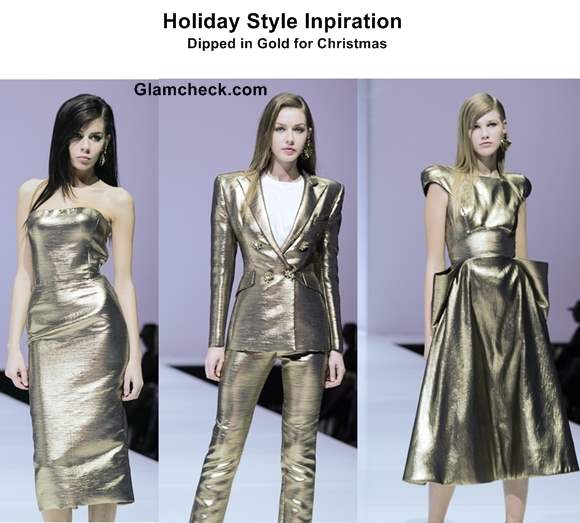 Golden Dresses for Christmas
You can experiment with two different shades of gold separates- different shades include old gold, pale gold, rich gold, champagne gold and yellow gold.
Keep the accessories to a bare minimum and let your clothes do all the talking.
You can go all out with smoky eyes and keep the lips, nude. Make sure you go easy on the bronzer so you don't end up looking like a Christmas tree!
Since gold is a standalone shade, it enjoys the luxury of being paired up brilliantly with muted tones, as well as bright ones, so you can choose a neckpiece or a clutch in one of those shades.
 Image: Shutterstock