Modern family star, Sarah Hyland was a stunner at the 2014 Primetime Emmy Awards. She tweeted multiple selfies of her appearance at the red carpet event and kept her fans happy and busy the entire evening. Must say, she was one starlet who had a hell lot of fun at the Emmys.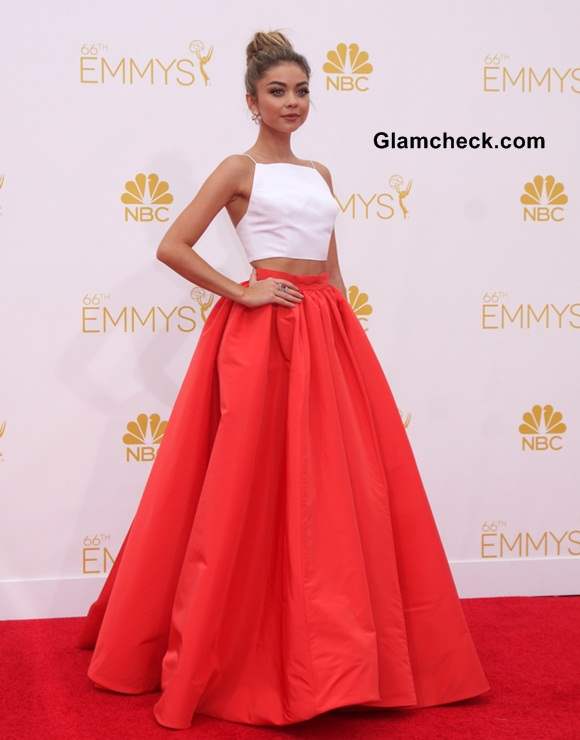 Sarah Hyland – One of the Best Dressed Celebs at the 2014 Primetime Emmy Awards
When it comes to fashion and styling, we have come to believe that Sarah Hyland can do no wrong. She wore a custom made two piece gown by Christian Siriano. The designer creation was full of red carpet glamour and the bright tangy orange color of the flaired gown skirt just perfectly suited for her fun loving persona. The two piece ensemble featured a structured white top, a clever rendition of the popular crop trop trend. We just can't stop gushing over Sarah's fashion choice; the gown was super gorgeous yet fun and flirty.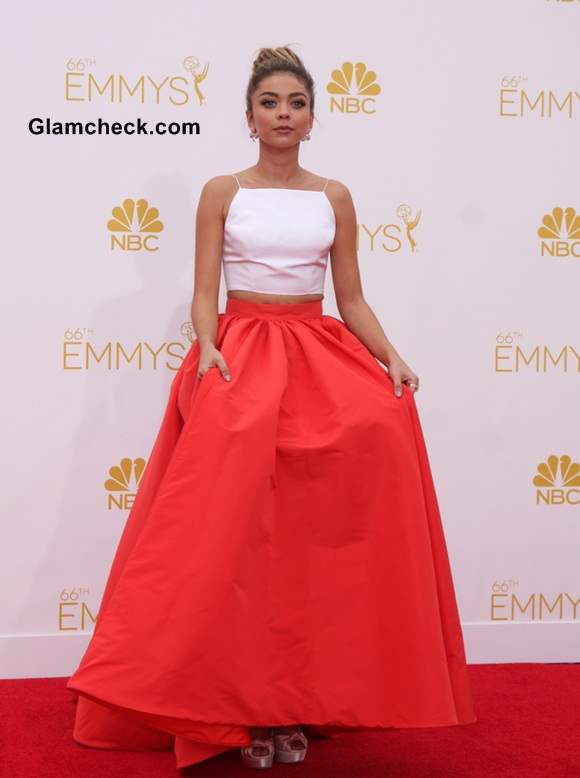 Sarah Hyland at the 2014 Primetime Emmy Awards
Her choice of accessories and hairstyle also reflected her girly fun mood. She wore adorable bow-shaped diamond earrings by Lorraine Schwartz. Complimenting the look was her classic Hollywood topknot twisted bun hairstyle. Pretty Sarah Hyland's look had the right touch of glamour, edge, fun and was (forgive us, but we have to mention this!) age-appropriate.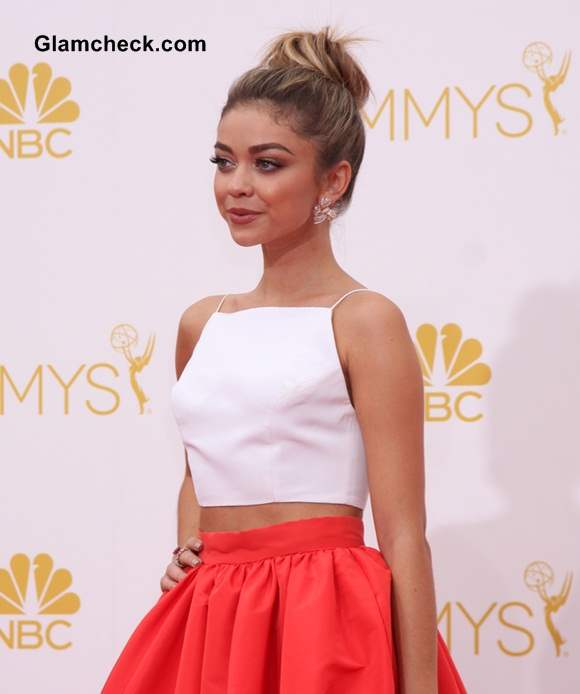 Sarah Hyland 2014 Primetime Emmy Awards
Get Sarah Hyland's classic bun look
The golden rule – clean and blow dried hair.
While blow-drying, always direct the hair away from the face and towards the centre where the bun will be made.
Tie your hair into a ponytail using small elastic.
Use anti-frizz spray or mousse to get rid of unwanted flyaways; lightly brush the hair towards the direction of your ponytail.
Before making the bun, back-comb your hair to get the right volume. (One you make the bun, any brushing or combing will only create a mess.)
Lastly, twist you ponytail into a bun and secure with bobby bins. Finish off with medium hold hair spray. ]
Image: Shutterstock