Fashion many a times is a manifestation of the various inspirations captured by the creative eye. This often includes nature and cultures around us because these have a maximum impact on the way we see things and how we create. Every new element that adorns the runways has an origin and these can be traced back to their history paths. More often than not the origin has a strong functionality or significance attached to it. The waist is one of the most distinguishable feature of the female body.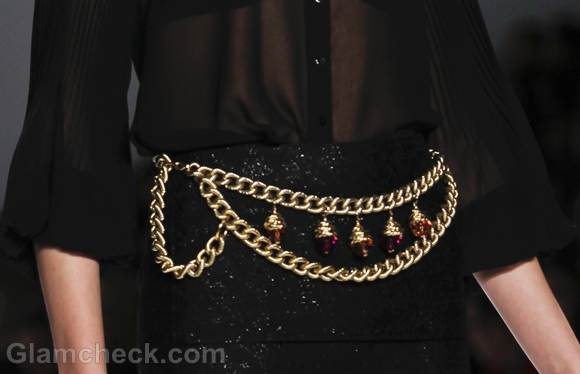 Style Pick : Link Waist Chain
The fashion world has found a way to decorate and enhance every feature, establishing why there is one for the waist to and most popularly in the form of a waist chain, which has been spotted as a popular waist accessory in a lot of tribal and ethnic groups world over. The one showcased by Prete & Bruno during the fall-winter 2012 fashion week in New York on Feb 13, 2012 features as the style pick of the day.
Runway Styling: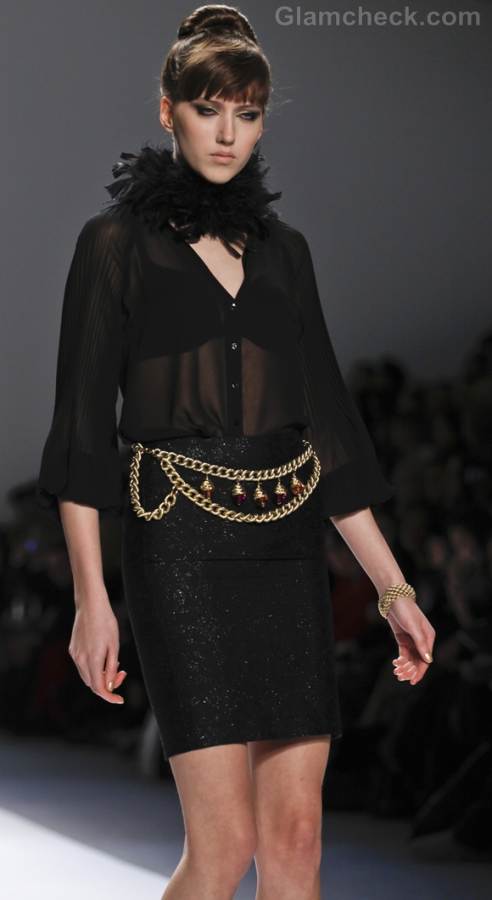 Metallic accents added to an all black ensemble is one of the chicest combination and favored by the most. Prete & Bruno presented a similar look incorporating the sheers and some glitter under the metallic link waist chain that looked perfectly draped over the skirt with deep colored beads hanging. The look formed a clear example of how much difference an accessory like this can bring about in an outfit and adds a perfect dose of drama to the look.
Styling Ways to Adorn the Waist Chain: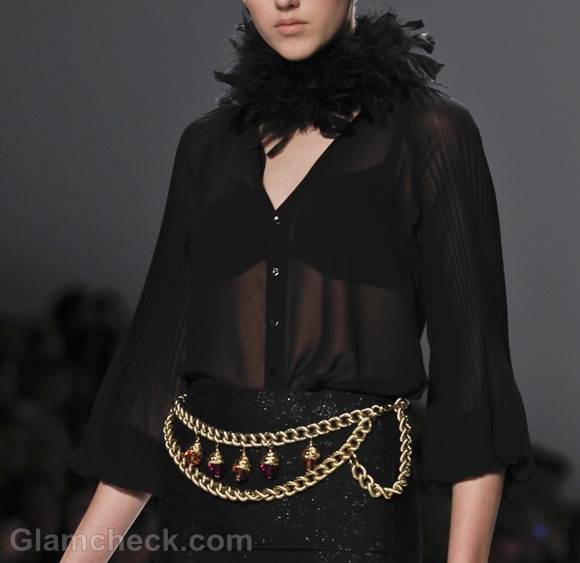 The link waist chain is trendy and pretty much has the capability to form the highlight of most of the looks one fits it in. Keeping the other elements simple is one of the best ways to use the waist chain and make a statement out of it.
Metallic Edge: Drape the link waist chain over a solid or printed Maxi dresses. One can choose to wear another jewellery piece with it but ensure that the balance is maintained.
The Boho Take: Wear the waist chain over skirts that are printed , pleated or crinkled. The look does justice to the highly bohemian character of that the waist belt has which has been modernized with the feel of the links.
The Casual Bling: The waist chain can also be the perfect option to add some bling and a touch of metallic to the casual denims. A great way to lift up an understated outfit and definitely adds some dressy fun to it. A look you can easily wear to a shopping spree.
One can also choose to wear the waist chain as a belt with suitable short dresses adding a new twist to it.
The link waist chain definitely forms a one stop solution to accessorising for most of the looks as it has the capability to pretty much give the look of complete and anything beyond can look a little extra hence satisfying the role of any statement accessory.
Image: lev radin / Shutterstock.com