Side braids have been a preferred hairstyle for a while, what's new is the intricate version of it as spotted at the Suboo Swimwear presentation for Spring Summer 2013 during Mercedes-Benz Swim fashion week on July 22,2012 in Miami Florida.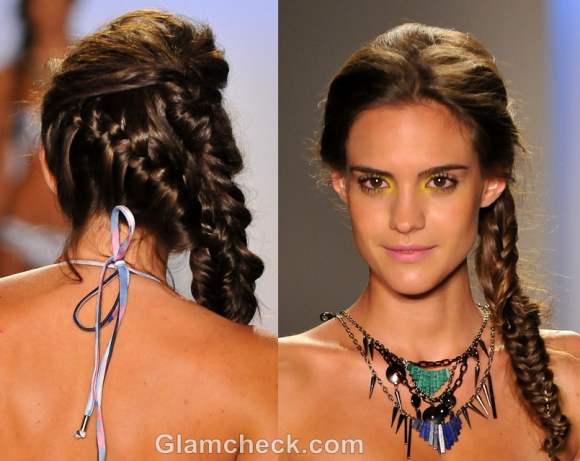 With multiple braids combining to form a single one at the side, the hairstyle looks pretty from the front and all the textures at the back of the head give it a very fascinating appeal. This hairstyle spells summer and beach like none other.
Do-It-Yourself steps for the perfect multiple intricate side braids
This hairstyle essentially looks gorgeous for heavy hair. If your hair are too thin, your braid would be not as thick as the pictures, and you can in turn reduce the thickness of the braids at the back to work this hairstyle successfully.
Step 1 : Comb your hair well and get rid of any tangles. Make sure your hair are washed and oil-free. You can use after wash for that coveted shine.
Step 2 : Separate your tresses into three sections – two sides and one back , and secure with rubber bands. Decide on what side your final braid will be. During the show we noticed may left sided braid but most people are comfortable with the right side.
Step 3 : Start with the opposite side of the final braid. Separate this side section into three more sections and start braiding a little loosely as this braid has to move all the way to the other side. Braid this section only as far as the intended starting point of your final braid. Secure with a band. The effect desired is the multiple braids gathered to form one single braid at the side.
Step 4 :  Repeat the braiding process above for the back section. Make sure you comb your hair in place first for this one. Before you start braiding, the front hair should be combed as finally desired. Any hair parts that have to show – part them at this step and then braid the back section.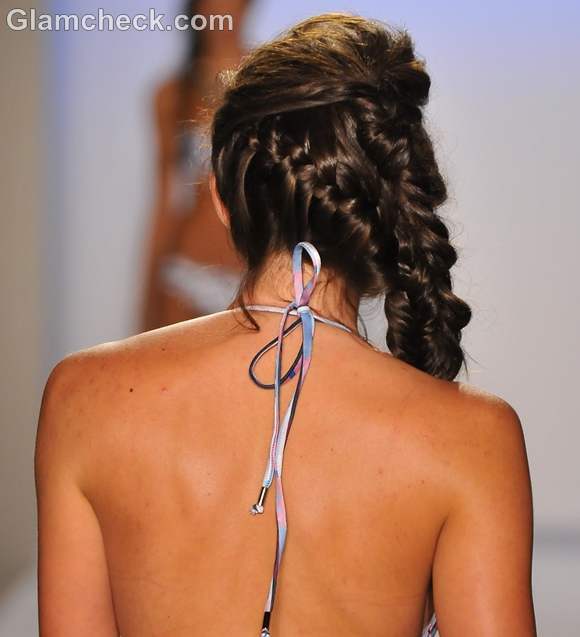 Step 5: Take the loose hair from the first side section, the back section and full unbraided hair from the other sides' section to form one single side braid. Braid till the very end leaving minimum loose hair and then secure with a band. Fold the loose hair towards the back of the braid and secure with a French pin.
Step 6: Be sure to finish with an anti-frizz hair spray which will keep your hairstyle intact for longer and without the effects of beach humidity taking a toll on your hair.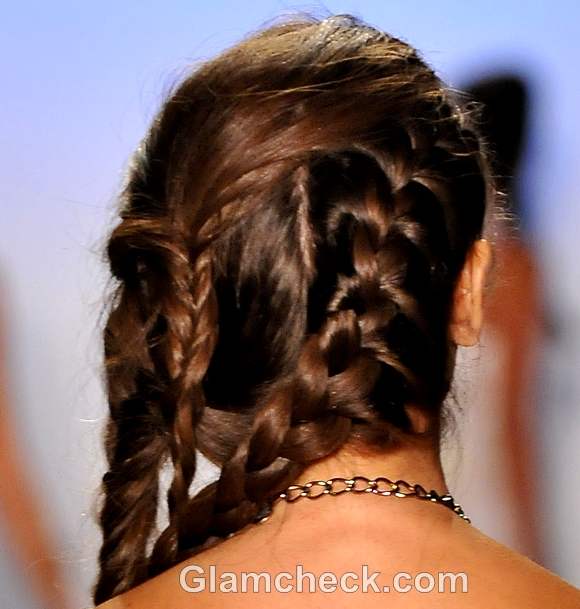 Another style on similar lines can be below.
Equally section your hair into two. From one section make two braids – one visibly thinner than the other. Make one single braid out of the other half section. Don't gather these three braids at the nape of your neck – combine them at the side much later.
Image: Anton Oparin / Shutterstock.com