We are back with yet another styling option for shorts (to be read as "shorts" the fashion clothing piece we mean!) just for our fashionistas who can't get enough of this wonderful, dynamic piece of clothing. The number of options and styles that are available is almost close to infinity. From lace to crochet; from denim to linen we have seen it all, but only to add to the maze of fashion confusions on a busy morning. Today we present to you two looks and effortless quick versions of flaunting the shorts with an élan This style poll we are playing with fabrics and colours; the effort is to: not let the monotony from the two elements (fabric and colour) set in or to slightly deviate from the colour block trend.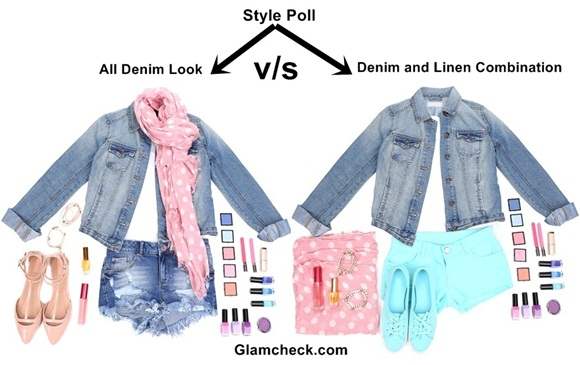 Style Poll – All Denim look v/s Denim plus linen combination
Look 1: All Denim Look
The tattered denim shorts are definitely the hero of this look. This all denim version look combines the denim shorts with a smart denim biker jacket which is a shade down as compared to the shorts as we don't want the monotony to set in with a colour block and not forgetting the a pure white vest to go along with. A light baby pink- soft cotton stole with white polka prints adds to the look by giving it a playful twist. Ankle tie flats in nude pink colour along with beaded bracelets are all you need to look perfect in this look. Pastel eye shadow in peach and pink are preferred options with this look; nail art with a mix of lavender, pink and blue shades; along with baby pink lip colour and a shiny gloss is what the look recommends.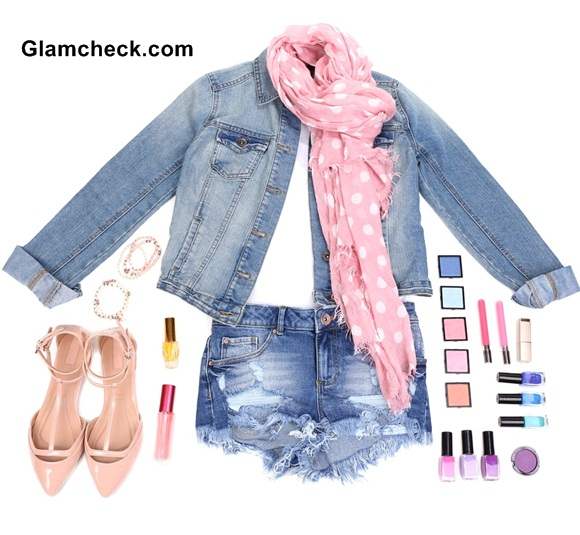 All Denim Look
Look 2: Denim and Linen combination
If the-all-denim look doesn't inspire you enough, then we recommend the combination look which is comprised of a linen shorts in icy blue colour, a pure white vest along with a denim biker jacket. The icy blue shorts are a significant component of this look. You could also try other minty shades other than blue if blue is not your colour for the day! To accessorise you may tag along a polka print stole in pink, but we'd recommend that it be tied to your bag until required. A pair of coloured shoes matching the colour of the shorts is what makes this look a stand out. Jazz the look with blue shades of eye shadow with hints of lavender shimmer to go along and tonal blue nail art would look great with the whole attire. Unless you are a lip colour addict, just the gloss sans the lip colour should work well with the look. Add the beaded bracelets if you are looking to add to the playfulness quotient.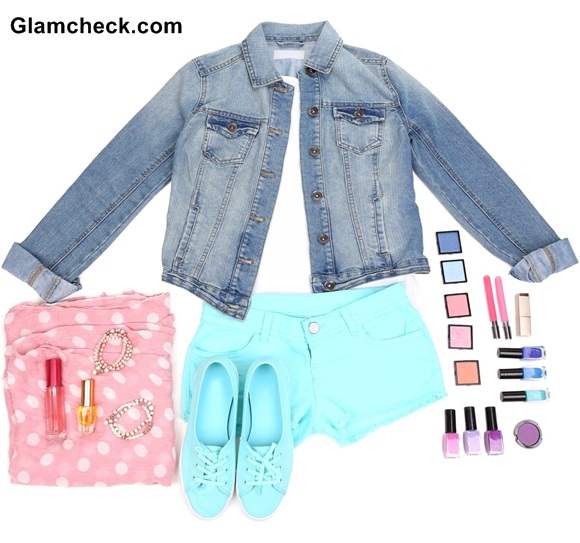 Combination Look – Denim jacket and Linen shorts
Well we are in love with both the versions but we definitely want to know from you which look has your vote today: the all denim look or the denim and linen combination look? Image: Shutterstock