Prints:
Abstract prints ruled the show, when it comes to prints. Abstract geometrical as well as symmetrical and asymmetrical designs were all the fantasy creation of the designers at the stage.
Even abstract flowers were not neglected and were given their own space with a paint and tint by the brush of imagination.
Every designer participated in the print and pattern making to include the abstracts at  Christian Siriano, BCBG Max Azria, and Carolina Herrera.
Pretty flowers both real looking as well as fancy and abstract were to be seen at Luca Luca, Michael Kors and Richard Chai Love.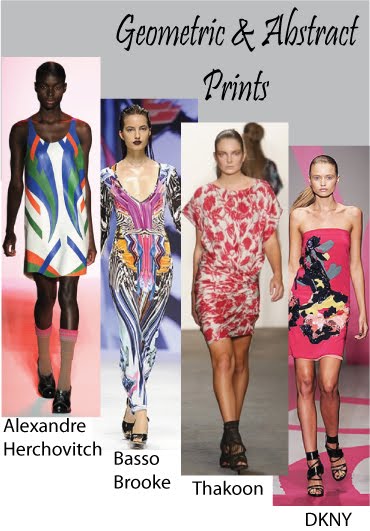 Vivienne Westwood designed dresses that were tulip- printed, polka dotted, paired with white cardigans with a portrait neckline.
Mary Katrantzou, Greek designer, proposed dynamic geometrical, abstarct and asymmetrical shapes in sharp bright colors.
Thakoon Panichgul, Peter Som, Proenza Schouler and Jason Wu showed an experimental collection with dip-dyed, bleeding floral, digitized animal spot and Rorschach-like prints.
Fabrics:
Fabric this Spring Summer is feminine, soft, fluid and slippery.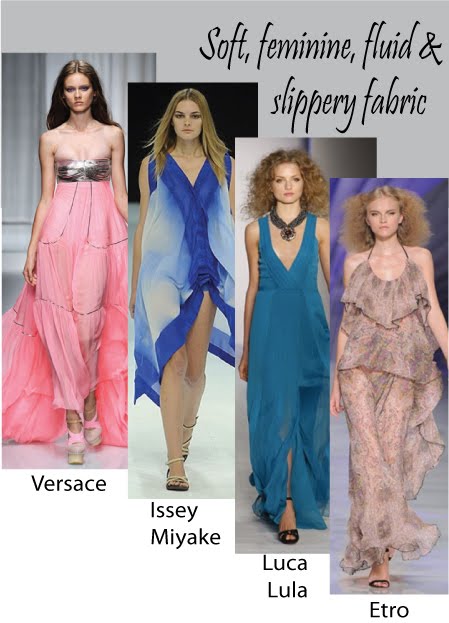 Chic, sophisticated, shiny and rich materials like chiffon, satins, taffeta and silks are trendy.Very sophisticated materials laminated tweeds, precious brocades and floral chiffon are all trendy.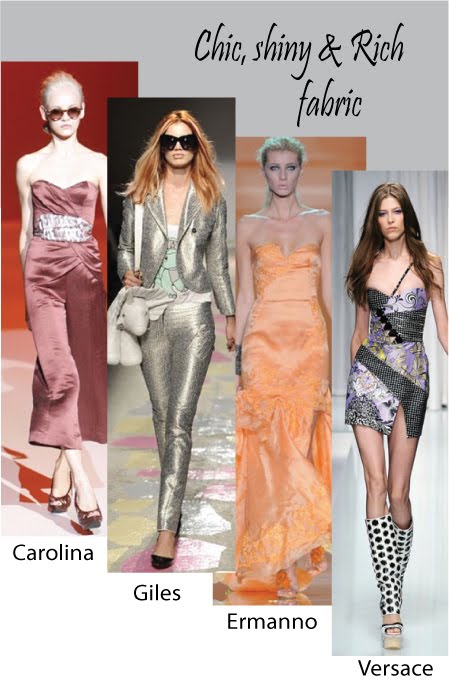 Sheer fabric is hot, trendy and aptly suitable to beat the summer heat.Tight sheer pieces, layers, delicate and feminine silhouettes are apt for the season. Remember that elegance really is the key to wearing the sheer fashion trend this year.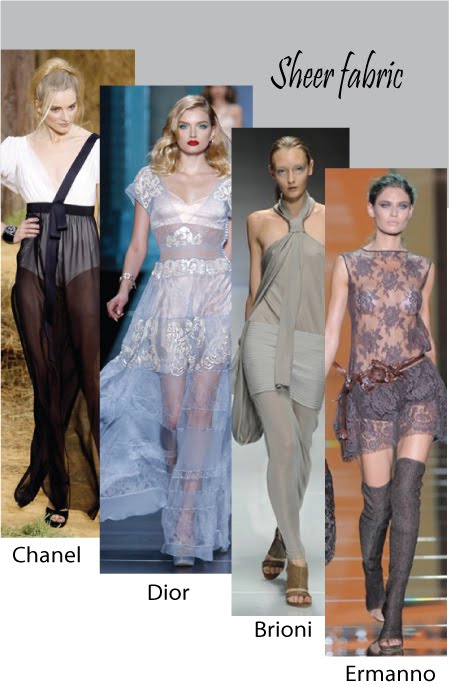 Detailings:
Details like ethereal ruffles, flounces and draping are subtle, soft and feminine. Laces are all to be seen on the oriental and old empress-like works presented by the designers. Laces is used layered over shiny fabrics in some contrasting colors, as to be seen in the designs of Dior.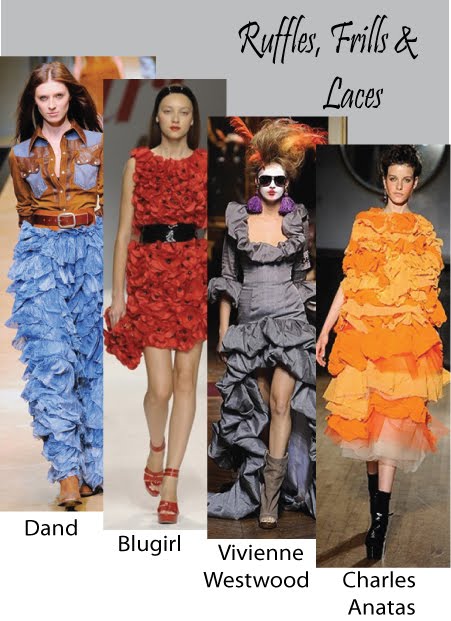 Sequins are hot and trendy. Shiny, shimmering and soft fabrics are haute and happening. Keep them reserved for your evening wears.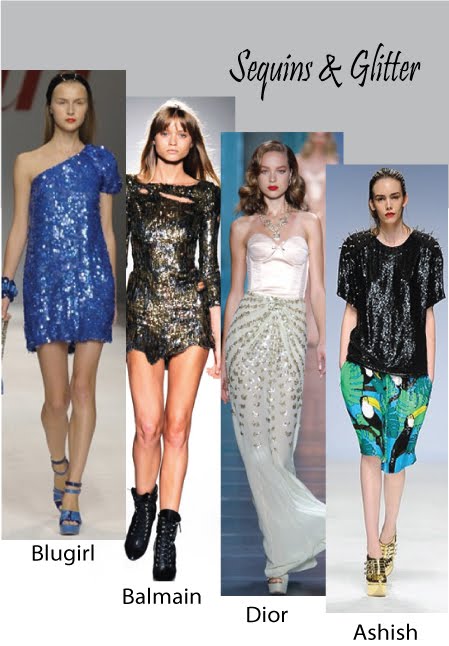 Designer check:
Designers made a considerable use of sheer fabric insets, panels and layers.
Donna Karan's exhibited a collection that was marked by feather weight layers of gauge, cloud-like whirls of tulle incorporated into dresses.
Ralph Lauren incorporated layering as light as feather to sheer white organdy trench coats. , Shirts, linen vests and pants are all in layers that were almost weightless. Double-layered cotton organza pleated skirt also looked graceful and sensual.
DKNY collections was marked by sheer fabrics paired with Spanx-like garments.
Rodarte's cobwebby dresses were like some collages of plaid cheese cloth, sand paper silk, leather and lace.
Phillip Lim's showed his fascination for sculptural accordion pleating, draped lace and sequin panels.
Carolina Herrera offered a rope weave vest whereas, Rodarte's collection included woven leather braid skirts and vests. Chado Ralph Rucci made a mark by his braided leather jacket with tassels at the hem.
Juan Carlos Obando's collection of slit-front skirts and sculpted jackets were broiled and waxed. The short dresses were covered in curving micro pleats in desert hues.
Koi Suwannagate;s collection made a mark by the covered dresses and knits in handmade organza flowers and embroidered lotus flower scenes.