A merry widow is a variation of corselette that fits tightly over the top of the hips, waist and rib-cage. Like the corselette, the undergarment re-shapes the body to get it closer to the hourglass figure by slimming the waist and the stomach area to highlight the hip and bust area. The garment begins at the chest area and ends at the top of the hips.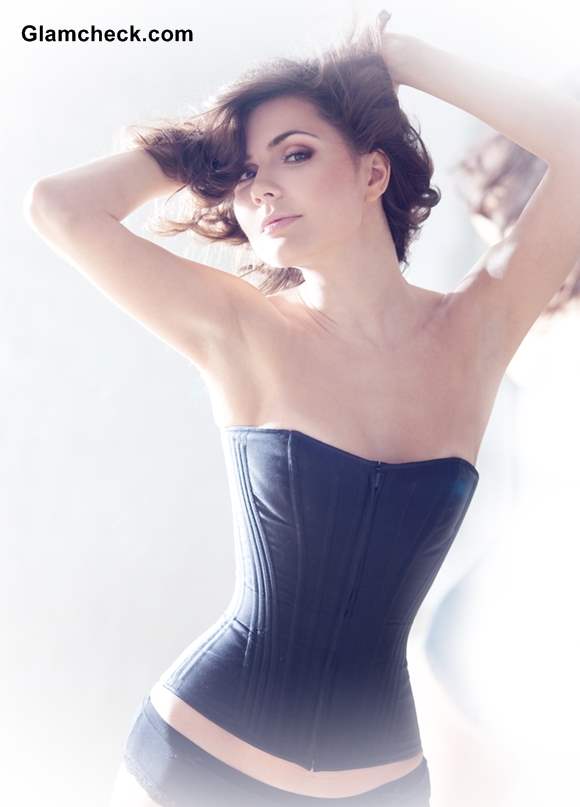 Merry Widow 
Merry widow features half cups or demi cups for greater decolletage and longer garter straps to attach hosiery.

A typical merry widow fastens with a hidden zipper that makes the garment quite non-adjustable.

The supportive foundation garment is not meant for daily wear but for formal occasions.

The merry widow undergarment may be made of laces, brocades, silks, or velvets making it an exotic piece of lingerie.

A merry widow designed to be worn under wedding dress tends to be simple so as not to interrupt the lines of a dress.
Merry widow and corselette
A merry widow is quite different from a corselette, though the two are very often confused to be the same, as both have rigid boning.

A merry widow runs only up to the waist and you can wear the style with underpants. Whereas, a corselette runs up to the hips and below.

Don't confuse a merry widow with a corselette or a bustier. A merry widow is shorter than a corselette and tighter than a bustier. A corset is also tighter than a merry widow.
Tips for buying merry widow:
Try a number of merry widows, before purchasing one. Since the undergarment is not very adjustable, the fit and comfort should be checked.

Most merry widows are sized by bra size. So know your bra size accurately. Also bra sizes may vary from manufacturer to manufacturer. So, don't just blindly purchase the stuff. Try it.
Shutterstock