The super-glam Spring summer 2012 collection presentation of Oscar de la renta held during New York fashion week left us flabbergasted. The elements in this collection were picked up from different eras and some ensembles were a concoction of various contrasting styles put together. While some dresses got billowy, the others were form flattering with use of lace, draping and clean lines.
The point of interest was also the use of citrus and pop-hued tones in scintillating silhouettes with a slight romantic vibe. The collection was crafted in lace, mesh, fringe and feather and gave a new name to miscellany.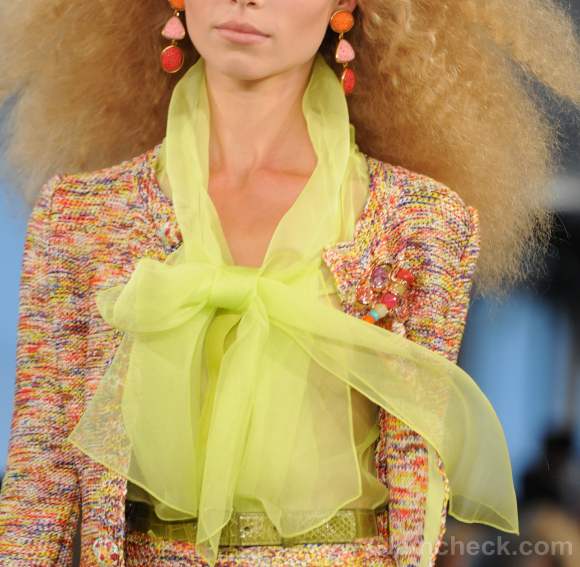 Though we loved the entire collection, our heart got struck with the sheer fabric shirts which were pleated or frilly and came with an attached scarf. These were teamed up with body con fit skirts and open shrug like jackets in the same fabric. We chose to be biased and have these sultry shirts as our "style pick of the day".
The shirt was a sleeveless shirt with pleats or frills and was tucked inside at the waist, worn with belts complimenting the outfit. The shirt completed the ravishing ensemble and added the hint of classiness to the same. The shirt was seen in lime green and fluorescent pink, in net and sheer fabric. The shirts were body fitted and had a scarf attached at the collar which was tied to add that extra hint of play and versatility. The outfit is now complete to be worn for formal occasions, with a hint of layering and sophistication.
How to wear sheer fabric shirts: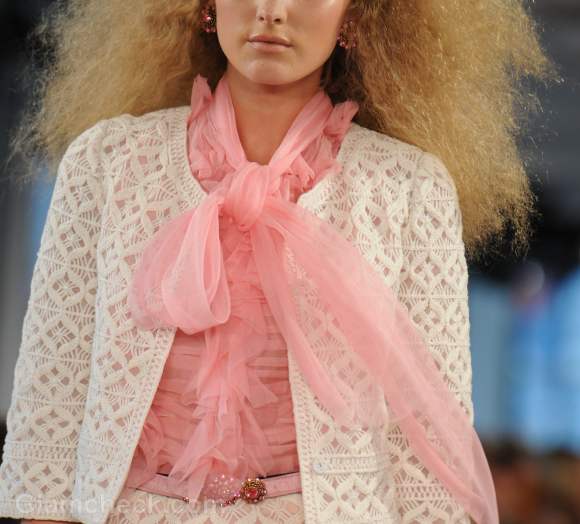 Whether you like to wear these shirts with a skirt or a pair of shorts, these add a hint of peppy for these hot and humid summers. It will save you the trouble for wearing something dressy and also have you looking irresistible.
Wear the sheer shirt with a tank top or a printed jumpsuit and have the print peep through the transparent shirt.
A great way to complete a dress and accessorize it with complimenting colored accessories. A look to follow this season, revamp your wardrobe with this celeb favorite piece of clothing.
To achieve the best look with this shirt, a tuck in of the same will bring out its look.
Wear these with printed or solid-colored palazzos and be ready to be spotted as a fashionista on the street.
Image: Shutterstock