Denim is the ultimate personification of cool and is the most laid back wardrobe staple there is. But in the last few seasons it has also come to represent chic. The trend never really dies out, each season it is re-invented and re-packaged.
A very recent twist that is ruling the catwalks and is being donned by celebs alike – is the denim on denim trend. You can either sport this by pairing up a denim shirt with your favorite denim lowers or teaming up your denim apparel with a denim bag.
The latter as we see it – is the most wearable and easy to pull off. Got your favorite denim cut offs and the anti-fit white tee? A denim bag is just what you need! Be it a satchel or a hobo, a distressed wash or studded version – a denim bag should be your companion of choice this season.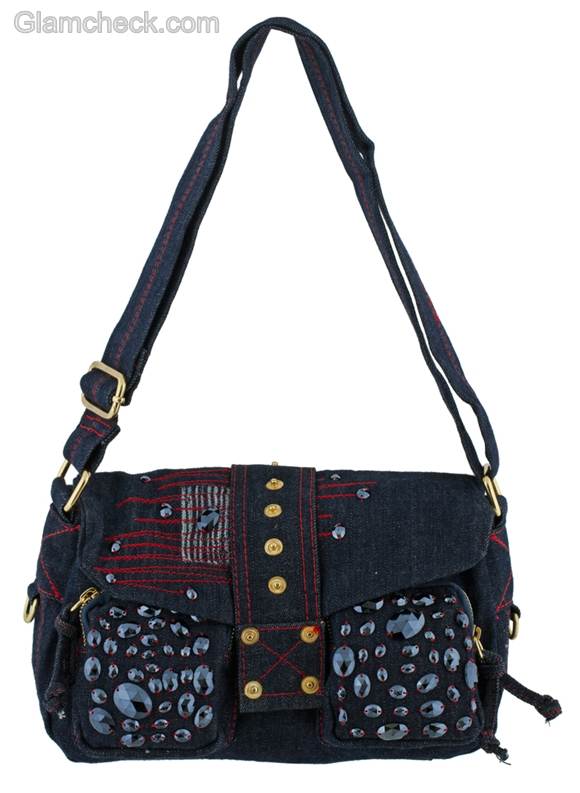 What – A denim crossbody bag featuring contrast stitches, visible gold hardware and a beautiful visual texture of black stones. Notice the wash of the bag is not harsh and eye catchy as the accessories on top are enough.
Where – Hanging out with friends at a pub or the hottest new café in town? Grab some eyeballs and appreciation for your bag!
How – Your favorite denim + full sleeves white shirt with folded cuffs + studded wrist band + Greek Sandals + Out of bed hair + Lip gloss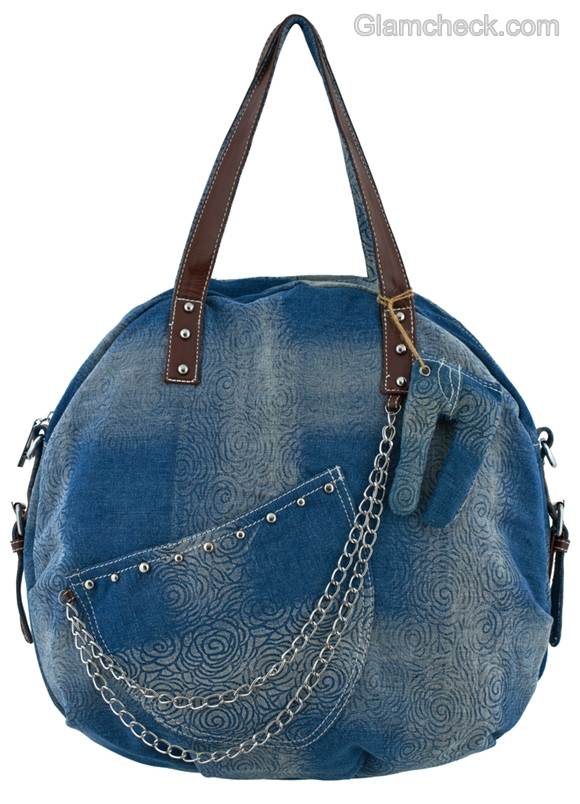 What – A denim hand-held bag. Look for a clean shape, and your arm candy can feature leather trims, a demure print, asymmetrical pocket and finished off with metal chains attached to the front.
Where – Attending a rock fest or visiting a live gig? Off to watch a game at the sports bar?  Add character to your look with this style dangling skillfully from your hand.
How – Denim Mini skirt + fitted tank or a racer back (go for a solid color with visible brighter bra straps) + soft unkempt wavy hair + kohl defined smoky eyes + rugged booties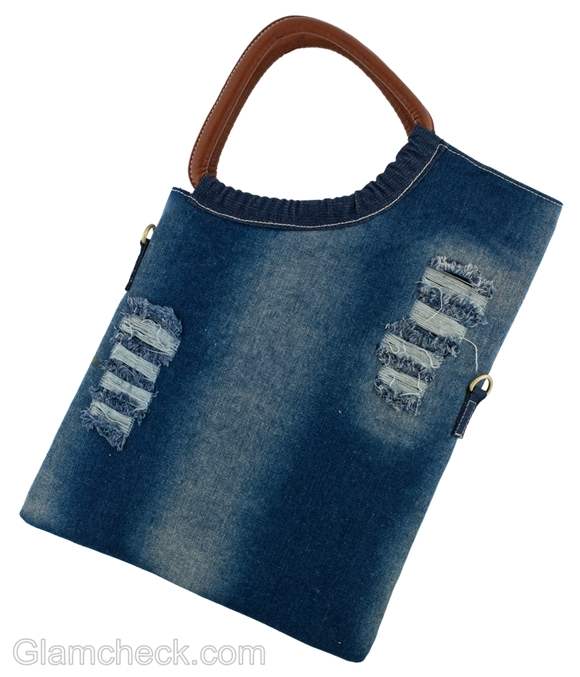 What – A rectangular shaped portrait denim bag with side wooden handle. A distressed wash topped up with a torn look. Look for a high point in this type of bag in the form of it's shape.
Where – This can be a trendy as well as useful college bag. Looking at the shape can't you imagine stuffing your books in it with ease while the shape promises all the attention we desire while dressing up for college?
How – Micro print straight cotton pants + Ice blue chambray shirt + Ballerinas + Half tied Beehive hair + lip gloss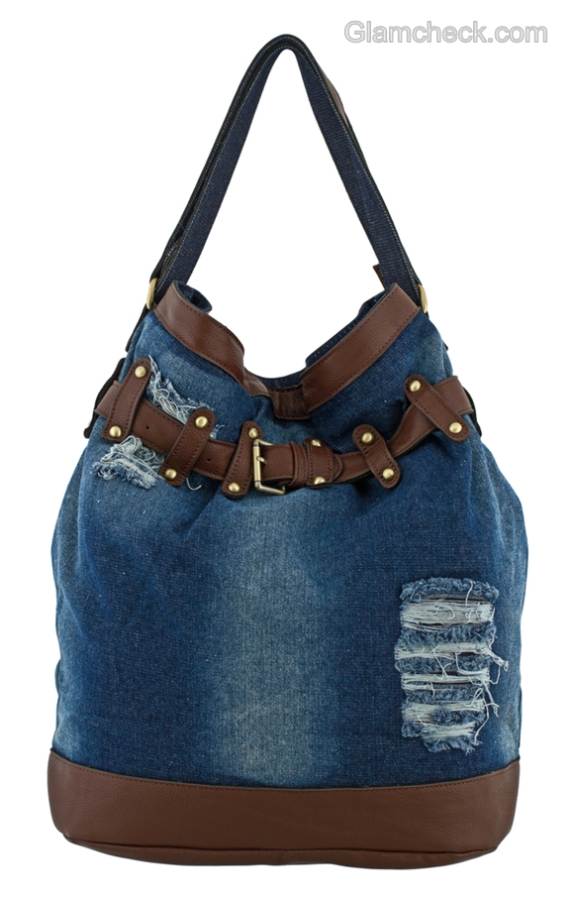 What – A bucket shape bag with it's conventional drawstring replaced by a leather belt. Brown leather trims; shiny chic hardware with torn patches; this type of a bag is the best representation of grunge chic.
Where –  A very versatile bag great for everyday use as well as casual socializing. It will carry all your essentials and easily take to from morning to a relaxed evening, holding safe with style are a girl's necessities. The muted yet detailed bag is a safe bet even beyond the early twenty somethings.
How – Distressed Skinny Denims+ white blouse + gold long neckpiece + brown / tan strap watch + Wedges + an unpolished Bouffant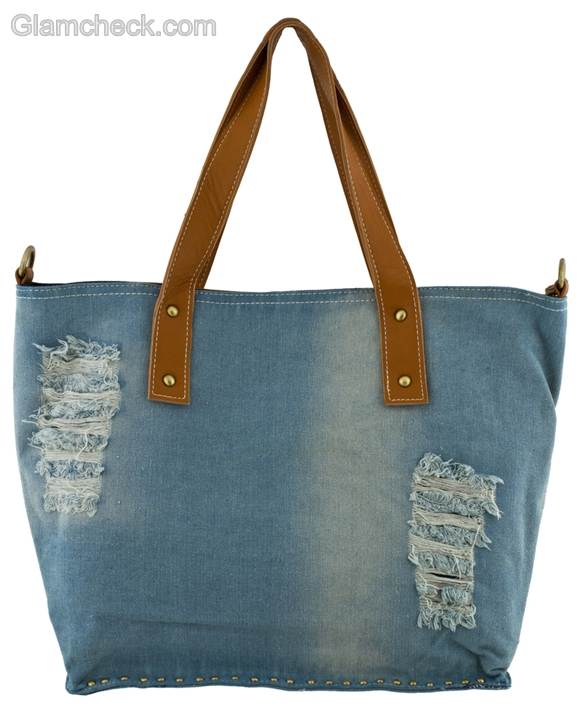 What – A conventional leather tote re-invented to be younger. The tan handle, torn patches and the beautifully thought contrast stitch at the bottom makes this one a classic.
Where – Off to shopping on your favorite boulevard or enjoying the resort season on the beach? This carry-all can stock up your sunscreen, magazines, headphones and anything and everything else.
How – A flowy white maxi + beach sandals + woven hippie wristbands + Aviators / tea shades + a gold neckpiece + Chambray scarf
Image: Shutterstock.com