What is Nautical fashion?
Nautical fashion is authoritarian yet highly feminine. The look combines both, the bold with the beautiful. The look and the feel is sexy and appealing. Wear nautical colors, stripes, designs, prints, apparels and accessories to add variety and fun to your collection. Wear a Nautical inspired apparel, done properly, and you may leave no heads unturned!!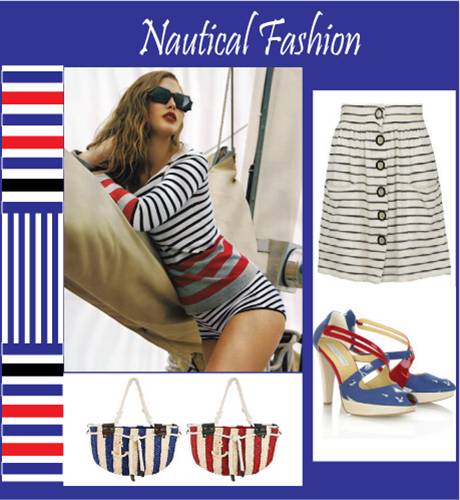 Nautical fashion
The seafaring inspired Nautical fashion exhibits cheerleader like youthful look. The look is fresh, inviting and reinvigorating, especially when the summer heat burns. Nautical fashion makes you look closer to the sea and the nature.
Wear the fashion when the sun burns all it's energy out and add a splash of maritime fun and holiday to the day. The Nautical suggest you to beat the heat and land-locked boredom, your own happy way. To the winters too, the style may seem quite challenging and severe. Keep the rigid, authoritarian, severe and tough nautical looks reserved for your winter apparels and accessories.
Nautical stripes:
Nautical stripes mark the maritime theme completely.

Combination of red, white and blue done in a fashion similar to that of the European slant make up for a chic and tough sailor.

The stripes can be horizontal, vertical as well as slanting. Some items may play with the direction and present them together in a single piece.
Nautical colors:
The typical maritime theme is aptly suggested by the nautical inspired blues, bright palace blues, dark navy blues, reds and whites.

A typical nautical scheme makes use of navy blue combined with white as well as red combined with snow white. However, to add variety to this snow white is substituted by soft cream or ivory.

The black dark navy blue of the Royal Navy, United Kingdom, is a favorite of the nautical theme. Also, the denim blues similar to that of the French or Italian navy is also popular and hit. Bright blues work as well as navy blues do. Maltan red is also a hot favorite.

Greens, pinks, purples are all making up for a high nautical fashion statement. These colors may make up for those who are tired of wearing typical nautical colors like navy blue and red combined with white.
Nautical prints:
The prints that mark the life of a sailor and his ship are to be seen scattered on all the nautical inspired prints

Stripes, both vertical and horizontal, done in blue and white as well as red white make for a complete sailor look.

Anchors both alone as well as mixed with polka dots are peppy and crunchy.

Stars, both big and small, clustered throughout as prints or as details also add to the look.

Capstan wheels are also frequent in appearance.
Details: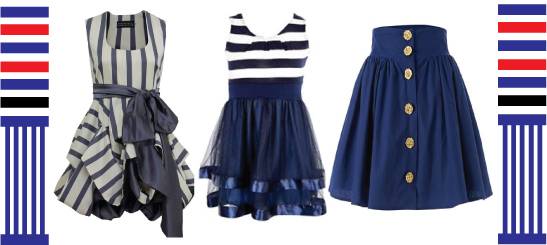 Nautical Stripes, prints and detailing

The nautical for women may also incorporate all feminine features to mellow down the tough looks by smartly featuring small frills, ruffles, trims, laces, braids and button closures, puffs etc.

Lace fabrics, frills, rose appliques, guipure laces, crushed chiffon, brocades, pleating and trims are also among the dominant occurring.

Blue, red and white details like braids, ropes, tough buttons, small anchor shaped zippers, stars and chains make the sailor like look complete.

Brass buttons, big and small also are characteristic of a nautical theme.

Large eyelets, metal studs and golden trigger hooks are completely maritime.

Gold, red or white braiding and cord are also among recurrent details. Piping, striped diagonal piping and blazer looks are also recurrent.

Puffed sleeves, both small and long, with laces and trims at the end also make for a strong, tough yet feminine look.
Fabrics:
F

abric is surely going to play a very determinant role when it comes to the final look of the garment.

Choose the fabric according to the season and occasion. Remember, with the help of fabric you can mellow down the look of a nautical apparel.

Keep cotton, cotton jersey, denim, satin cotton, twill cotton ones for summer.For winters, silk jersey, heavy linen, viscose, poly mix, wool, cots wool will do. Lycra mixed fabrics are promising and fashionable too.
Where to wear:
Nautical are apt for your formal and serious business meetings as well as your workplace.

You may also wear them for a formal day out, like shopping, dinner, etc.

You may wear nautical clothes to some beach parties, gatherings

etc. You may make use of nautical accessories to your workplace as well as parties.

Nautical are also perfect for the beaches and swim pools.
Wearing nautical: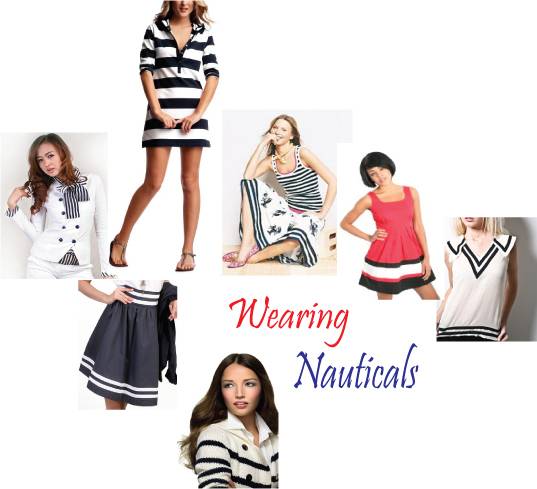 The way you wear a nautical garment will determine the end look, the occasion, the purpose and your mood.

A white and navy stripe shirt trimmed with braids may create a smart informal and tough look that is aptly suitable for your workplace.

A nautical blazer, dark navy or striped nautical waistcoats combined with a pencil skirt or trouser may fetch you the authoritarian business look.

A classy navy blue and white double breast style jacket may lend you an air of seriousness and importance.

The light striped jacket may appear less informal than a dark navy one.

A careless un-buttoned nautical blazer combined with chic t- shirt or tank top may tone down the tough nautical look for a casual evening.

A nautical trouser combined with a plain white shirt and complemented with a hat may make up for a cool relaxed look.

You may also wear nautical inspired jogging pants, Bermudas, swimsuits, mini skirts, Capri etc for a cool summer holiday.
Nautical apparels:
Boat, square and V-necklines and wide flat sailor collars make up for the design of a typical nautical apparel.

Update your wardrobe with red-white and navy blue- white stripe shirts, t-shirt, skirts, knits, waistcoats, jackets, corsets, waist pants, bikinis, belts, etc.
Nautical jackets: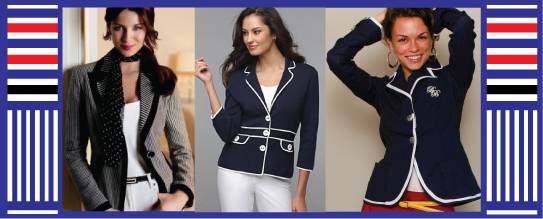 Nautical jackets
Double-breasted coats and cropped Napoleonic jackets are apt for winters.

For summers, wear shorter jackets and blazers. Wear pea-coat style longer, warmer and woollen ones to beat the winter chill.
Nautical trousers: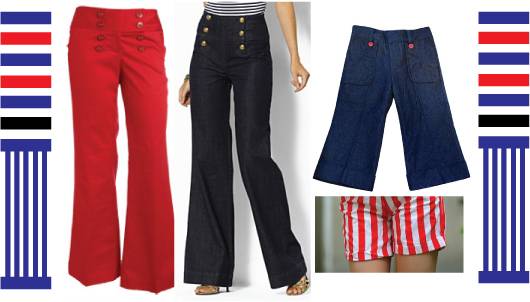 Nautical Trousers and pants
The trousers may be cropped straight and feature saddle stitching or sailor flap front button style.

Some of these sailor styles may feature a hidden zipper and 8 buttons at the front.

Cotton mixed with little spandex may give you the desired fit and hug your curves closely.
Nautical swimsuits: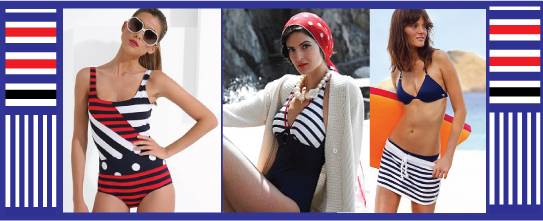 Nautical Swimsuits
If you have had enough of the flowers, abstracts, geometrical, polkas, plains on your swimsuits you may go for a change and add nautical maritime schemes and add freshness and vigour to your collection.

Add nautical inspired bikinis, bandeau, halters, monokinis and tankins to your wardrobe in stripes of coral reds, navy blues, reds, light blues, etc.

All nautical details, buttons, anchors, trims, frills, ties etc may also adorn your swimsuits.
Tips:
Mix match the items together to get a well balanced nautical look.

Remember, done wrongly the look may appear tough, heavy and overdone.

You may mix match the stripes with plain solid colors. Wear nautical strips at the top and avoid them at the bottom and vice versa. You may combine a plain shirt with a nautical jacket or waist coat.

Red may always come to your rescue. To add the extra touch to your nautical outfit, use red accessories.

The darker is the navy blue item, add less brighter color.

Team all your military inspired nautical  looks with white.

A rope drawstring tie may also make for a complete nautical maritime look.
Remember:
It's the navy blue and white stripe that makes for a real sailor nautical look. The navy blue may appear black or of some other shade, under the lights used in shops. So try to read the label attached to know the exact color or try to see the item under sunshine.