Jackets are a wardrobe staple. They fall under the protective clothing line as well as under the highly fashionable clothing items. Jackets are many when it comes to style, cut, color and fabric. While selecting a jacket, choose a quality jacket that will last you a few years to come. Go for the style and cut that is classy and is not going to fall out of fashion and sync, with time.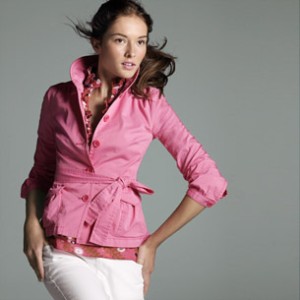 While purchasing a jacket, the following aspects should be kept in mind, so as to ensure durability, comfort and style.
The quality of leather matters:
If looking for a leather jacket, invest in high quality leather. The leather may cost heavily on your pockets but will last longer, for sure.

Leather obtained from cows or sheep are quite common. But the leather obtained from lamb is better in quality and lighter in weight.

Leather from lambs are smooth and shinny as the surface has less abrupt linings.
The lining matters:
Most of us forget to examine the lining, while choosing a jacket. Remember, to take a thorough look at the fabric, stitching and quilting involved.

Kasha linings are warm, comfortable and durable. Thinsulate, as fillers, in the liner may make the garment warmer. Cotton linings should be avoided.

The lining should feature neat and clean lines and stitches.
The stitch matters:
The thread used in stitching the jacket plays a prominent role in the life and look of your jacket.

A jacket stitched with low quality thread will may rip soon.


Threads are run onto the jacket to add style and look also. See to it that the thread runs in clear straight uninterrupted lines and doesn't appear out of sync with the color of the jacket.

A double stitch running parallel to each other, throughout the jacket, may add to the durability.
The construction matters:
The construction of the jacket should be neat, clean and unbroken.

The seams should be strong and should run in straight, unidirectional and uninterrupted lines.

Seams should have stronger linings to ensure unfolded neat hemlines, even while you sit for long.

The collars and pockets must lie flat and straight. They should also feature strong lining for durability and shape.

Check the lining for strong seams, especially at the pockets where they are prone to a lot of wear and tear.

Motorcycle jackets should have vents, a padded kidney panel and tough leather–all crucial for a safe and comfortable riding.
The finish matters:
The finish involves real craftsmanship. The better the finish the better the jacket is.

All Zippers or button closures must be in fine condition.

Buttons and other embellishments should not appear out of sync with the color, style or the over-all look of the jacket.
The fit matters:
Fit ensures comfort, unrestricted movement and flexibility. See that the arms fit you well. Avoid wearing jackets that hit below the hips.