NIKE Inc unveiled its "Nike Elite Series" football boots promising new levels of performance.
Features of the boots: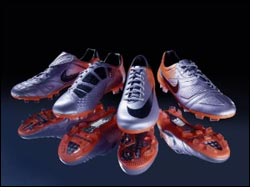 Intricate engineering, carbon-enforced strength and lightweight: These allow the players to perform at their best.
The high contrast color combination (Metallic mach purple and total orange): For enhanced visibility. After analyzing the color spectrum, Nike designers identified two, high contrast colors, so that when a player is running with these boots the colors trigger a stimulus to rapidly tune their peripheral vision.This unique combination is designed to increase the visual performance of the footballers, enabling them to quickly spot their teammates and execute a game-changing pass.