Actress Maggie Q sported the timelessly classic top bun as she attended the HBO 2014 Golden Globe Party at the Beverly Hilton Hotel in Beverly Hills, California on January 12, 2014.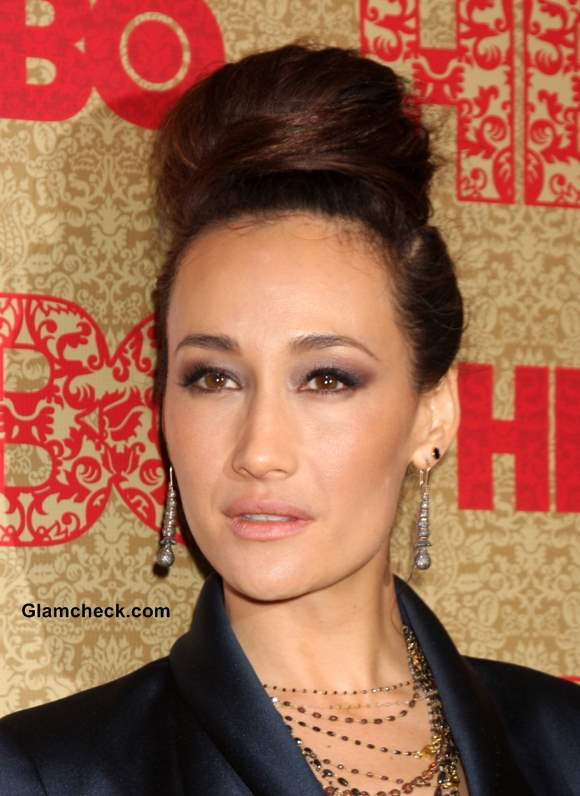 Effortless Top Knot Hairstyle 2014 Maggie Q
Maggie looked cool as a cucumber, classy as Greta Garbo and as hot as any runway model in this simple hairdo. You too can achieve the same level of brilliance by learning how to fashion a top knot. The top knot works well on those with shoulder-length to long hair. Here's a simple DIY.
Start by making a ponytail high on your head. Wrap it up tight with an elastic.
You want the bun to have some volume so brush small sections of your ponytail in an upwards direction till it gets sort of frizzy and bouncy.
Next, put that brush away and smooth the hair down with your fingers, taking care not to smooth them down too much or you'll lose the volume.
Now begin to wrap that hair into a simple bun. There is no need to twist it first although you can do that if you want the style.
Once your bun is done, use plenty of hairpins to keep it in place.
Hair spray is optional but a good idea if you plan on maintaining this look all day. 
Image: Shutterstock