College years are the time when everyone wants to put their best fashion foot forward. This includes not only clothes and accessories but also hairstyles. At the same time it can be quite taxing to think of a new hairstyle for every single day. This is especially true for those with long hair. Therefore, the trick is to find an easy hairstyle and sport it at regular intervals. The hairstyle should be simple to make and at the same time have a comfort factor to it – because the time spent on campus is long and you wouldn't want your hair to come in the way.
One hairstyle which is the perfect balance of the above mentioned criteria is the side ponytail. It is smart, easy to make and keeps hair off the neck.
The Side Ponytail DIY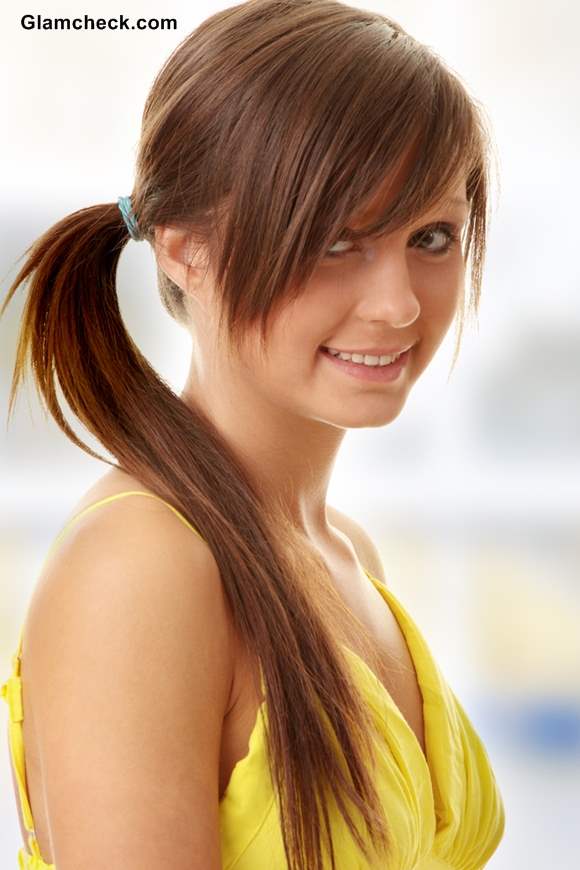 Everyday College Hairstyle – The Side Ponytail
Brush your hair well to free it from tangles and knots.
Gather all the hair at the side of your neck, near the nape, and secure in place with a scrunchie or a hair elastic.
If you have bangs, then brush them sideways on your forehead.
Simple ways to play with variations of the side ponytail
You can tie this ponytail on different sides of the neck to give variation to the same style. So, one day you can sport it on the right side of your neck while on the left on another.
If you want this same hairstyle to look dressier then simply roll the edge of the ponytail around a hot curling iron and hold in place for 30 seconds. This will give nice curls to the end of the hairstyle.
Tuck a flower into the hair elastic or use more elaborate hair elastics to tie up the ponytail if there is a special occasion on campus.
The side ponytail is fun yet practical for college wear. 
Image: Shutterstock