This article is meant for all girls who have a special someone in their lives as well as for those, who don't. For those who have a man in their lives, wake up girls, the way to a man's heart is not always through his stomach, it mostly is via the bed. And, for those of you who do not have a special person yet in their lives, you really don't need one to make you feel good, special and sexy. You deserve to feel that way, every single day and night. One of the surest ways to feel great is wear sexy lingerie and nightwear to bed! It is like a secret that they share only with themselves!
What is lingerie?
The word lingerie finds its origin in French and means underwear. In English, however, this term is applied to underwear in styles which are visually appealing or erotic in nature. Lingerie business, the world over is picking up as more and more women find, that wearing something exotic adds to their style and confidence quotient.
We discuss the various styles of lingerie and sexy nightwear available in the market, tips for buying and wearing these in this article.
Styles of lingerie
Someone aptly said "If love is blind, why is lingerie so popular?" You will be amazed at the variety of lingerie styles, colours and materials available in the market. Confused about the style, colours and materials that you should choose? The answers depend on your comfort level. While I strongly recommend that you choose the style and the material that you feel comfortable wearing, (as nothing beats the confidence that comes with wearing tried and tested materials and styles), do try newer styles and materials on offer. You never know when you start feeling a little less uncomfortable and ready to accept a new style!
Materials and colors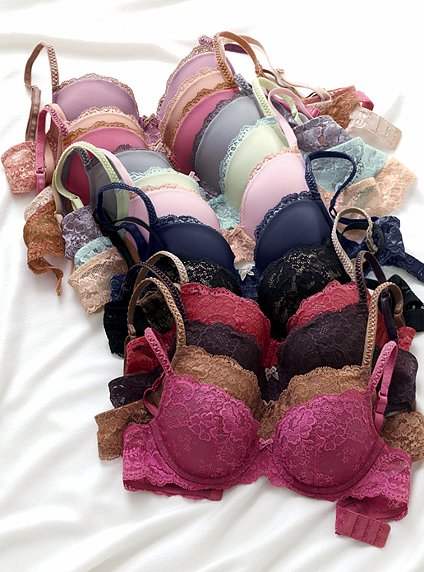 Cotton is the most common material used for lingerie and great for everyday use. Cotton gives comfort and absorbs moisture the way no other material can. High, very fine quality cotton, with extra sheen in a variety of prints and colors is available these days and is great for everyday use. It is easy to take care of and is very reasonably priced. However, every fashionista is aware that being stylish may mean doing away with the mundane and adopting the exotic!
Silk is a great alternative, if you wish to choose a natural fibre. Silk is great to touch and feel, has a great natural sheen and feels really smooth against the skin. Another advantage of silk is that it keeps you cool during summers and warm during winters and is hence, a perfect wear for all seasons. The colors in silk come out radiant – be it a print or a solid color. The flip side is that lingerie in silk is mostly expensive and you need to take care of your silks well so that they last you.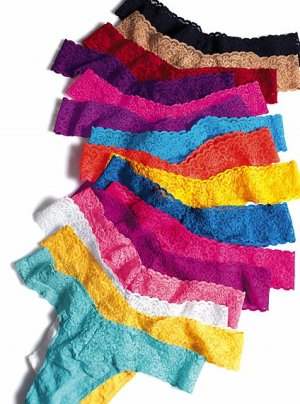 If you are not allergic to the man-made fibres, your choice could be limitless. Not only these come in a wide variety of prints and colors, they demand little care, look fabulous and last you really long. Opt for nylon, lace, polyester or all of these blended with the very versatile stretch fibre Lycra. The flip side of these is that they do not have moisture absorption capabilities.
Knit and woven lingerie both are equally popular and a variety of styles is made in both of them.
If you want to defy the norms and want some quirkiness in your lingerie wardrobe, Leather is a good solution. Lingerie styles in different kinds of soft, colorful leather are available at most of the lingerie stores. Not only do these styles add an element of mystery to you, they also feel great next to the skin. It is a great way to surprise your partner!
Any color that excites you or your partner is a good color to wear as lingerie. The all time favorites are black, red and pristine white. Animal prints, nude colors or sheers, tie dyes and ombre dyes are amongst other top favorite items. However, you do not need to restrict yourself to these colors; pinks, pastels, beiges, shades of red and wine, off whites, ditsy and small geometric prints are all perfectly fine to be worn as lingerie. Take care not to have an outstanding print or color that digresses your partner's attention from you to your dress. Large prints do not usually work well in lingerie, basically because the scale of a large print does not fit well in a small garment. While choosing a color, do keep in mind your hair and skin color, to feel super confident about yourself.
lingerie styles that make you sexy
Bra and panty set
While the bra and panty sets are the most basic items that you can possess in your lingerie wardrobe, you will be surprised at the variations in style of each garment available in the market! The bras could come in the regular shoulder straps, racer back, halter-neck ties or can be strapless.The designers play around with a mix of different fabrics in the same piece such as stretch lace, mix of lace and sheer, solid and prints etc. to come up with unique and visually appealing styles.
Here, I discuss only that bra and panty styles which are made to enhance the sex appeal; the styling of the garments is such that functionality takes a back seat.
First the bra styles; regular bra styles could be made more appealing by playing around with the cup size.
Regular/full cup
The most basic form of bra style, has cups which cover your entire breasts; not cleavage enhancing or push up, these are great for every day wear, but I am sure all of us would want something more raunchy than the regular cup!
Shelf bras
Shelf bras are bras which have thin vertical mostly elastic, strips of fabrics that rest just below the nipples, revealing almost all that there is to reveal and offering little or no support to the breasts. Great for women who are small and want to enhance the visual size, it is surely not a great option for women with large breasts, as this style offers little support.
Demi bras
Demi bras have small cups, irrespective of the size of your bosom and hence are more revealing than full cup bras. These look lovely on most body types.
Push up bras
Push-up bras are meant to do just that – push up your breasts to create a cleavage. These are quite a favourite with the less endowed, or people with not a great cleavage. Take care to buy only after trying this style, as if it does not fit well, it may cause the breasts to fall over!
Minimizers
If you have a huge rack, and are uncomfortable about it, choose the minimiser variety – the cups of this style are big so as to cover full breasts and the straps at the shoulder offer good support.
Padded bras
Padded bras usually have soft padding in the cups( bra style could be any of the above), to give a fuller look to the breasts.
Under wired bras
Under wired bras have a thin wire under the cups, and is meant to offer more support to the top heavy women.
Panty styles
G strings
An eternal favorite in the lingerie market, these are thin strips of fabric  or leather or even rhinestones that covers your genitals, passes through your buttocks, covering almost nothing and is held in place by a waistband or ties at the waist. Teamed with a halter neck shelf or demi-bra, these look super sexy!
Thongs
Thongs are slightly wider than G strings at the front and on the rear; however, they too manage to cover very little of your buttocks and are quite revealing!
Bikini
Bikini style resembles a panty, however has very little fabric at the sides; sometimes the fabric at the sides totally disappears to be replaced by strings. The bikini covers lesser rear than the regular panty style.
Boy shorts or knickers
These are a much smaller version of shorts worn by men. Usually made in highly stretchable fabrics, these are wider strips of fabric at the waistband, and have short legs extending marginally below the crotch. These look great when teamed with a camisole or a revealing bra style.
Designers usually combine different styles of bras and panties to make a set. They judiciously mix   transparent, translucent, solids and printed fabric to create unique designs. Choose a set that makes you feel confident and super sexy!
Corsets
Corset is a tight fitting strapless garment used to shape the torso of the wearer. In the olden days, it was worn underneath the voluminous dresses to primarily highlight the bust, while reducing the waist. Corsets used to be constructed by inserting bones and had back ties, which were tightened.
The new age corset, as a part of your lingerie wardrobe is made with stretch fabric and is worn with panty and garter belts to complete the look. The most common fabric used for corsets is perhaps stretch lace. The reason is simple, lace creates a sense of enigma by hiding and revealing at the same time.
Fabric and leather corsets could have design features such as embellishments, laces, zippers, front tie ups etc.
If you have a fantasy which you want to enact, or you want to role play to tease and entice your partner,  a corset is very versatile. It gives you the flexibility and freedom to choose your accessories, team them up with some sexy stockings, garter belt or even boots and make your fantasy come live!
Chemise and baby doll slips
Dorothy Parker once said" Brevity is the soul of lingerie", the shorter a lingerie is , the sexier it is. Two such, ultra feminine piece of clothing are the chemise and the baby doll slips. Loose fitting, sleeveless dress with no waist definition is a chemise. A baby doll slip usually comes as a bra-top fitted at the bust with a raised empire line.
The waist line is not defined.  A dress with empire-waistline features a waistline that rises higher than the natural waist, just below your bust-line. Both the chemise and baby doll slips are of mid hip or slightly lesser length and both of these are good options for women who are pear shaped as the styles gently fall over the curves, hiding the unsightly and revealing what you want to reveal!
Baby doll slips could be more adventurous by being front open from below the bust area. Mix and match of sheer and solid/printed fabrics with trimmings of lace, pom poms, ties, satin bows etc. and many such wonderful variations, make these styles feminine and great to have as many as you can in your wardrobe.
Two piece and three piece sets
These are usually ensembles created to cover your revealing intimate wear, while lounging around. Two piece sets would mean a sexy chemise or slip and a gown on top of it to cover it.  A three piece set would typically be a bra and panty set( you could choose from different styles discussed above) and a gown thrown over. Gowns could be knee, calf or ankle length, mostly in solid or printed fabrics, to hide what lies underneath, precisely the reason why sheer gowns are difficult to find. They could be embellished with bows, laces, rhinestones etc .
A gown, apart from being functional, also adds a sense of mystery to the wearer. They act like a wrapping paper, which needs to be removed to find out the gift inside!
Accessories – stockings, garter belts, perfumes and more
While a great body and a confidence to kill for are the sure shot recipes for looking sexy in bed, it does no harm to try out accessories to add some spice and add to the oomph factor.
Stockings, mostly sheer or net are worn with corsets or bra and panty sets. These add an element of enigma to the wearer. Do read up more on stockings on our upcoming article on different kind of stockings to choose one that suits you. Sometimes garter belts could be attached to stockings to hold them up.
Garter belts are bands of stretch fabric worn at the waist, with garters attached to them, which hold up the stockings. Very often, garter belts are lacy, sometimes studded with rhinestones to add an element of bling. Traditionally, garter belts were a must to be worn by women on their wedding night, to symbolise their purity, and removal of these by the husband represented relinquishment of this status.
Perfumes – complete the look and make you feel confident about smelling desirable. Choose a perfume that is not too strong. You could choose from a variety of fragrances available – floral, fruity, citrus, gourmand etc. Do refer to the article Tips for buying the right fragrance in the Makeup and beauty section of this website.
Others – If you are the adventurous sorts, you could choose from a host of options available in the market such as hats, masks, bunny ears, boots etc. The options are limitless like your fantasies!
So how do you know what looks good on you?
While the ground rule remains the same, wear something that you feel confident and comfortable in and keep trying newer styles, the below tips should help you!
If you have a large bosom
If you have large bosom choose styles which visually reduce the size. Under wired bras give you the much needed support. Opt for stretchable material, which not only gives you shape and support, also looks great!
If you are less endowed
If you are less endowed, opt for push up and padded bras. Avoid corsets, as these will make you look smaller. Choose high cut lowers which draw the attention to your lower half. Knickers, G strings all work well. Accessorize with stockings and garter belts.
If you are bottom heavy
If you are bottom heavy, choose styles which highlight your torso, such as shelf bras, baby doll slips and corsets. You could choose darker colors as they make you look slim. Gowns with embellishments could further add a sense of mystery to you!
If you have a large tummy
If you have a tummy that you are not so proud of, opt for slimming and flaw hiding styles such as corsets, chemise and baby doll slips. Opt for styles which highlight your other parts of the body such as cleavage enhancing bras, thongs and accessorize with jewelery!
Lingerie has transformed and how! Since its initial functional use in the 18th century, as a figure shaping and body warming garment to the 21st century, when lingerie has evolved from not only being functional, but as a means to express one's desires and for visual delight of one's partner! It is considered by many women as the second skin. The market is teeming with sizes, options in styles, designs and colours. Go out and buy one today to pamper yourself or your partner!
Images: Victoriassecret