Fashion is ever evolving and so must your wardrobe. With summer biding adieu and winter knocking on the door, it is time to see what should be in our closets this Fall/Winter. So, read on and discover the key looks of this season.
Military look:
Military look for women has been on the runways for the past 2-3 years and this year it is back yet again. This season's look focuses on utilitarian clothing. While the look and feel is still military, this year the feel is much softer and feminine. Though the embellishments are cut to a minimum, it is the silhouettes which play a dominant role. Fleece lining and furs add a dash of luxury and femininity to the outfit.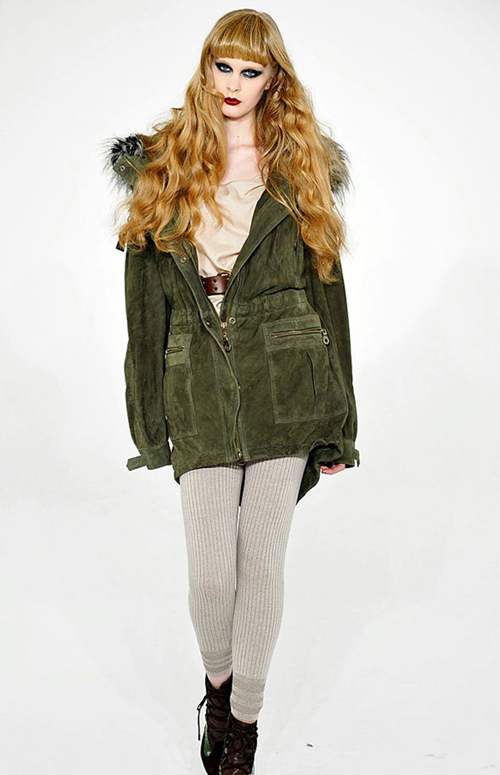 Army green military jacket by Lamb Fall 2010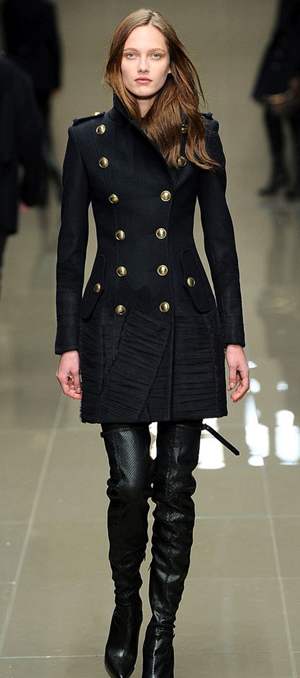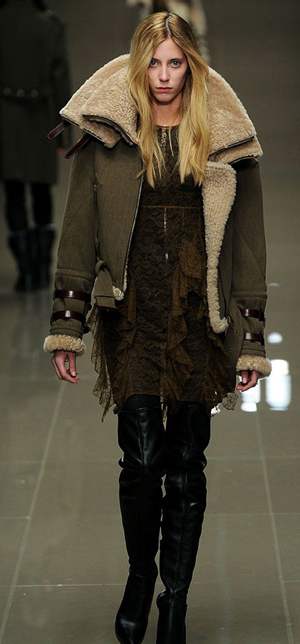 Burberry Military Jackets Fall 2010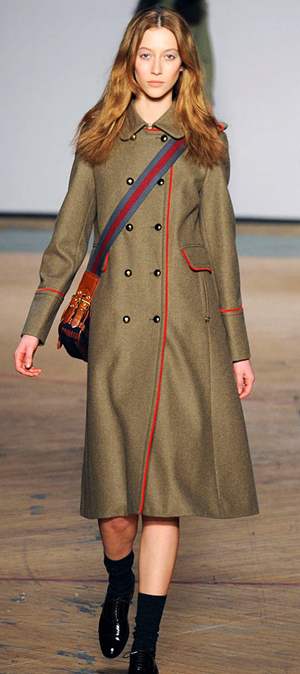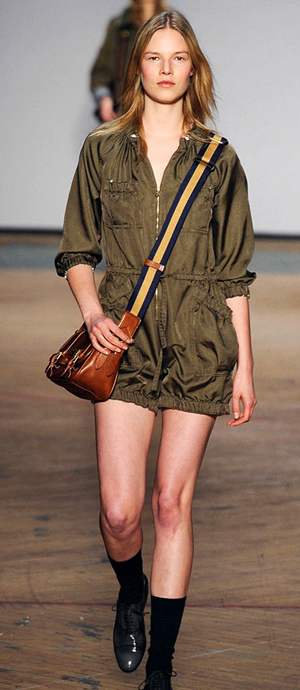 Marc Jacobs Military Jackets Fall 2010
Who: The look is more apt for women on the younger side.
Hot Styles: Since the emphasis is on comfort, long overcoats and over-sized jackets make the cut this time around. On the other hand, Burberry showcased fitted coats. Huge collars are another style which is straight off the runway. Double-breasted coats are also huge this season. Wear them on their own or team up with leggings or skinny jeans.
Colors to choose: The color for this season is definitely army green. Though you can also go for camel, navy, olives and black if green is not your style.
Where: Military style is more suited for day wear. Though you can take it from casual to formal quite easily. Just choose the right pieces and you are raring to go.
With: Wear it according to the look you wish to achieve. If your look is casual, go for military inspired shorts or cut off overalls or rompers. Carry a sling bag to complete your look.
Military look also works well for work wear. Wear an army style sharply tailored jacket teamed with skinny trousers to give just the right amount of oomph to your boardroom outfit.
Boots look the best with military inspired outfits.
'60s Feminine dressing:
60s is back! And with a bang. Lovely flowy silhouettes and beautiful elegance of the 1960s make a comeback this season. Carry this off to look your delicate and sophisticated best.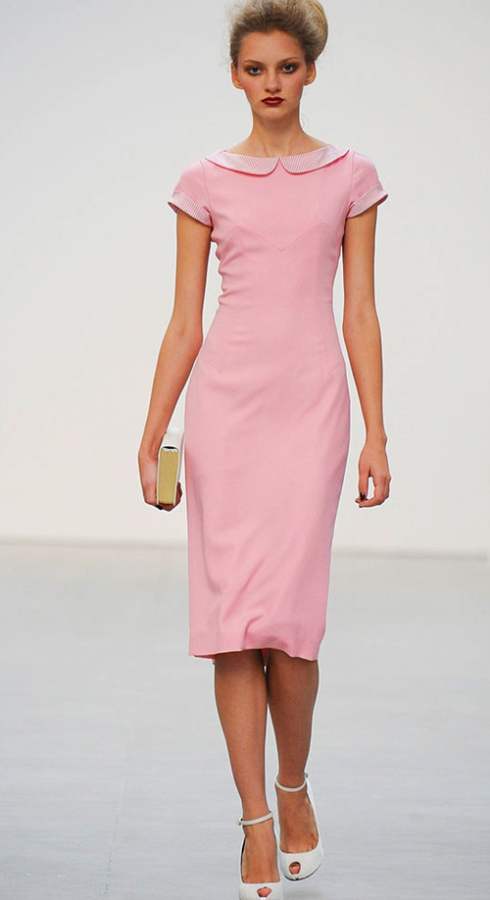 lwren Scott Sheath Dress Fall 2010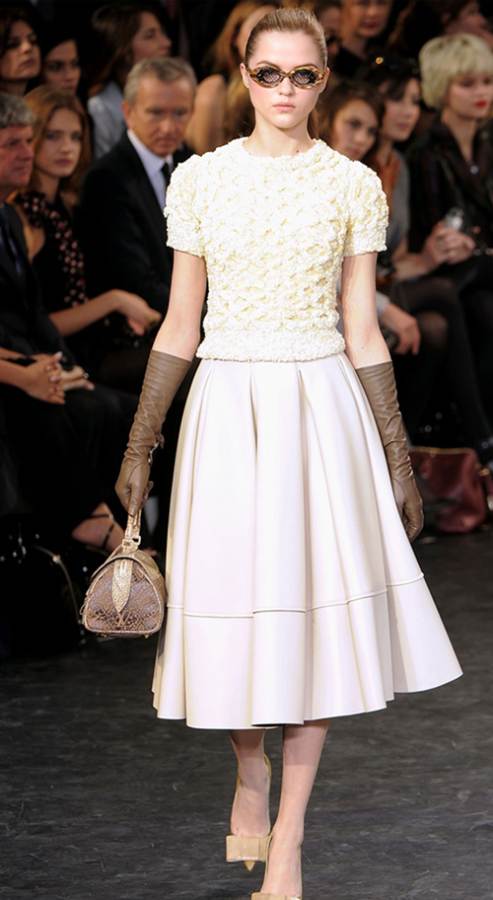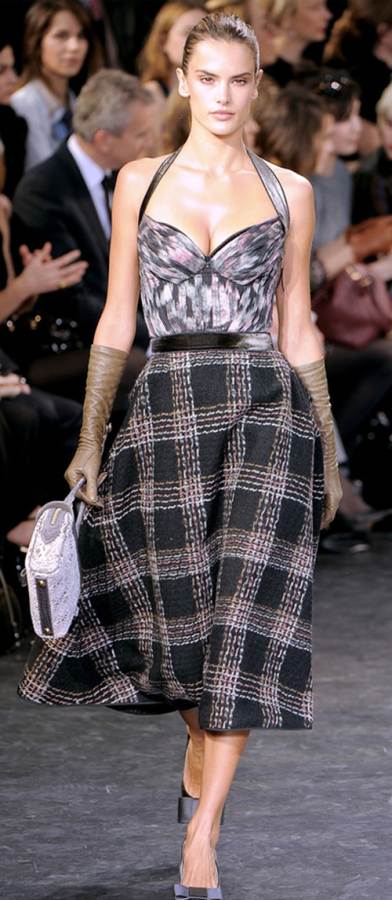 Louis Vuitton 60s Full Skirts Fall 2010
Who: This era was the time of Audrey Hepburn and Marilyn Monroe. So this look celebrates the fully figured women. Curvaceous women carry off the '60s look the best.
Hot styles: The styles in vogue are full skirts or skirts with corset tops as showcased by Louis Vuitton, Button-front dresses and Classic sheath dresses a la Lwren Scott.
Colors to choose: This season go for underplayed colors like Pastels, beige, white, gray, plaids and browns
Where: Carry it off with panache at cocktail parties or a lunch out with the ladies. You can also go to a fancy date decked up like a glamorous diva.
With: Accessorize your look well as this is what made women of '60. Go for dark and bold makeup if you want to look your glamorous best and are carrying the look at night. If understated is your thing or you are dressing up in '60s during the day, go for makeup in soft pink and pastel shades. Delicate and sophisticated kitten heels complete this look. Do your hair up in a chignon and pimp up with hair bands or clips. If your dress demands a belt, go for dainty and slim ones.
Sophistication:
Vintage is the word this season. After the luxury of 60s, the sophistication of 70s is the look you would want to reinvent this season. The idea is to mix the boho and disco of 70s and get to an elegantly chic style. This look basically works on voluminous silhouettes and earthy shades. Here's a lowdown on how to get this one right.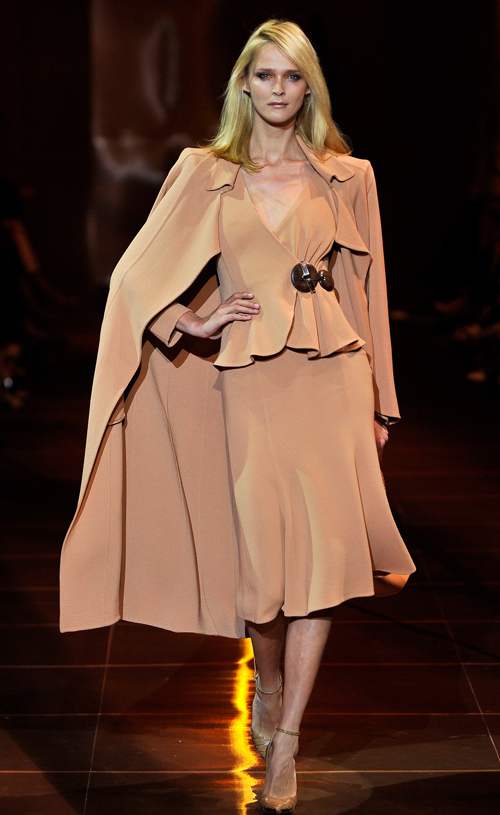 Armani Fall 2010


Chole                                    D&G
Who: Just about everyone. Just carry off the look with attitude and confidence!
Hot Styles: Go for high-waisted and wide legged trousers with blazers for day wear. Hot pants are definitely the 'it' item of the 70s and exactly the way to show off your well toned legs elegantly. Pair them up with a soft feminine blouse. Camel coats, shirts with ties and cropped jackets/blazers are the other items you should invest in. If you are going for the 70s style cocktail dresses, keep the necklines dangerously low and fabrics sheer and metallic to add the oomph factor.
Colors to choose: Go for earthy tones, navy and maroon. For evening wear, try high sheen fabrics.
Where: Sophisticated 70s look work very well in formal wear. However, you could team up a soft flowy blouse with leggings for a stylish evening out.
How: Pile up on jewelry like stone necklaces, bracelets etc but do not overdo it. Make sure your hairstyle matches the overall look. Go for over-sized buns or keep it simple with flowing curls. While the trend this season is slim belts, a wide belt to grip your waist will do no harm to the sophisticated 70s look.  Satchels and thigh high boots will help you complete the ensemble.
Gowns:
Gowns almost go back to minimalism this fall. Stylish floor length gowns with thigh-high slits have slowly but very steadily emerged into the fashion scene. This year luxurious fabrics like velvet and laces are very much in demand.  Sheer fabrics have also made a comeback but exercise caution before stepping out in a see-through dress. Read on to know what to wear and how.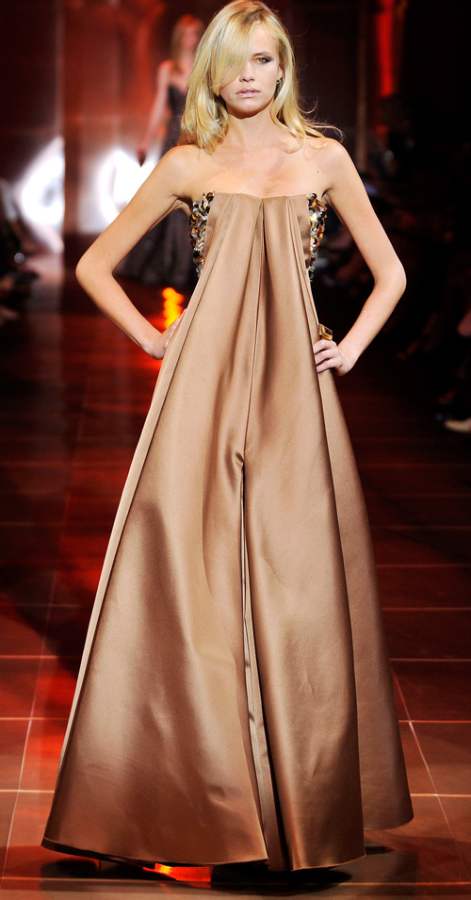 Armani Fall 2010

Elie Saab Fall 2010 draped and ruffled gowns
Versace cut-away-high-slit gowns Fall 2010
Who: If you are a tall and slender woman, this can become your look. A floor length dress will make a short women look all the more short and same goes for women on the heavier side.
Hot Styles: Asymmetric dresses are the styles to look out for this season. The asymmetry can be in shoulders (like one shoulder dresses) or in the hemline. High slits and cut outs are also extremely in fashion. Drapes have made a strong comeback and so have ruffles owing to the rise of the vintage look.
Colors to choose: Since this is the season of earth shades, they rule the roost in this department too. Go for shades like white, black, orange, rust, beige, metallic and maroon.
Where: This style is very formal and thus should be restricted to formal red carpet events or balls. Do not wear these dresses during the day.
With: Go for heavy eye makeup to give you the diva look. Wear minimal and sophisticated jewelry. For footwear, go for ankle strap heels or gladiator heels in matching colors. Do not over-experiment with accessories and let the dress be the focal point of your ensemble.
Capes, Cloaks and Ponchos:
Capes and cloaks are no longer the sole territory of superheroes and Red Riding Hood.
These have been going in and out of the fashion scene since the medieval ages. And this year they are all set to make their place in your fall wardrobe.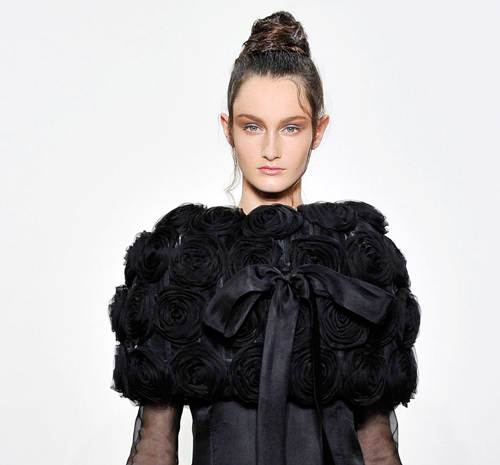 Valentino Fall 2010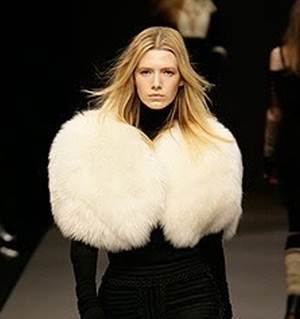 Guy Laroche       &       Jaeger
Who: These are versatile garments which are very trendy and easy to wear for women of all ages, shapes and sizes! So whoever you are, go ahead and add this one to your wardrobe.
Hot Styles: This season capes will be in a variety of forms: from fitted short ones to over-sized, flowing and floor-sweeping ones. Textures will be varied too. You could go for heavy fur like Valentino and Jaeger did in their runways or go for fleece a la Elie Saab. You could also choose leather capes  like Guy Laroche's catwalks.
Colors to choose: Again white, gray, brown and blue will be the color for capes too this season.
Where: Capes can complement a wide variety of garments and you can find one to go with every occasion. Same goes for cloaks and ponchos too.
With: Wear loose fitted capes with well defined and sharp silhouettes. Go for pencil skirts or skinny pants with these kinds of capes. If you are on the heavier side, go for thigh length capes which will give you a slimmer appearance.
Clothing accessory: Tights
Tights are a perfect way to complement any garment for the winters. Sexy and stylish, they are practical and functional too. They are must have clothing accessory this season.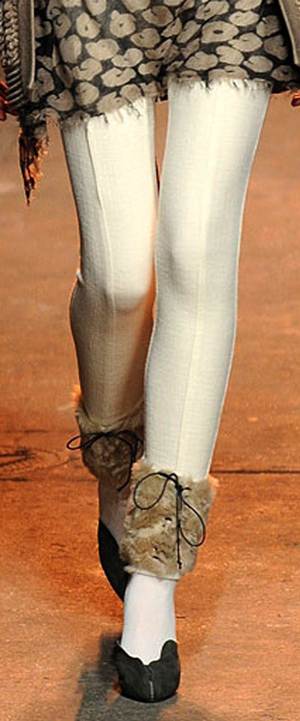 Thakoon Fall 2010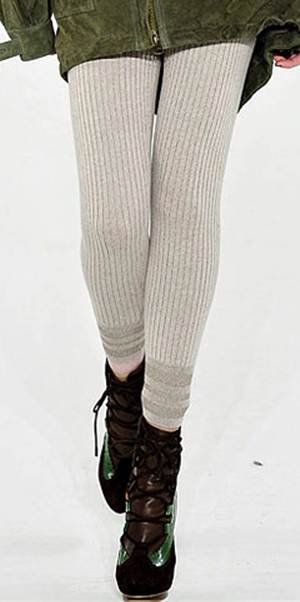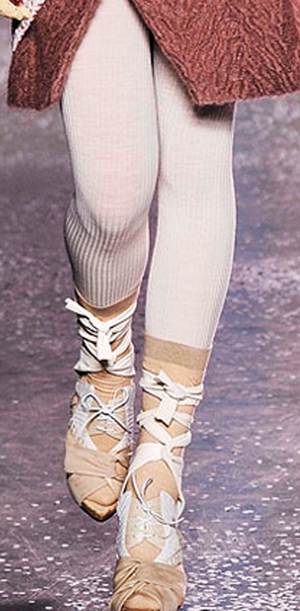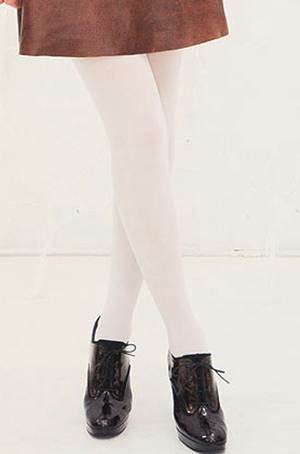 Lamb,   Rodarte   &   John Patrick
Who: Everyone as long as you keep the length of your top/dress right.
Hot styles: Go for materials like wool, knits and spandex. Wearing socks over tights to create a layering effect in a very much off-the-runway look this season!
Colors to choose: Color for this year's tights is predominantly white. This ensures a break in the dark and earthy color palette of the season and offers a much appreciated contrast.
Where: As already mentioned, this versatile item can be worn with anywhere. They can be the perfect replacement to your skinny pants.
With: You could go for a black dress and boots to pair up your white tights for a classy black and white look. Alternatively, go for a vintage look and pair them up with neon colors. For this look, choose any one (top or bottom) to be bright or you will end up upsetting the color palette of the season.