Jewelery forms a part of every woman's fantasy. Add to it, the occasion of her wedding and you have the perfect mix to make a woman excited and at the same time, nervous to get the look right. The bride wants to look special on this day and plans out each and every bit of her outfit, right from the 'gajras' to the makeup, from the wedding jewelery to the clothes.  It can get quite confusing for the bride to choose from what is available in the market and more so because each manufacturer has so many things on offer.
In this article, we explore the various kinds of bridal jewelery that are available in the market and the new trends.
Choice of metals and stones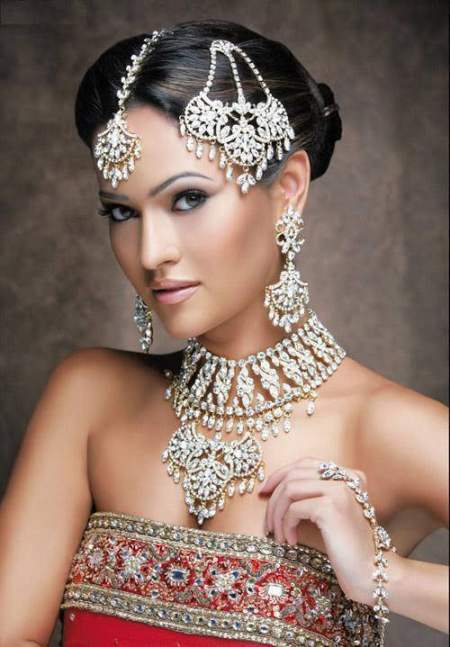 First, the basics, your budget decides what metal you should go in for.
Gold and platinum are expensive and if you have a tight budget, you could go in for a few items in these metals. Silver and gold plated jewelery pieces are pocket friendly. Depending upon your budget, diamonds and precious stones could be included or given a miss. Imitation jewelery using colored stones resembling  precious and semi precious stones such as ruby, opal, topaz and the good old diamond is fairly common these days. They look exquisite, however cost only a fraction of the real stuff. The cost benefit of these imitation jewelery means you could have lots of these, matching every outfit in your trousseau.
If you are on a tight budget,  you could include a few pieces of jewelery made in expensive metals and stones and a few in plated metals using semi precious and artificial stones.
Jewelery – must haves and their designs
Different parts of India have different customs and there may be some items of jewelery  that you will need to necessarily have, owing to their customary significance. Other jewelery pieces could be selected on the basis of your budget and what is in vogue. Listed below are the jewelery items that you must have if you are going to be a bride.
Mangalsutra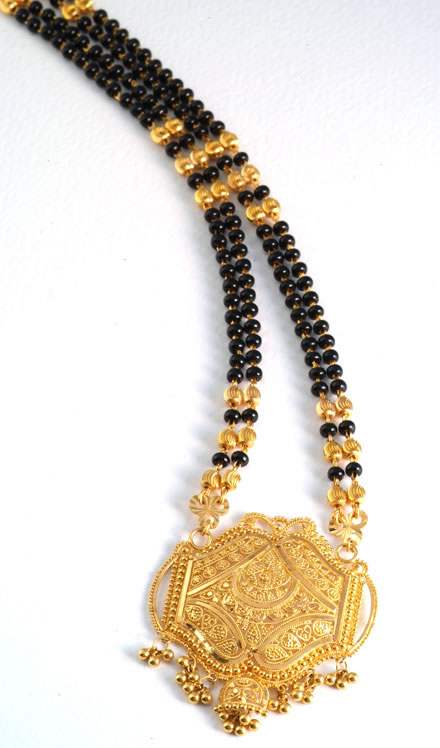 Mangalsutra is an auspicious thread which the groom ties around the neck of his wife at the wedding ceremony.  Mangalsutra is the symbol of being married and is worn by Hindu ladies in the greater part of Western and southern India. Traditionally, this is a long thread( mostly yellow in color) with a gold pendant. This thread symbolizes the love and attachment with which the husband and wife will be tied to each other throughout their lives. There are quite a few variations of the mangalsutra available in the market today to suit the deep as well as not-so-deep pockets.
You could have a mangalsutra with black and yellow beads and a gold pendant;
You could even have a diamond pendant attached to a plain black thread or a beaded yellow and gold thread.
Sometimes, to make the mangalsutra a little more dressy, gold chain could also be interspersed between two chains of black and gold beads.
Nath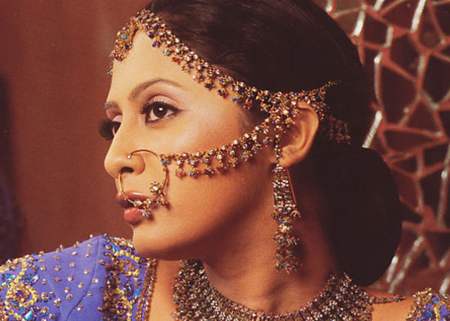 Nath or nose ring is worn by brides of some regions of India. The nose ring could be a plain simple stud in gold/silver/diamond or colored stone. This could be put into the hole pierced in the nose and screwed to its position. A nose ring could be more elaborate as well, in the form of a decorative ring, which could be held in place by a long chain, having its loose end tucked into the hair, behind the ear.
If you do not have your nose pierced, no worries!  Naths which could be pressed on to the nostril from either side are very common and look equally beautiful. The nath keeps reinventing itself , and you could have naths with beautiful filigree work or with stone and bead work.
Payals (anklets) and bichua ( toe rings)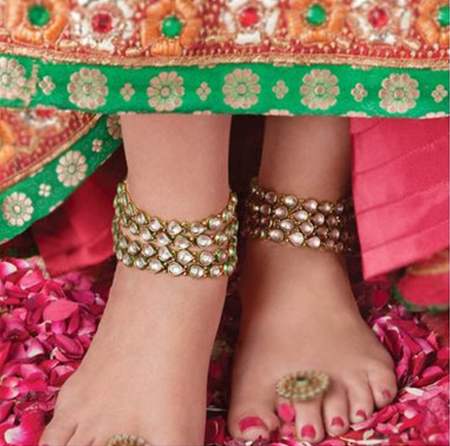 Payals and bichua are jewelery meant to be worn on the feet. A payal  is a chain which comes in a pair and is worn on both the ankles. These are mostly in silver and have a lot of traditional designs and delicate patterns. Some of them may also have small metallic bells which rub against each other to emit a melodious sound when the bride moves, lending her an aura of enigma.  A single anklet in plated metals and threads having multi-color beads or bells or other such design features, are also worn by young, unmarried girls as a fashion statement.
Toe rings or bichua, like payals are worn in pairs  and  are adorned by most married women. These could come in silver too. They could be simple rings, or could have small studs of colored stones, or elaborate patterns such as a peacock etc. Traditionally,   jewelery worn on the feet is not made in gold, however, newer trends do have lots of designs in gold.
Chudis and kadas/kangan
Chudis and kadas or Thin and thick Bangles/bracelets – are a symbol of Indian-ness worldwide and are worn by girls and married women alike.
The importance of bangles could be gauged from the fact that some communities  even have an elaborate ceremony, where the bride is made to wear the bangles in specified colors by her relatives , before her marriage.
Bridal jewelery is mostly made in precious metals like gold and silver or plated gold, however, these are also commonly found in glass, wood, plastic, ivory etc. Bangles are mostly thin ,measuring about  1/8th of an inch, whereas the kadas or bracelets  are usually thicker, starting from a centimeter wide and going to be as wide as an inch or more.
Wedding  bangles could be adorned with precious and semi precious stones. It is considered inauspicious for a married woman to let her hands be bare and without bangles. Traditionally, a married woman and a bride-to-be used to wear red glass bangles, however, things are changing and now a days, brides mostly wear bangles made of metal.
Other bridal jewelery
Apart from the above items which a bride must wear as per the traditions, there are many items which are bought by the family and which she is made to wear lovingly,  on her special day.
Set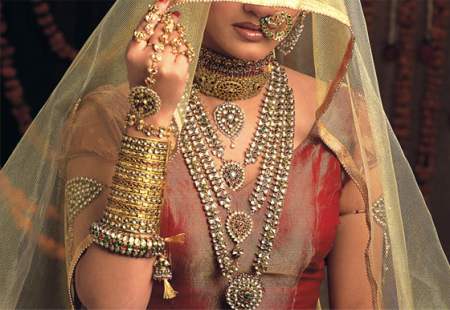 A set is a necklace with matching earrings and ring. Sets could be made in any of the metals listed above and are normally heavier than plain necklaces.
If there are no budget constraints, brides could be gifted gold and diamond sets.
Kundan work  or  precious stones and diamonds are set in gold with a gold foil in between to reflect the glory of the stones  and polki  (which is a version of kundan, however uses uncut diamonds set in gold) are also increasingly becoming popular with the rich clients.
For the budget conscious, sets with multi-layered chains of pearl look very glamorous.
Necklace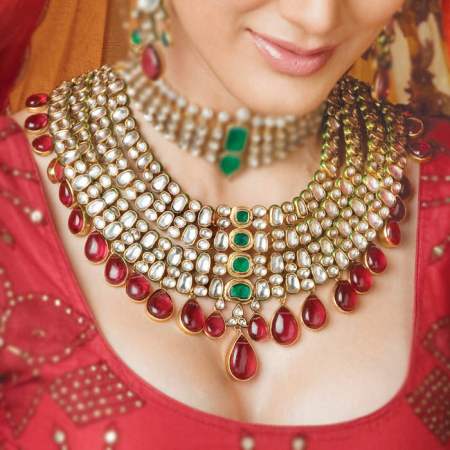 These could be independent pieces of jewelery to be worn at neck . Necklaces have a lot of significance in a wedding and sometimes these could be heirlooms passed on from one generation to the other. You could have different designs of necklaces.
Simple chains in different thickness and designs could be worn as it is or they could be teamed with unique pendants. Pendants could be floral in design or could even be miniature version of the deity that the bride believes in. You could have a silver chain, a gold chain or a plated chain. The pendant could be made of gold or silver or diamond / other precious stones.
Chokers are generally wide neck pieces that sit very close to the neck. They normally have an adjustable string which could be loosened or tightened. A multi-layer pearl choker with a semi precious stone set in between looks very chic and yet is not very expensive. Other chokers could be made of gold and silver. Chokers look best when the wearer has a long delicate neck.
Long chains – also known colloquially as 'haar' are heavy pieces of necklaces . These are usually long enough to reach the navel of the wearer and d be made in  different metals and patterns.
Finger rings or 'angoothi' and haath phool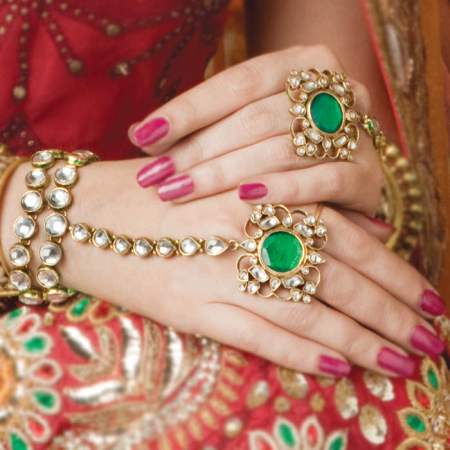 The engagement ring is worn in the ring finger of the left hand by the bride. The engagement ring could be a plain band made of metal or could have various motifs and patterns embossed / stones set in it. A bride may choose to wear rings on her other fingers as well. Rings could be made of plated metal, sometimes using artificial stones or could be made in gold and other precious metals using diamond and semi precious stones.
Very often , rings for all fingers on one hand, could be linked together with chains, making a web like structure called the haath phool, which the bride often wears. For centuries rings are associated with beautifying the hands of the bride and they are every jewelery makers' delight!
Earrings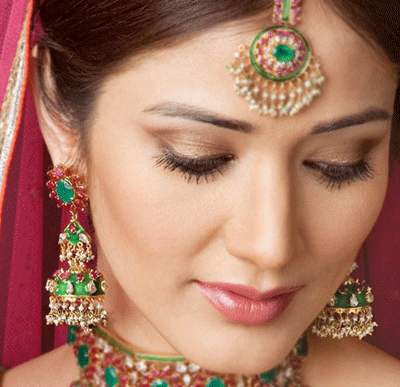 Earrings transform the look from the casual to the formal in an instant. No wonder,  brides often have a huge collection of ear rings in different sizes and shapes.  You could have the very versatile plain bands /  rings or studs. A very typical traditional  Indian design that every bride must have is the 'Jhumka'. The newer trends include chandelier ear rings, which are made in diamond and resemble the chandelier. While having ear rings in plastic, wood, terracotta and other inexpensive metals is okay for an unmarried girl; for a bride, mostly ear rings are in precious metals and in intricate designs and patterns.
Maang teeka
In the Hindu tradition, a lot of emphasis is given to the hair parting. Traditionally, married women are supposed to put vermillion in their parting , or wear a delicate piece of jewelery called the maang teeka, as a symbol of their married status. A maang teeka is a small chain worn on the head at the parting of the hair, one end, hooked to the hair and the other end delicately dangling at the forehead of the wearer. The part that dangles at the forehead is a form of pendant .
The teeka could be made in any kind of metal and could have various designs and should be in sync with the other pieces of jewelery worn by the bride. Such is the grace lent by this piece of jewelery that it  is now commonly worn even by unmarried women at traditional occasions!
Baaju band or Armlet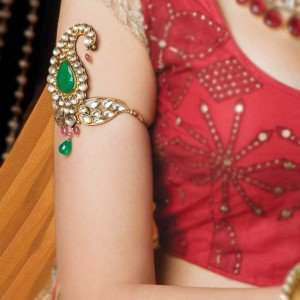 Baaju band or Armlet is worn a little above the elbow and is a fine piece of jewelery coming in various designs and shapes. In ancient India, this was worn by men as well. A bride may choose to wear this, however, this is more a fashion accessory than a must to be worn by a bride.
Kamarband or tagdi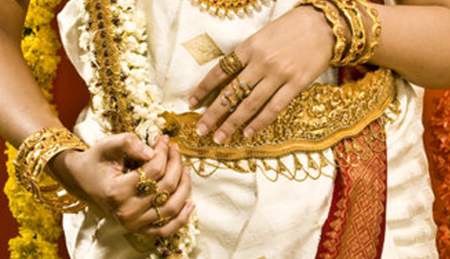 Kamarband or tagdi are to be worn at the waist. These could be delicate chains which could be slipped along the waist or could have elaborate patterns made using coins, beads in precious and semi precious metals. These lend a delicate grace to the wearer and should be worn with midriff baring apparel such as sari or lehenga.
Wedding is perhaps, the most memorable events for a girl and she wants it to be perfect in every way. Having the right wedding jewelery is just a small step in the right direction.