Beat the heat must be on everybody's mind by now in this part of the world. With the summer season knocking hard on our doors, sun blocks, hats and sunglasses all become a necessity. But who said you can't do it all in style. Moreover, adding the latest trendy accessories to your look instantly lifts up any attire. So what to do you need to know this summer, about the latest must-have sunglasses – it is all here.
Seasons change and trends change. Some classics carry forward like the aviator style and even the way farers, but there is always something new out there. And why shouldn't there be, classic and trendy pieces both have their own spot. But your personal style and 'dare' level has to be kept into consideration. So go through the categorized styles and pick your perfect match.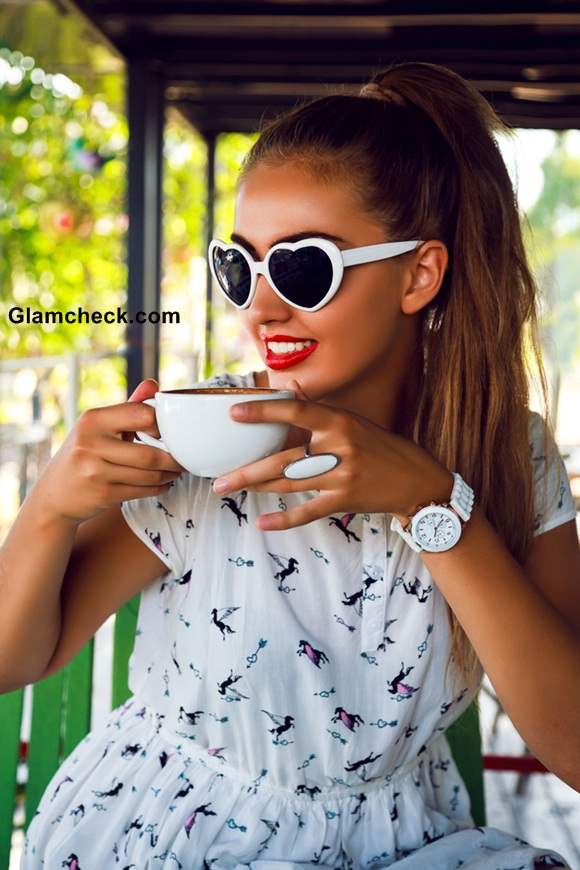 Best Sunglasses for Spring Summer 2016
Best S/S 2016 Sunglasses for 'The (slightly) Bold'
So if you belong to category of women, who are not faint at heart and slightly outgoing and adventurous in terms of style, you would love this list.
Round Sunglasses
Call them John Lennon glasses or tea shades or just round sunglasses, it is hard to say they do not bring a retro charm with them. They possess the power to instantly make your look interesting yet classic. Sport a nude lip with this one on a regular day or a bold one when you are feeling particularly sexy and stylish.
Oval Sunglasses
Though being a classic shape, the oval sunglasses registered a slight change this season. The frames were bolder and bigger and the finish of the lenses ranged from reflective to graduated. These frames look particularly great on a square or angular face. Buy a neutral tone that you could pair up with many.
Coloured Sunglasses
It is the season to wear a bold hue on your eyes. We do not mean the eye shadow but your sunglasses. The frame and the lense are of the same color/family in this case. Don't be afraid to match your sunglasses with one separate in your attire or contrast it. It would work either ways, depending on how radical you would like to look. The former will give a subtler effect.
Cat-eye Sunglasses
This retro and classic pin-up worthy shape has caught the public fascination in recent seasons. It stands so revived that the shape looks 'normal' to us now. That said, it is still bolder than your average sunglasses and possess the style quotient to make you stand out. Again a great bet for the square and oval face shapes.
 Best S/S 16 Sunglasses for 'The Bolder'
Reflective Sunglasses
If you still haven't heard of them or found them appealing, now is the time. From celebrities like Katy Perry to fashionistas on the street and during fashion weeks have all made a statement in these sunglasses. The sportswear reflective shades have lent their finish to fashion sunglasses now and boy! Do they look good. And there is the blue, green, orange, ochre..all sorts of colors available.
Square Sunglasses
Now this shape is the best friend to all the round face shape women out there. But stylish possibilities with this shape this season make all the difference.
Contrast frame Sunglasses
This is a residual trend from last season which is still going strong. Very flattering on most, it is an easy solution to statement sunglasses. What's particularly new is the off-beat combinations.
Best S/S 16Sunglasses for 'The Boldest'
Odd Shaped Sunglasses
When I mean The Boldest, I really mean it. Or else how on earth can you imagine odd shaped sunglasses that are really hard to categorize into basic geometry. In addition, maybe these can be given the 'It' status and they would not last beyond this season.
Striped / Printed Sunglasses
If you would ask me when would I sport one of these pairs, I would say probably at the beach or a holiday. After all that is when you are at your boldest and adventurous best.
Embellished Sunglasses
Last seasons Prada embellished the shape of their sunglasses with their baroque in plastic version. But this time I really mean embellished.
Floral Sunglasses
Last but not the least, calling out to the remnants of the flower child in you. Floral prints are great yes, but let's take a look at sun glasses with flower 3D forms on the frames.
So stay sun safe as well as fashion police safe with our guide to this season's sunglasses. And no matter which trend you choose to go for, sunglasses with fingerprints on then are a faux-pas hence beware. Also carry your case along, to keep your pair protected from scratches.