Come fall and it is time to bid your airy flip-flops and open toed sandals good bye. Keeping warm and comfortable has to be a top priority as winter comes knocking on the door. So sit back as we take you through the footwear styles which will complete your look this festive season. As some one said, "You can never have too many good friends and too many good shoes."
Footwear Styles in vogue this season:
The styles this season are pretty much mundane. There is no quirkiness in this season's look – no strange colour palettes, weird shapes or huge embellishments. This Fall, choose simplicity, elegance, quality and practicality. Easy-to-wear timeless footwear is the rage in the current economic slowdown.
Boots are, as usual, in vogue this season. Thigh high boots and even tie-ups are high on the fashion radar.  socks and clogs are all set to make an interesting entry to this year's fall wardrobe. High heels have given way to saucier and shorter kitten heels paired with socks and stockings to beat the chill. .
Socks have made a major comeback with clogs, sandals and even kitten heels being worn with them.
Earthy shades like beige, black, gray etc which were shunned during summers are the colours for this season's wardrobe.
Layer up to look sexy and stay fashionably warm. This year its time to be practically and elegantly stylish.
Socks under heels:
Wearing socks under heels in no longer a fashion faux-pas. Ankle or mid-calf socks in earthy tones like gray, black, navy and beige are very much in fashion this fall.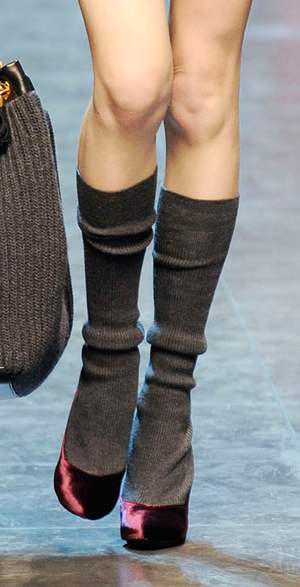 D&G Sock under heels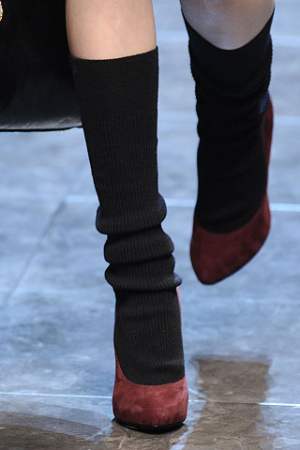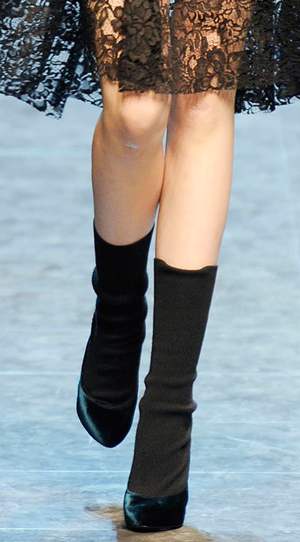 D&G Sock under heels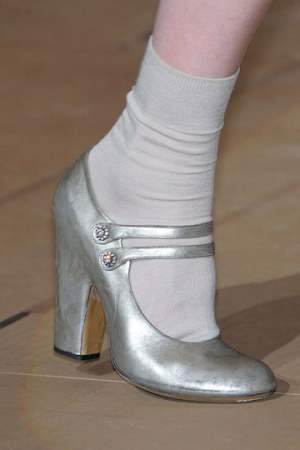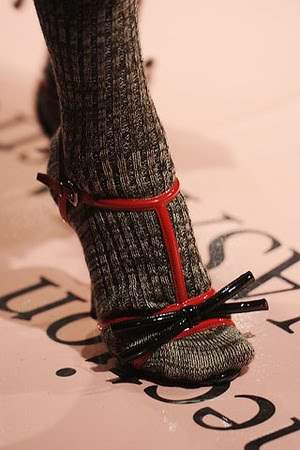 Marc Jacobs & Prada socks under heels
Pair up: Ankle length socks can be paired with leggings or pantyhose. Create an interesting layering effect by wearing them over stockings or tights or even pants. Tuck your narrow legged pants in socks to get this look. Sheer patterned stockings worn underneath knee length socks give just about the right edge to your outfit. Pair your socks with androgynous flats or shoes or else glam it up by wearing heels
Hot shades: Try soft feminine colors to add that touch of sophistication
Keep In Mind: Choose your sock length carefully. Let it be in accordance to your body type. Thigh high socks work best for tall and slender women. If you are petite, opt for just below the knee length socks and pair them up with shorter hemlines to give an illusion of height. Avoid too embellished or heavy knitted socks
Stay stylish tip: You could try to add a dash of color to the ensemble to wearing bold, contrasting colors.
Thigh-high boots:
This trend which rocked the runways last year's fall is still in fashion this time around. Dig up your last season's boots or buy new tie-up ones.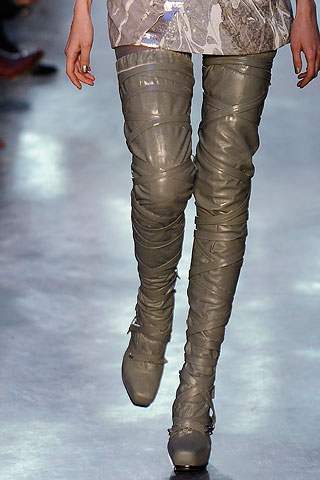 Rodarte thigh-high-boots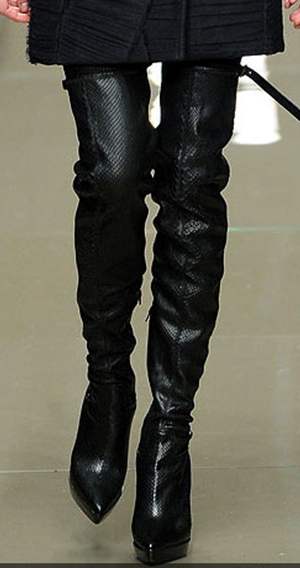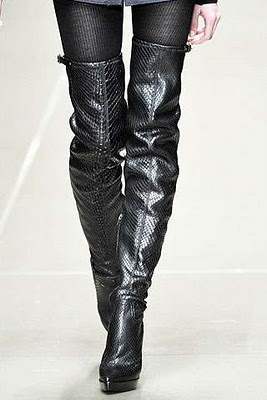 Burberry thigh-high boots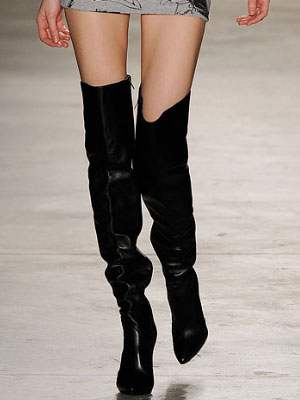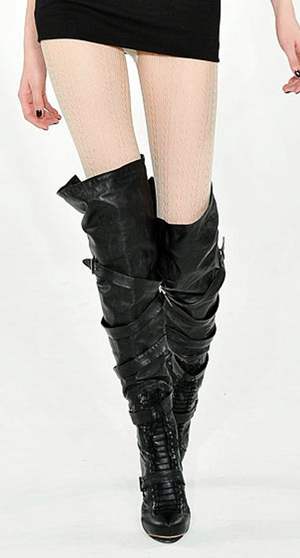 Boots which reach above the knees are a perfect way to keep you warm while looking smoking hot and raunchy. You can wear them with short dresses or skinny jeans.  It is important to wear thigh-high boots correctly or you could end up looking tacky. Here are a few tips to help you sail through:
Materials to choose: Go for materials like genuine leather, Suede, shearling or wool lining as they give you a classy yet warm look
Hot shades: Choose warm shades like gray and earthy tones as they are ones which are hot trends right now
Pair up: You can pair up your thigh-high boots with short dresses, skirts or skinny pants or leggings. If you plan choose to wear pants or leggings, let it match the color of your boots. This will help you in achieving a slim silhouette with panache. Lower heels are in vogue this season, so choose either flats or low heels to the tune of 2-3 inches.
Keep In Mind: Select boots that look sophisticated and simple. Give embellishments and patent leather a miss as they don't really work. Wearing dresses or skirts with thigh-high boots is a dangerous territory as you could end up looking trashy. Try and wear lengths which fall no more than an inch above the boots. Add opaque tights to give you a polished look.
Stay stylish tip: Keep your tops simple and add a trendy jacket or scarf to look smashing in the cold weather
Various versions of these boots are available – Rock, Classic, Futurism and Quirky. Take your pick!
Clogs:
From being worn by workers as protective clothing in factories, mines and farms, to gracing models on the runway, clogs have come a long way. The style was featured in Spring too and is back with a bang in Fall. Love 'em or hate 'em, they are the style to boot this season. Wear them right with our style guide: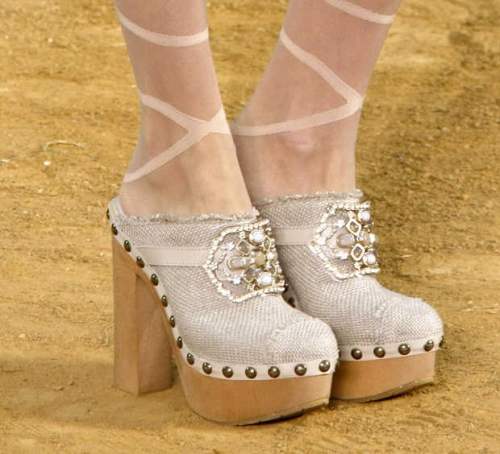 Chanel clogs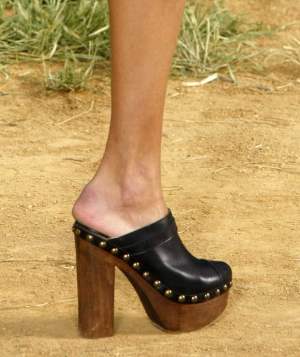 Chanel  &  Jeffrey Campbell clogs
Choose: You could choose a fringe top on your clog a la Louis Vuitton or go for linen uppers like Chanel.
Keep In Mind: Clogs look best with clothes that reveal a bit of leg. Wear dresses or even 7/8th pants to go with this trend. Shirt dresses look gorgeous if worn with wooden wedge heel clogs. Choose wooden heels that are a current rage this Fall.
Stay stylish tip: Wear clogs with a chunky or a wedge heel to give you a chic look
Fur boots & mukluks:
This trend might not find agreement with the PETA brigade. Fur boots and mukluks which are soft boots traditionally made of reindeer skin or sealskin are getting famous this season.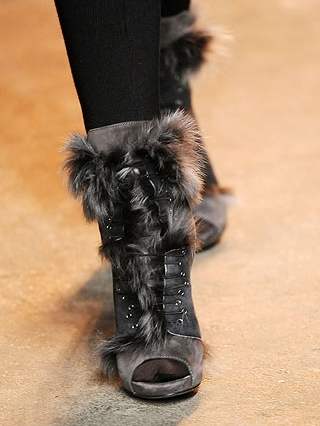 Thakoon fur boots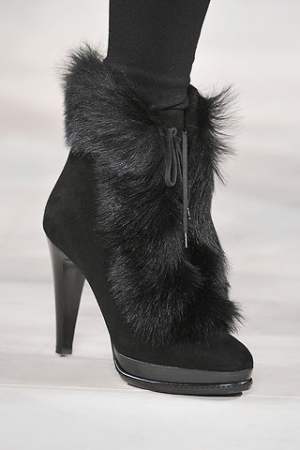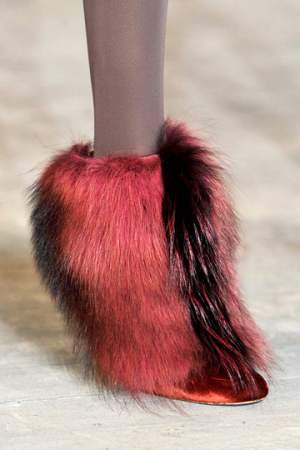 Ralph Lauren  &  Zac Posen fur boots
Fur boots can be very versatile if worn correctly. On one hand, they can look oh-so-cute and on the other, elegance personified.
Pair up: Work beautifully with a pair of leggings teamed up with a cute skirt or shorts. Try clothes in tweed and wool to give off warm and cute vibes. To wear them with pants, wear skinny trousers and tuck them into your boots.
Keep In Mind: Keep your tops and jackets simple if you want your boot to be the center of attraction. Bohemian is another look that fur boots can help you achieve. Try eclectic layers and prints on natural furs a la Thakoon to look bohemian chic. Complete the look with straight-out-of-bed tousled hair.
Stay stylish tip: It will be best to use faux fur to avoid upsetting your animal loving friends.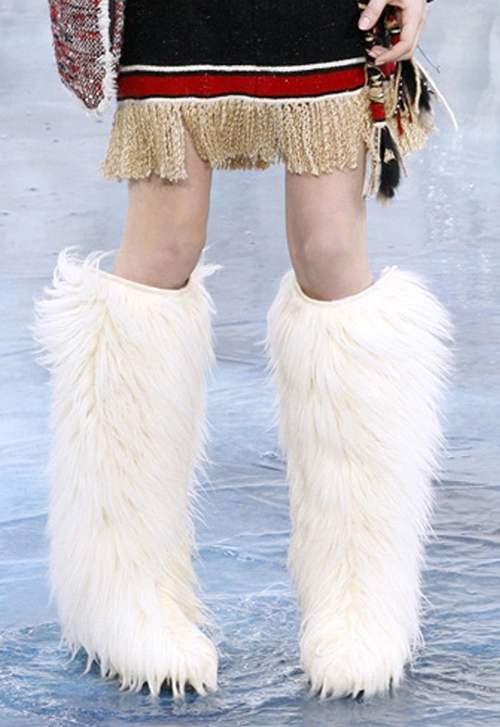 Chanel Mukluks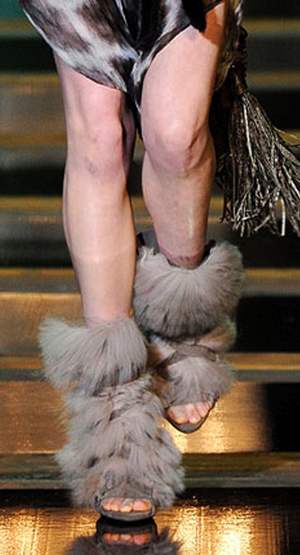 Cavalli  &  D&G Mukluks
Mukluks can keep you very warm. Wear these only if the mercury level is very low otherwise they can get uncomfortable and sweaty.
Pair up: Wear them as you would wear your fur boots – with tights or skinny trousers. Short skirts and dresses like Chanel's runway also look cool. Long sweaters too look fabulous if teamed with opaque tights and mukluk boots. Long sweaters too look fabulous if teamed with opaque tights and mukluk boots
Stay stylish tip: You can try hoodies with Mukluks as they give off a very cute picture together.
Kitten Heels:
A style popularized by iconic actress, Audrey Hepburn and recently revived by first lady Michelle Obama, kitten heels are short and slender, usually from 3.5 to 5 centimeters high with a slight curve.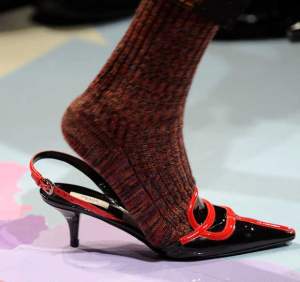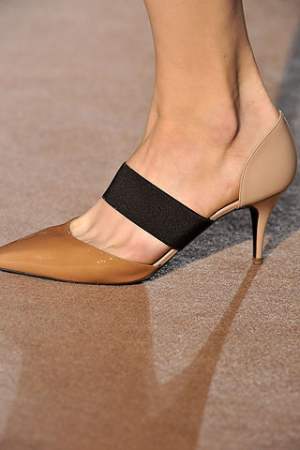 Prada  &  StellaMcCartney Kitten heels
Pointed toes and minimalistic heels are what you should invest in, this season. Black kitten heels have almost been dubbed a wardrobe essential. Try and achieve a vintage 50-60s look with your kittens!
Choose: Pointed toe kitten heels are in vogue as they add that tinge of sophistication to any outfit. Little embellishments like bows too can go a long way in beautifying your overall look. Classic kittens like those showcased by Stella McCartney are good for formal dos and for those seeking a minimalistic look. Cute and dainty sling back varieties add to the look of feminism. Peep toes are an evergreen fav.
Materials to choose: Kitten heels look best in Genuine leather, Suede, shearling or wool lining and when with socks and stockings in contrasting colors.
These heels are way more comfortable to walk in than unforgiving High-heels. But tread with caution, this trend does not find agreement with all.
Keep In Mind: Give this trend a miss if you are short and/or plump. This style looks best on tall and slim women. Look perfect with elegant 60s lady-like dressing
Stay stylish tip: Wear socks in contrasting colors and prints to merge two of hottest footwear trends of the season.