Perhaps no spring summer will ever pass without having its share of floral prints. Floral prints are the perfect representation of spring's garden fresh bloom and rightly so, they are the most dominating trend in prints advocated by almost all designers. The treatment and usage of floral prints though, by each, is diverse. We try and find a common thread underlying all these trends.
Dior:




Dior Used floral and palm prints liberally on almost all items of clothing – skirts, tops, dresses and gowns. The colors used on the palm prints were green, navy, sunshine orange and fuchsia – all peppy, summery, tropical and as heady as ever. Dior used ornamental flowers as neck accessories quite beautifully on ensembles which were not printed.
Erdem:




" A gorgeous garden party for the modern age" is how the fashion writer Kate Phelan describes Erdem's spring/summer 2011 show. When you see and think about the Canadian designer's collection – you instantly see romanticism and feminity translated on to his designs. Almost every piece in his collection saw floral prints used on their own or as a detailing. There is a good blend of solid, very feminine lace and floral print, and so is a sudden burst of colors and flowers on a simple sheath dress. Border floral prints are also commonly used in dresses and gowns. Prints in different scale – big and small have been used on both the top and bottoms, sometimes together. Colors used on the print are girly and very young at heart – the bases being the good old white, lemon yellow and even the unusual for this time of the year navy and black.
DandG:




Floral overload is what best describes this designer duo's collection for spring summer 2011. There are floral prints on blouses, dresses, shorts, bandanas, gowns, jumpsuits and over-sized totes too. If that were not enough, you even have floral embroidery and floral lace fabrics. Prints are big and small – rose prints, hydrangea and big blooms co existing with smaller ditsy floral prints. Pretty pinks ranging from baby pinks to dusty rose, lemon yellow and even olives and blacks are the colors forecasted by the designer. The designer duo has used big gingham checks and solids to break the monotony and bring a fresh perspective to the floral print – gingham totes with an all over printed dress, a printed blouson paired with solid pants, skirts to break the monotony, high slit floral gown paired with blazers.
Giles:



The one designer who is either loved or loved to be hated , known for his punky and bizarre taste interpreted the floral designs in his own eclectic way for this season. There were pretty hibiscus flowers coexisting with what seemed to be eyeballs on a noir base in dresses,  parallel just-about-knee length pants. Surely, floral prints is not what Giles is best at and the highlight prints of his show were Polka dots and cartoonish prints.
Etro:


The Etro range for spring summer 2011, did not have too many pieces showcasing the floral trend. They however did include a floral printed Kimono sleeve front open gown worn over a micro mini cut out jump suit and a dress wrapped almost as a towel around the body with one strap snaking over a diagonal shoulder. The colors used on the floral prints were pink on a black base and a hint of dusky orange.
Vera Wang: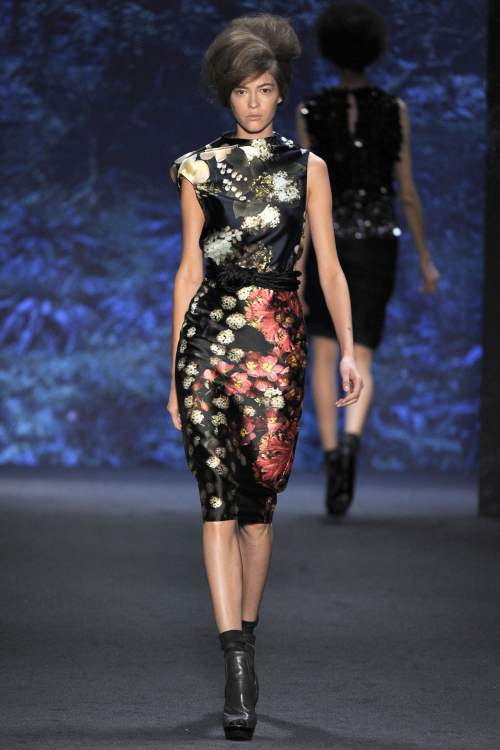 The theme of floral prints did not find much favor with Vera Wang's RTW collection. The underlying theme of the entire range was Japanese and only a few pieces of kimono style sheath dress had  small floral motifs;  the colors used were pleasing reds and pinks on a noir base.
Chanel:


The use of floral print as an accessory or as a trim was common with the designer Chanel. The print used was busy, big candy colored house camellia flower which had to contend sharing the attention with lots of other details such as frills, gathers, weaves of fabric etc.
Alberta Ferrati:



The spring summer look was ethereal, with models walking as flower fairies and nymphs in soft flowy prints in tea stained browns and earthy reds. The prints used on dresses and gowns were large foliage prints with motifs of twigs and vines, used subtly and in some cases even on lining fabrics.