Almost as popular as the digital prints and abstracts, Stripes were noticed on the runways of many designers and were included as a prominent line by Moschino and Prada in their collection.
Isabel Marant:




The look created by Marant's stripes was one of cool, aloof and the models sashayed down the ramp wearing fine knits in wide stripes of plum, cream and red, worn innovatively over pink cord trousers.
Moschino:



Look conveyed by Moschino was the exuberant 70's! You had horizontal stripes, vertical stripes, dots, frills and brassy gold jewelry used in conjunction in an ensemble. Colors used were playful red and white and black and white. Uniform wide stripes were used as scarves, as head bands as belts and bags, and as complete ensembles of skirts and tops. This beautiful close black and white gingham off shoulder dress looked wonderful too. It was perhaps to break the monotony of the stripes and solid and too done up look of the other styles. The polka dot belt which cinches the waist, and the red drawstring plays a perfect foil to break the very  busy look of the gingham check.
Prada:


Colorful, bold xylophone stripes going up and down and horizontally, an array of shades and widths and nothing out of the ordinary is what best describes the stripes used by this designer. Stripes were used creatively on almost all categories – dresses, skirts and tops. So you had, dresses in varying horizontal stripes with neon pink and orange, black and indigo. Also, skirts with bright lime greens and black, with a solid yellow band was worn with an alternating in both colour and thickness  striped black and brown, navy and black peasant top. The look conveyed by the designer was foot loose, urbane and fun, fun and more fun.
Max Mara: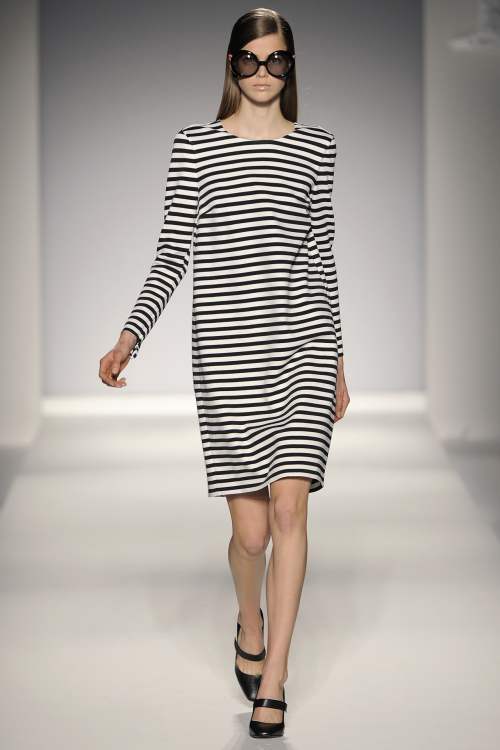 Max Mara created a sensation by balancing the entire collection – all the big trends of an immensely popular spring summer were present and balanced – white, cream, stripes and dots, done in a clean way so as to have a refreshing look. One piece which particularly stood out was the closely placed monochromatic black and white horizontal striped fine knit dress, the look was conventional yet classy and a sure shot success at any runway!
Fendi: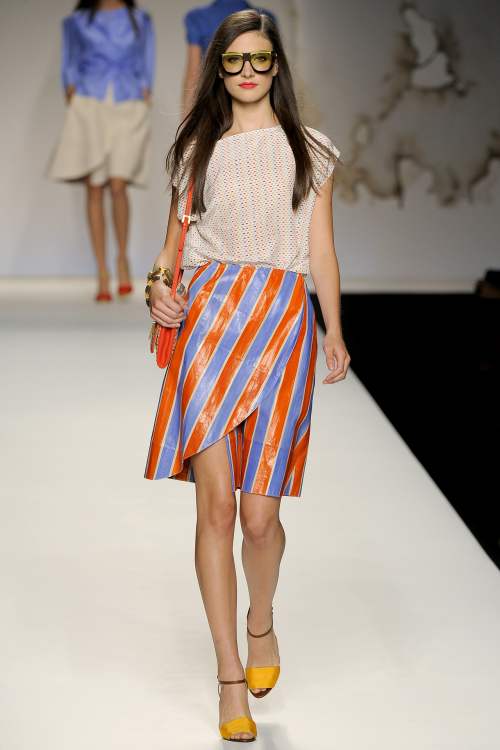 The look of the show was 70's retro and one of the key pieces of his collection was the red and blue vertical stripes used on a wrap-skirt. Though, this was a standalone piece in stripes in the collection, this one did make the others stand up and notice – the colorful play of stripes.