Frizzed out hair used to a nightmare earlier but not anymore. Deliberate frizz is increasingly being embraced on the runway, case in point the Angelys Balek Spring Summer 2013 Presentation during the Nolcha Fashion week in New York City.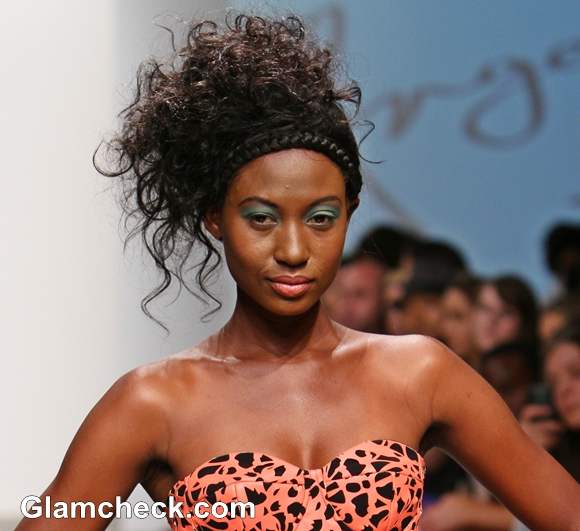 Hairstyle how to : Frizzed out Braided Bun
The designer was inspired by Monet's water lily painting and showcased a lot of laser cut leather garments in classic black and bright colors like yellow and neon orange. The hair, in tune with our current fascination with braids, was tied up in a frizzed out bun with a braid crowning the head.
You will need:
Bobby Pins
Hair spray
13mm Curling iron
Rubber band
Teasing brush and a Rat tail Comb
 A kitchen skewer and flat iron if using the alternative curling method.
Preparation: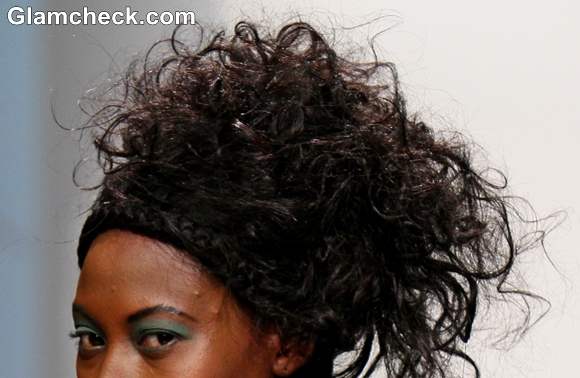 Hairstyle spring summer 2013 Frizzed out Braided Bun
To add volume, tease the hair first with a teasing brush.
Take hair from one side of her head, behind the ear, and braid them while securing with a bobby pin. The braid should be long enough to crown around the front of your head.
Separate out a 2" section of hair, adjacent to this braid and do not curl it.
Frizzing and curling:
Assuming you do not have curly frizzy hair, you will need to tightly curl those tresses. A 13mm curling iron is thin in diameter and is perfect for tight curls.
Leaving the braid out, tie a high ponytail in order to get an idea of the length of hair you will need to curl. Once you note that open your hair again.
Start by taking a small section of hair (half an inch), wrap is tightly around the curling iron and hold for 3-5 seconds.
With a rat tail comb frizz it out a little, so that the curl is not very prominent.
Repeat for the rest of the hair.
Alternative way
In case a curling iron with thin diameter is not available, with the help of a friend you can achieve similar effect.
Take a kitchen skewer and wrap the half an inch section of the hair around it.
Heat the flat iron and press the skewer with hair wrapped on it, between its faces.
The heat will set a tight curl which you can frizz out using the same comb as above.
Follow for the whole hair.
Wrapping the bun: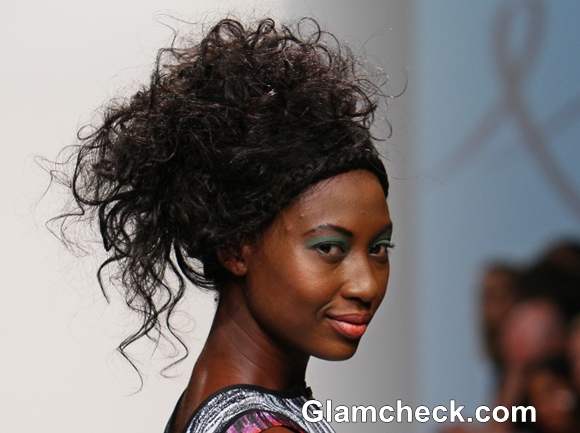 Hairstyle how to Frizzed out Braided Bun s-s-2013
Tie your curled tresses up in a high pony tail, leaving the braid and the 2" section not curled earlier.
Use that section to wrap around your rubber band to hide it and secure with bobby pins.
Pull some strands out, to mess this wrap and secure with a hair spray.
To make the frizzed out curled hair cover the whole head, use bobby pins to set them in a volumized way.
Take the braid and wrap around the front of the head, taking it from one side to the other and securing it near the rubber band with bobby pin.
Use the hair spray again to set the updo.
Runway hair is often not suitable for everyday wear, but the high style quotient makes it a perfect choice for weddings, a dinner ball, and other formal evening events. So give this one a shot at the right time and you will be right on trend in spring with this one.
Shutterstock