Braided hair styles
Braids have been around for centuries and have been a favorite style in Spring as well as Autumn/ Winter of this year. So what could have been possibly done to add some newness.
The makeup artists ensured lots to bring in newness and the basic braid style sees a makeover with some complex braid patterns and side braids.
Complex braided patterns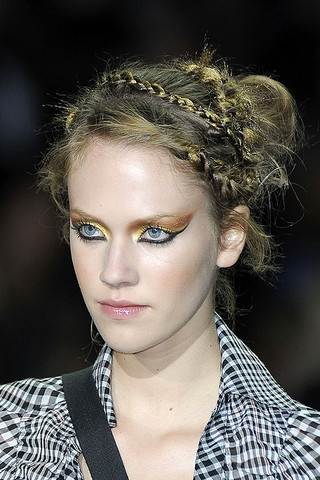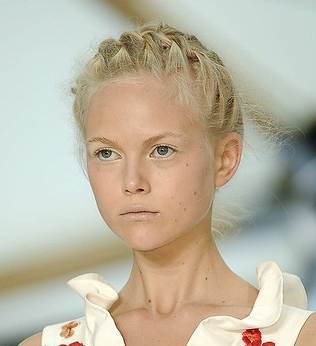 Styling ideas and best for: Erdem and LAMB have used the age old braids with a twist. They used multi braids crisscrossing the entire length and width of the hair, alternating with some loose hair. The effect created never seen before and fun. Braids are simple, stylish and easy to make, using small innovations to a basic braid can up your glam quotient and make you stand apart! This look is best for outdoors and never to be worn to serious business sit downs or meetings as the element is fun and quirky!
How to achieve the look: Great to pull off if you have hair as short as just below the nape or longer. Straight hair as well as wavy hair will work for this style. Take sections of hair trying to cover the entire head with about 3 or 4 braids. Make braids in such a way that they cross over horizontally to the other side. Secure the end with hair pins. Hair not being of uniform length will add to the messy look of the style. The hair not caught in braids can lie flat against your head, no need to comb this to add to the fun part. Any color hair looks great with these complex braided hair dos.
Extra glam solution and pair with tips: Use interesting hair beads to add your signature style. Try highlights of a fun color example – lavender, navy or even orange and braid sections of the highlighted color to stand apart. Pair with funky accessories and ultra casual clothes and shoes to stand out!
Side braid patterns:
Thin braids placed strategically in certain places can completely transform a hairstyle like Lacoste and Jason Wu cleverly proved.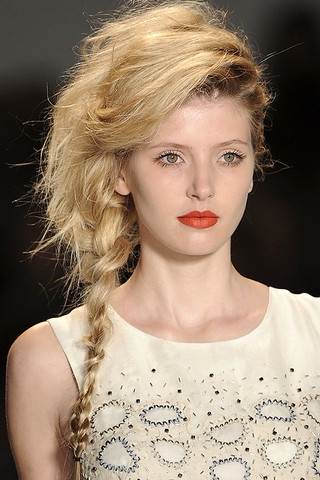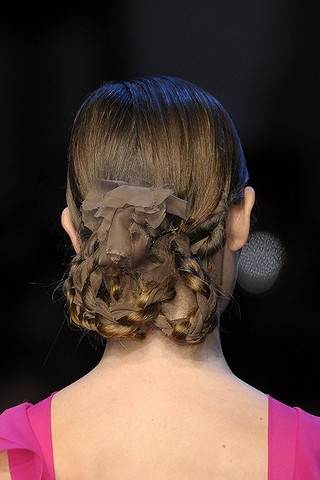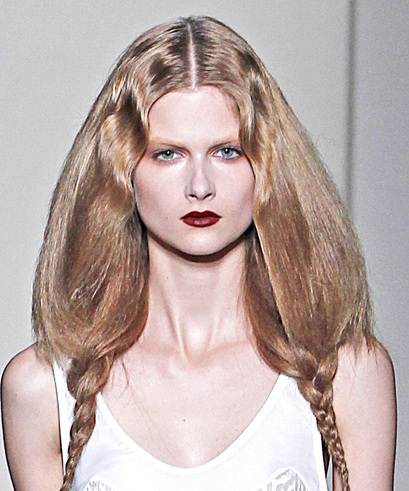 Styling ideas and best for: You could create the look that you desire with side braid patterns – in that sense it really is versatile and chances are if you opt for any of the looks, you may not go wrong; the looks are similar yet different in a way so as to bring newness to any face.
Lacoste used multiple front braids to add interest and to instantly draw attention to the models features, particularly the eyes. So you had models with side parted hair, sashaying down the ramp with thin well made braids, falling horizontally down to front side. The number of braids varied from a single to four or five.
Jason Wu used neatly done braids tied at the back of the head and with a side parting. The gelled hair look totally ruled out the messy braid look used by Lacoste in the ramp. This style can be a great substitute for the traditional bun hairstyle while also being an opportunity to try new hair accessories.
Lela Rose had a Bohemian look with loose, messed up look for the better part of the length ending with a thin braid towards the end. This look was a fine example of the slept in look.
Yet another variation of side braids was used by Givenchy, where the models had hair loosely set apart on both sides ending in braids.
Either way these braids will be an instant style boost you can easily do at home. Apart from the look propagated by Jason Wu, none of the looks can be teamed with formal wear. These looks can best be termed with sun dresses and sporty outfits. The gelled look can look great with formal wear as the look is neat and no nonsense
How to achieve the look, extra glam solutions and pair with – Wash and blow dry your hair to create the informal hair braids; use gel and setting and styling products to create the formal look. Since in general this look is playful, use accessories which go well – formal for formal wear and casual, chic for outdoor fun events .You could use sun visors, ribbons and other interesting hair accessories.
Bangs
Braided bangs and bangs with curly wavy hair were common looks showcased by Lacoste, Charlotte Ronson and Dior. Bangs can glam up an otherwise simple hair style.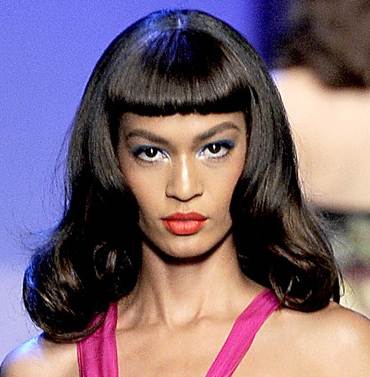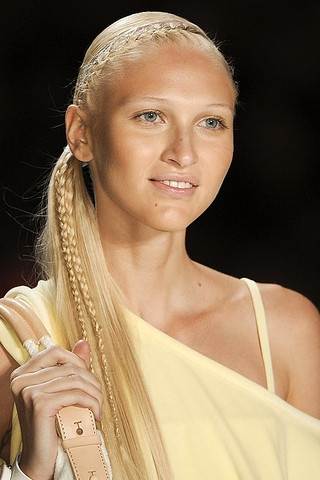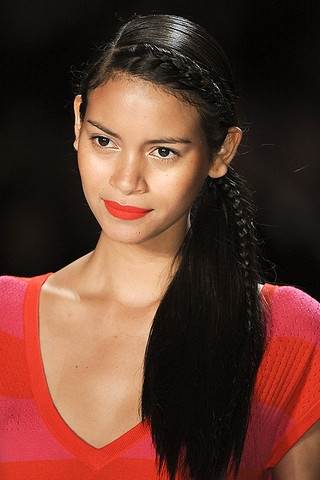 Styling ideas and best for: Great for you if you have a large forehead of which you are not particularly proud of. Go for bangs with shorter hair style which frames your face if the face is lean and can do with some fullness. Bangs look great on tall and oval faced shapes as well as they create a visual balance in the size of the face. Opt for longer braided bangs such as those showcased by Lacoste if you have a small face and you want to add some length to it.
How to create the look: Get a hair dresser to cut your hair to fall in bangs. Don't go for too short bangs as they may make you look baby faced. Bangs could reach your forehead, mid cheek level or even chin level. Bangs look great in both cases – when you have straight hair or hair which is full bodied.
Extra glam solutions and pair with: Braided bangs are a great way to glam up plain boring long hair; highlighted bangs also make for a great insta-glam solution. You could tie up your hair into high pony tails to create a new look. Bangs are great with all kinds of dresses and accessories. The only disadvantage –if the bangs are cut too short – they take time to grow back and the waiting period could be killing!
Whether you braid your hair, or try out bangs, don't forget to color your hair in the season's palette as discussed in a separate article to look super trendy!