Sunglasses are used to protect the eyes from the discomfort of harmful sunrays and very bright light. Needless to say, these are a must for every spring and summer. Apart from the protective function, they are a huge fashion statement and are immensely popular in different styles and colors. Every season, different designers play around with the frame shapes and colors in order to bring in some freshness to their range.
For spring summer 2011, the sunglasses trend as is noticeable from their usage by different designers is the retro look – you have the runway models donning the 50's Cat eye sunglasses, 70's Round sunglasses, the evergreen huge frames with edges and the retro frames. We discuss in detail the shapes, colors and the face cuts that these different sun glasses most suit and what to wear it with.
Cat Eye Sunglasses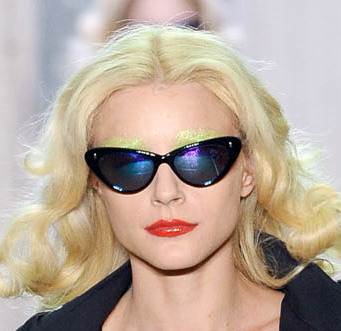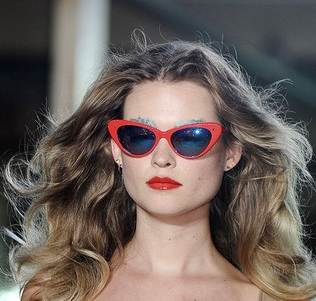 Cat eye sunglasses: What  and who
Cat eye sunglasses were very popular in the 50s and 60's, with the style diva Audrey Hepburn immortalizing the style in the movie Breakfast at Tiffany's. Other celebrities who wore getting this style correct were Sophia Lauren These promise to make a huge come back this coming spring with models in the Giles and Dior shows wearing them in interesting colors and prints. Cat eye sunglasses resemble the classic and most beautiful almond eye shape.
Cat eye sunglasses: Face cut it suits
Traditionally, this shape with the high arch suits the lean, long oval face. However, the best part of this classic shape is that these are available in two different versions – very arched, 50's swoop (like the models of Dior) and a softer iteration with a wider and gentler scoop ( as used by Giles on a few models, Paul Smith and Tommy Hilfiger). If you are the adventurous sorts, you may go in for bright colored or printed severe arched cat eye sun glasses. If on the other hand, you are a fashion conservative, try wearing a mildly scooped cat eye frame, in classic colors such as vintage black and brown.
Cat eye sunglasses: What to wear it with
These sun glasses look good with formal as well as informal outfits – with modern as well as vintage cuts. Opt for conservative colors while choosing to wear to a formal event. You could add a dash of bling to it by having rhinestones and sparkles dotting the frame. While choosing sunglasses for a beach or casual events, opt for huge arches and bright colors and whacky animal prints.
Round sunglasses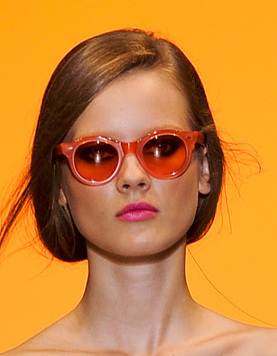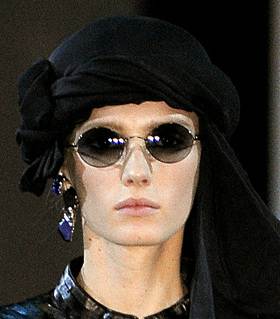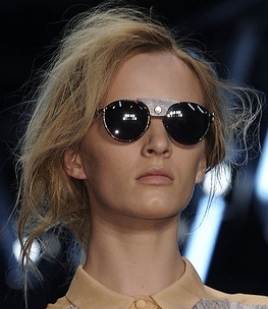 Round sunglasses: What and who
Also known as John Lennon sun glasses, round sun glasses are promising to be the second big trend in sun glasses after the cat eye shape. The round lens could be framed in a plastic thick frame or may be rimless, held directly by the metallic temples. This look has been around from Fall 2010 and will continue to be in demand for spring 2011 as well, as was showcased on the runway by  Cacharel, Armani , Proenza Schouler and Prada. The celebrities who are already sporting this look are Lady gaga and Mary Kate Oslen. Color of the lens could be varying from light brown to dark and even tints of pinks and blues.
Round sunglasses: Face cut it suits
Round shaped sun glasses suit square shaped faces the best as the round shapes help soften the sharp angular lines around the chin and jaw. Oval shaped faces ( which are longer than wider) can carry off any shape of sun glasses, however take care to use round lenses in frames which are slightly wider. Round shaped faces should avoid round lens as the face will end up looking more round.
Round sunglasses: What to wear it with
Round shape of sun glasses is a retro shape – a reminder of the swinging 70's. Since retro bold prints, bright colors and silhouettes promise to be big this coming Spring, team your round sunglasses with the retro themed clothing. You could team these with dresses – meant for both cocktail events as well as day events, well fitted skirts and tops too.  You could match the color of your outfit with the color of the frame of the sun glasses. The frame could be solid, printed or with embellishments.
Huge Edgy Sunglasses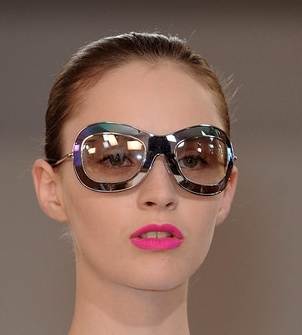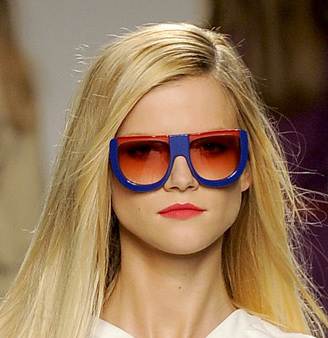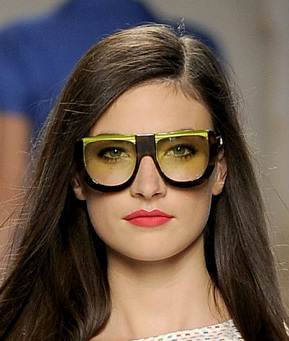 Huge edgy sunglasses: What and who
Edgy sunglasses refer to unique frame shapes with a distinct edginess, unique lens colors and one of a kind signature on the entire pair by way of embellishments, color or just the theme. If you are a girl with quirky tastes this one's for you and the look is sure to get you noticed! These were used amply by designers such as Fendi , Jil Sander, Missoni and Prada on the runway.
Huge edgy sunglasses: Face cut it suits
The ground rule remains the same – opt for softer curves if your face is angular – square/ diamond or heart shaped; opt for angular frames and lens cut if the shape of your face is round. Oval faces can carry off almost all sunglass shapes. Again, if you are trying out newer big frames, go out all the way and opt for bold frame and lens colors ( Fendi and Jil models don a yellow ochre frame and an orange lens and indigo blue frame respectively!)
Huge edgy sunglasses: What to wear it with
Edgy sunglasses with a defined rim or frame look great with well structured and well fitted garments meant for both – casual and formal look. Since there is a bit of quirkiness in the look of the sunglasses and they reflect a fun loving, yet modernistic feel of the wearer, a well fitted outfit almost balances out the quirkiness of the sunglasses. Avoid frilly, frumpy dresses, skirts and tops as these will be in direct contrast to the look that sunglasses are set to portray.
Retro sunglasses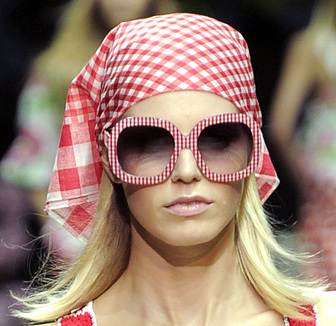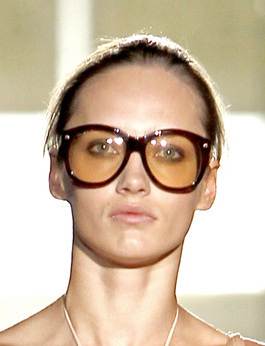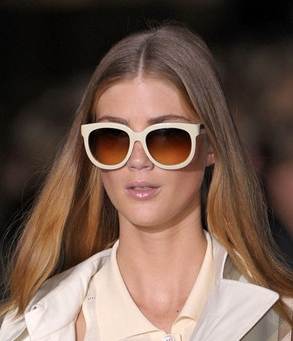 Retro sunglasses: What and who
Last few seasons have seen the trend of big, bug and butterfly shaped sunglasses, and they seem to be going strong for the next season as well. The inspiration for these obviously comes from the  retro age – the swinging – 50's , 60's and 70's. The frames are colorful, checks, dotted and the good old solids in conservative colors. These were amply used on the models on the runway by D and G, D Squared2 and Stella McCartney.
Retro sunglasses: Face cut it suits the most
These are big frames, covering almost one third of the wearer's face and offer great sun protection are hence great for people with sensitive skins. The rule for choosing the lens color and frame shape is like the above – well arched and geometric frames for round faces and softer frames for oval, square, heart shaped or oblong faces. The color of the lens can be chosen based on the protection you expect to have from the rays of the sun – so less dense with a yellow tinge( as in the case of D Square 2) for lesser coverage and darker for more coverage( Stella McCartney).
Retro sunglasses: What to team it with
Great for casual and formal, this look suits almost all occasions. You could play around with your hairstyle, make up and accessories and wear the same pair of sunglasses to create a new look all over again!
Sunglasses are chic and a definite must in every style conscious woman's wardrobe. Choose well from the shapes given above to make an indelible impression this Spring!