Jumpsuits are one piece garments, which cover your torso and your legs. They really trace their origins to a utilitarian garment to be worn by mechanics, parachuters and sky divers. The style was immensely popular in the 70s and 80s when the hippy era kicked in and anything conventional was a taboo. In the past, jumpsuits as a trend has been sometimes hot and sometimes not, however, with the coming few seasons, they have been touted to be a big fashion item.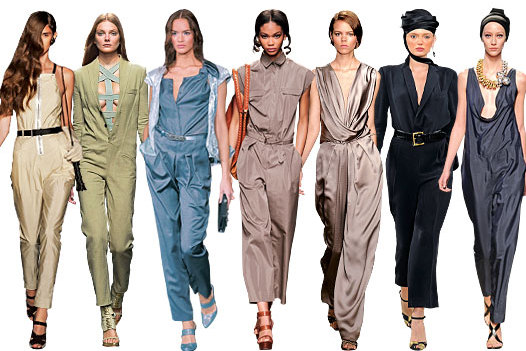 While quite a lot of us may feel that only the very lucky few blessed with flawless figures can really afford to wear jumpsuits, you will be surprised at the variety of jumpsuits that are available to choose from. We explore the different kinds of jumpsuits available for various occasions, what to wear them with, body types it suits the most etc.
How to choose a jumpsuit based on your body type?
If you thought, jumpsuits were only for the perfect size 0 figure, think again. Jumpsuits could be for almost all women – yes, including the curvier ones, however, you need to find the right kind of suit style, depending upon your body type. Experts suggest that if you have any doubts in your mind about wearing a jumpsuit, visualize yourself as wearing a top and a long pant, this will give you a good insight about what looks right on you. If you prefer a loose fitted trouser and a top, go for a jump suit that is loose and makes you feel comfortable, if you are okay with showing off your figure, you could opt for a tight fitted jumpsuit as well. Ordinarily, if you are a first timer, you could go with the thumb rule of not too loose and neither too fitted.
Jumpsuit for Pear body shape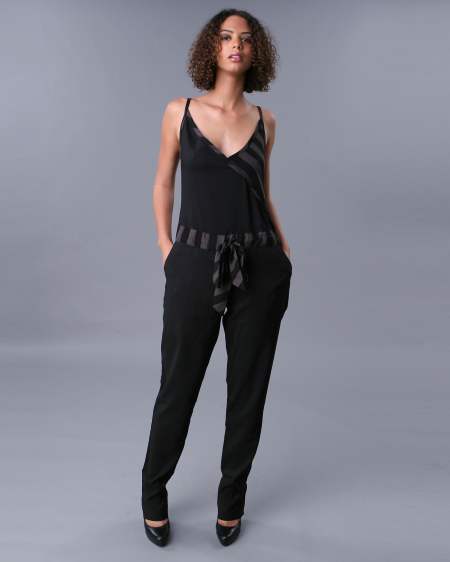 If you are pear shaped, go for styles which bring the attention upwards to your torso – so try out halter neck styles or sleeveless styles. Accessories well at your neck area. A plunging neckline also is a great way to divert the attention. Don't go for too loose fitting bottoms as they tend to make your derriere look bigger. Avoid shorter lengths. Avoid pin stripes altogether.
Jumpsuit for Apple body shape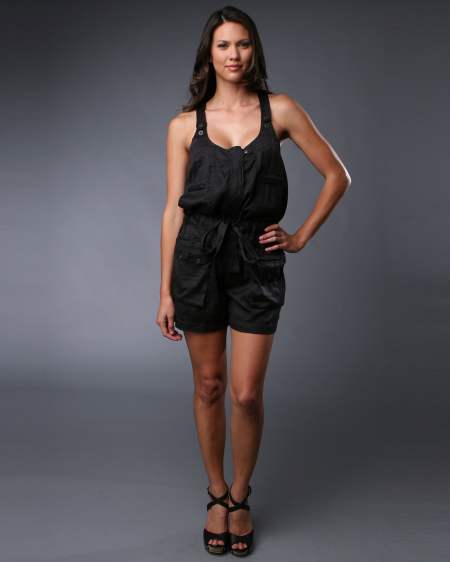 If you are apple shaped, go for styles which have interesting leg features such as harem pants or cuffed bottoms. You could even try interesting twin colored styles where the color of the top is darker than at the bottom to give a slimier look. Avoid big prints or horizontal prints on the torso. Go in for shorter lengths so as to bring your attention to your legs.
Jumpsuit for Petite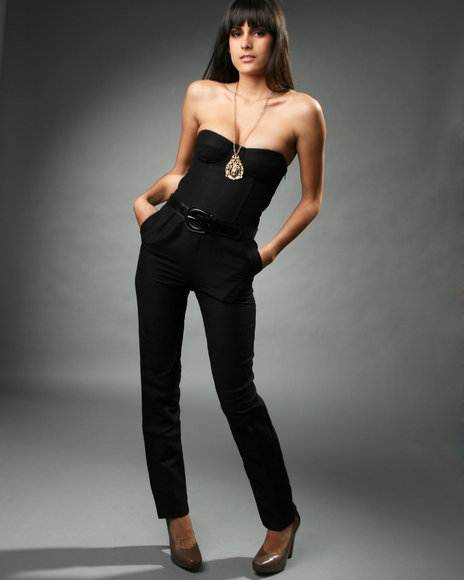 If you are petite, Use of interesting belts worn a little lower than your natural waist also tends to add height. Opt for preferably longer length jumpsuits and team your outfits with heels. Vertical stripes will work wonders to add height to your petite frame.
Jumpsuit for Plus-size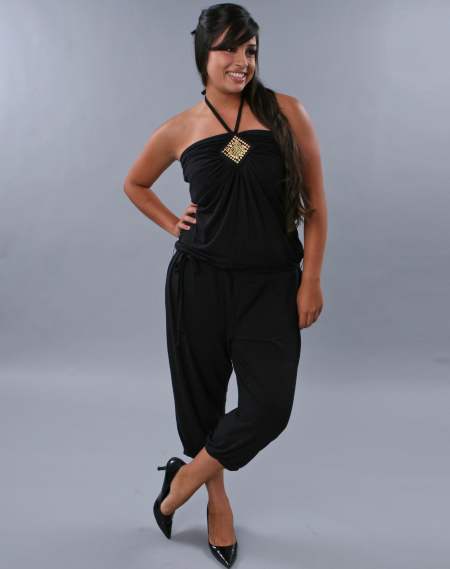 If you are on the heavier side, avoid wearing lighter colors and horizontal stripes. Wear darker colors and avoid tailored, structured suits which can add some more dimension to your shoulders. Pay special attention to the choice of fabrics as these could make or break the look. Fabrics which cling to your body such as silk or fine knits are to be avoided at all costs. Go in for soft chiffons, cottons etc. instead.
Once you have the confidence of wearing a jumpsuit style, you could try out the various options (yes you read it right – options) of the style that are available in the market. Jumpsuits could be categorized by the occasions that they could be worn to (ranging right from casual, sporty, sexy, conservative and even formal), the lengths they are available in, the materials etc. We discuss some styles which are doing the rounds and promise to be a show stealer!
Styles of jumpsuits
The first step is obviously to know how to choose a jumpsuit and be comfortable in the same. Hopefully, with the tips given in the above paragpraph, that should have been well taken care of.
The next thing to consider is what is appropriate to wear to the event that you plan to attend. For example, while you could wear an off shoulder gold sequinned jumpsuit to a red carpet event, you would not dare to wear a similar thing to the office. Similarly, you could sport a short denim jumpsuit to a casual day out with friends, but you may not consider wearing the same while going to the pub. You get the picture?
The look: Formal Chic
This includes dressing up for occasions such as any sit down formal dinners, any red carpet parties or even to attend movie premiers and fashion shows.
Styles to choose:



At the events mentioned above, usually the style quotient runs high and you could try different fabrics and styles to look different and at the same time have your own personality show through. Stick to longer lengths – reaching at least mid calf and going longer.  You could choose from cuffed at the leg styles, harem pant styles with gathered in ankles or loose flowy leg styles. You could opt for off shoulder styles, asymmetrical one shoulder styles, halter neck styles or even full sleeved jumpsuit styles for the colder months. To add an element of drama and your personal touch, you could even wear a short bolero on top of an off shoulder jump suit style. Fit is of paramount importance here, so wear a style which suits your body type. Remember a well chosen and well fitted jump suit, with the right kind of accessories, could be a great alternative to the dress that almost everybody wears to these events!
Colors and fabrics:
All colors which are hot this season are great to wear as jump suits. The old classic colors such as gold, black, red and white are timeless too. You could opt for sequinned jumpsuits to add an element of bling to the outfit. Avoid printed or patterned fabrics and keep these for less formal occasions. Silks are great for the formal chic occasions, however, the flip side is that they drape really well on the body and so could be hugging the wrong parts of your body as well. Stick to light weight knits in cotton, silk, viscose as these tend to be a little more forgiving than silks. You could even choose chiffons or light weight cottons. Keep denims for less formal events.
Accessorize right:
Even a simple style can look out of the ordinary, if you accessorize right. Since these sort of events can allow lots of drama, go for waist cinching styles if you have a great waist to show off. You could even use some contrast colored or even stone and crystal studded belts to break the monotony of the uniform color of the suit. You could use some great jewelery like jingling charm bracelets or multiple chains, to highlight the suit. A metallic clutch or a contrast clutch also looks great with the dressier jumpsuits. Heels look great with mid calf cuffed jumpsuits and also with longer lengths. Wear flats, if you want all the attention on your jumpsuit.
The look: Formal Conservative
This is to be worn to primarily any business related sit down formal dinners or even hi profile office meetings.
Styles to choose:



The occasion is conservative and formal so any length shorter than ankle is a sure shot fashion disaster. The pants should usually be well fitted and not too loose and flowy as these could be considered a tad too dressy. Avoid cuffed at the leg styles too as these may be a bit too fashionable. Also, you should go in for tailored look of jumpsuits – these are smart, sophisticated and usually with a well defined shoulder line and preferably with short or long sleeves. If you want to go a little bold, you could go in for sleeveless style and for the bolder – even an off shoulder style. However, to keep others attention more on your work, it would be prudent to team the off shoulder style with a well fitted blazer, a cardigan or a stole.
Colors and fabrics:
Stick to basic solid colors – navy, cream, whites and blacks as most of the places you will be wearing these to, will have a dress and a color code. Avoid jazzy and metallic colors like plague. You definitely do not want to stand out like a Christmas tree in the office board room. Do choose fabrics which do not crinkle easily and can take the structured look well – light weight sateens, twills etc. look great and can carry off the structured, tailored detail quite well.
Accessorize right:
Basics are the key word here. Stick to neutral colors. You could use a tan narrow leather belt on most formal jumpsuits. Hand bags could be large and roomy, however again preferably of muted tones. Footwear need to be comfortable, and you could opt for boots, high heels and even flats. Jewelery could be a small gold chain kissing your neck, or a string of pearls, but nothing even remotely closer to what we discussed under formal – chic.
The look: Fun, frolic and sporty
Let your imagination run wild on the occasions for this one. Any beach outing, pool side party, all day shopping plans, laze at home all day are perfect excuses to wear comfortable jumpsuits.
Styles to choose:



Choose short lengths, starting from mid thigh to full length, reaching below your ankle length. You could play around with hoodies, zips, cargo pockets to make it not only a style statement, but also utilitarian. Team sleeveless styles with a colorful t-shirts or vests worn underneath. You could have short sleeves with interesting neck lines and off shoulder styles as well. Like I said, let your imagination run wild while buying jump suits to wear for this look.
Fabrics and colors:
Prints, neutral as well as bold solid colors, gingham checks, stripes, metallics – all are great color choices to buy. Opt for colors that are your favorites. The most popular fabric is denim – which is easy to manage and exudes a sporty and cool look. The other popular choices are knits and comfortable cottons like gauze, seersuckers, poplins and cambrics. Opt for fabrics which can breathe as you want to be comfortable wearing these and not sweating inside them!
Accessorize right:
Flip flops, sandals, flats, heels and even sneakers and colorful canvas shoes look great on the casual jump suit styles. You could team this look with hobo style big, colorful hand bags, a pair of colorful sunglasses and some interesting hair style such as a top bun or a whacky braid. Use interesting hair accessories such as clips, bands and hair braiding. Keep your make up and jewelery minimalistic so as to complete the look.
Consider investing in jumpsuits this season for a special event, as they promise to be a mainstay in the fashion world. Remember the tips given above. With the appreciative glances that the outfit is sure to fetch you, chances are you will be heading to the store very soon for buying another one!