DKNY is a brand whose forte is its versatility. You can pick up a single piece from the brand's collection and team it up as you like: Cute and casual or rocker chic. And who better to inspire us than fashion icons Kate Bosworth and Rihanna. Both the hotties teamed up a DKNY shawl collar cardigan and gave it a look which was distinctively their own. While Bosworth looked casual chic, Rihanna rocked a biker babe look complete with a fedora hat. Check out our analysis of the celeb styles and take your pick!
Kate Bosworth: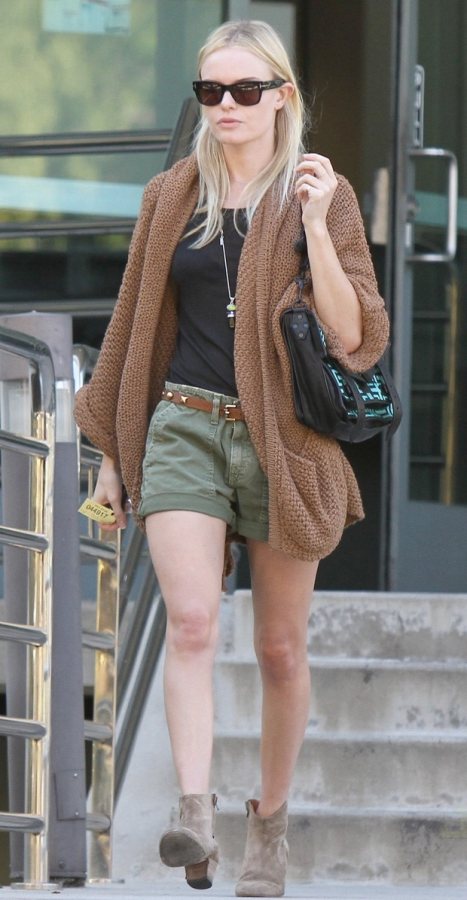 The Superman Returns actress made a street appearance recently in Los Angeles wearing the brown DKNY cardigan. She teamed it up with dark grey suede ankle boots and a pair of Marc Jacobs Retro Sunglasses. The colour palette was very muted and monochromatic as she wore grey roll up shorts and a simple black tee. Accessorizing was minimal – jus a narrow tan belt clenched her petite frame.
How to get the Kate Bosworth look:
Bosworth wears DKNY Shawl collar cardigan but if that does not suit your pocket, you can go in for cheaper versions available at various retailers. Keep the length long and the colours muted. Go in for loose fits and voila you get a Kate Bosworth-ish style.
Those ankle dark suede Aerolite boots Kate sports are absolutely gorgeous. You too can go in for similar grey or dust colours.
Wear short earthy toned rolled up short with a basic tee underneath your cardigan.
Let your hair loose and allow it to fall over your shoulders
Pair up with some broad rimmed shades, narrow belt and minimalistic jewelry to get your favourite style icon's look.
Rihanna: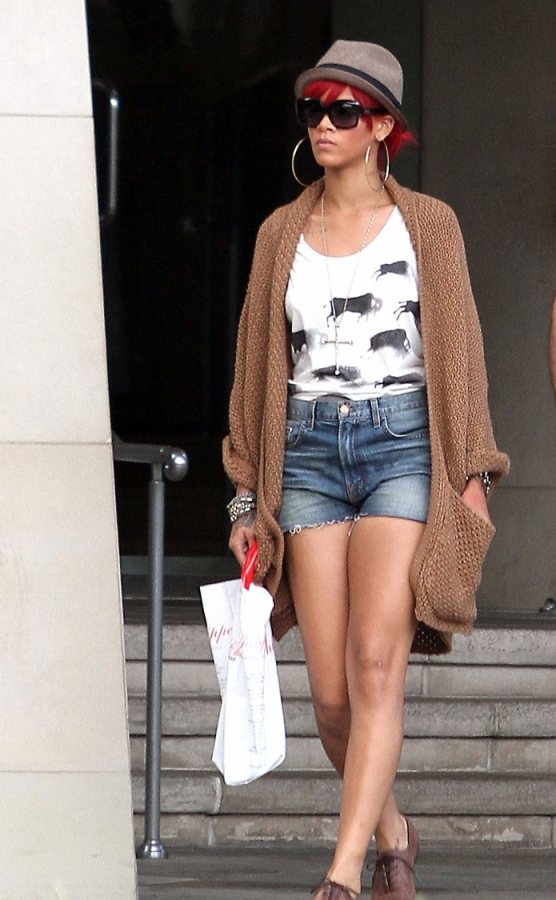 Trust Rihanna to add just the right bit of edge to any outfit she sports. The DKNY cardigan was no exception as the 'Umbrella' singer took a very sophisticated piece of clothing and incorporated it perfectly in a rocker look ensemble. The R&B star was spotted with her bodyguard in Beverly Hills California as she rocked a mismatch look done just right.
She wore denim high rise cut-off shorts by J Brand "Farrah" along with a white tee. Her accessorizing was a little grunge as she wore multiple bracelets and large hoop earrings. She completed her outfit with a pair of dark tan flat oxford shoes, broad rimmed sunglasses and a fedora hat over her blazing red hair.
How to get the Rihanna look:
Go for a laid back and very casual look
You can choose a pair of cut-off denim shorts. High-waisted and stone washed are good options
Wear a singlet in white or other pale tones. Torn and tattered options will add to your look.
Try dark tan or brown oxfords. Tie shoes look delicious with this attire.
Accessorize as much as you like. This look is about huge earrings and chunky bracelets.
Pair up broad rimmed sunglasses and top it off with a fedora hat!
So which celebrity carries the cardigan the best? Leave a comment and let us know!