If you thought thigh high socks were only for the school going girls, think again! Not only are thigh high socks a great way to keep yourself warm during winters, it is turning out to be one of the most sophisticated methods to instantly glamorize your appearance.
Like the name suggests, thigh high socks are socks which reach your mid thigh. They are thicker than stockings and unlike stockings have stretch all over and hence do not need garter belts or suspenders to be in place. No wonder, they are more comfortable than the stockings and hence definitely more popular!
How to choose the colors, patterns and materials of thigh high socks
You will be surprised at the variety of colors and patterns that are on the offing for thigh high socks. From solid colors to stripes, patterns and argyles thigh high socks are available in a vast variety of colors, patterns and thickness.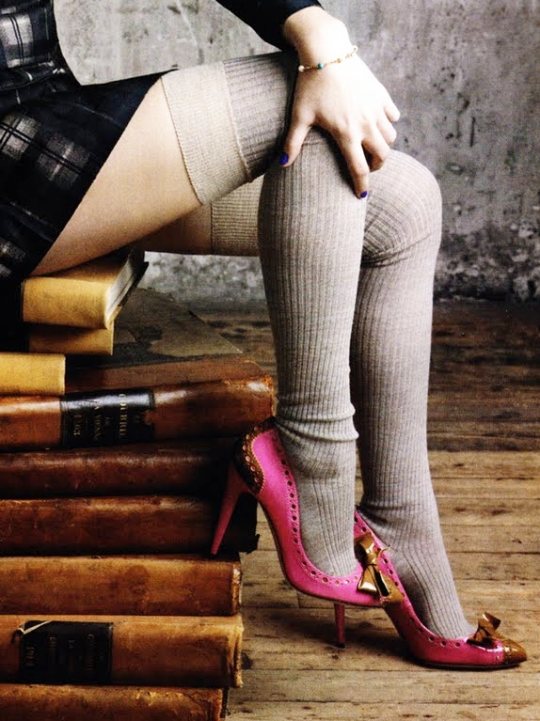 What you decide to buy will predominantly depend upon the weather and the occasion that you plan to wear these at. Summers would mean, thigh high socks in finer breathable material like stretch cotton and lighter colors and less busy patterns. Thigh high socks for winters would be in warmer and thicker knits preferably with wool to also serve a functional purpose of keeping your legs warm. The most popular patterns for winters would be stripes and argyles and bright colors.
Thigh high socks are a great fashion accessory, and being an accessory, will need to be coordinated with the rest of the ensemble. So, if you are sticking to neutral tones for the main ensemble, you could add a touch of drama by wearing interesting patterns, stripes and bold colors as thigh high socks.
On the other hand, if the rest of your ensemble is quite busy and flashy, try to tone down the look by wearing neutral or even solid, single color socks. Wearing striped thigh high socks with an all over floral printed tunic is akin to looking like an over decked Christmas tree!
How to decide if you could carry off the look ?
Okay, this look was here to relegate to be worn by school going girls, however, with women becoming more and more fashion conscious, this look is okay to be worn by women of all ages and sizes.
Straight skinny legs look great with all kinds of thigh high socks.
Thigh high socks are great for women with not so shapely or muscular legs too as the socks actually tone down the appearance. Try and avoid socks with horizontal stripes and pick vertical stripes instead. Also, prefer darker colours over lighter colours as darker colours have a slimming effect.
What to wear with thigh high socks / over the knee socks?
Thigh high socks normally look great over casual attire. You could wear thigh high socks over: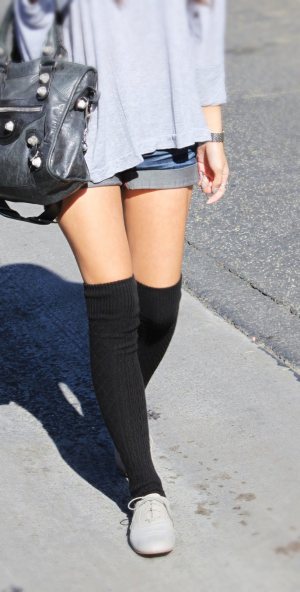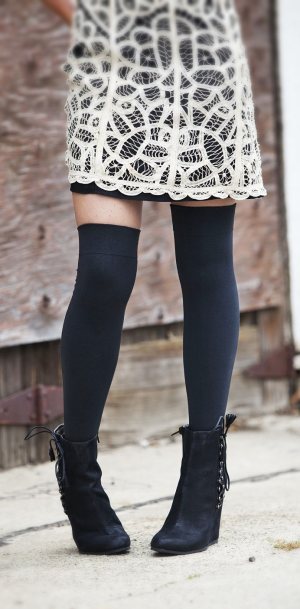 Miniskirts and shorts are the most popular choices to show off this look. Team it with a long satchel and flat pumps and you are good to attend college.
If you are not too comfortable with the shorts and miniskirts look, you could team them  with  slightly longer skirts and shorts such as knee length skirts and even dresses. While skirts could be straight and not too fitting at the bottom, the dresses look great when they are a little billowy and flouncy. A little peek-a-boo showing off your thigh highs is a great way to enhance the appeal of the wearer.
Another great way to wear these is to layer them. You could wear a pair of pattern thigh high socks over solid contrast colour tights to keep warm as well as create an interesting and new look. Imagine the multiple different wardrobe options you can have by teaming different thigh high socks with different colour leggings!
You could choose from a vast variety of shoe styles which you could wear with these socks. Choose close toes, flats for a sure shot winning look. You could choose from flat pumps to sneakers, to knee high or ankle high flat boots. Avoid wearing anything with high and pointed heels as the look of thigh high socks is essentially chic casual. Floaters , open sandals should also be avoided as they could be too casual.
How to take care of your socks?
Your thigh high socks can stand you in good stead if you take good care of them. As most of these socks would have the stretch yarn in them, avoid washing them in very hot water and wringing them to dry. Following other wash care instructions as labelled by the manufacturing company should make you the happy and proud owner of this evergreen accessory for many years to come!