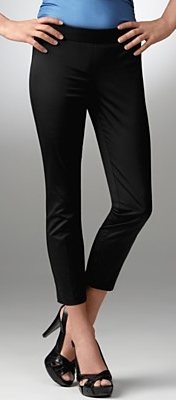 Cropped pants, also sometimes known as capris are pants which are shorter or 'cropped' than the regular ankle length trouser. They may reach just above the ankle or at times they may be as high as just below the knee. Perhaps the most common lengths of cropped pants that are worn are the mid calf and just above the ankle length.
You may often be left wondering if this style will suit you or what is the length of cropped pants that you should wear. In this article we discuss, the different variations in terms of styling and cuts that are available in the cropped pants, the body types that they suit the most, what to team the cropped pants with and what are the definite must haves in your wardrobe for Spring 2011.
Styles and cuts of cropped pants – based on your body type
Contrary to popular belief, cropped pants are great to be worn for all seasons – spring, summer and even winter and for all kinds of occasions – formal as well as casual. However, if you do not choose the right cut and length based on your body type, you may end up highlighting the not so flattering parts of your legs. A wrong cut and length of cropped pants can actually make your already broad calves look broader; you may end up looking shorter than your actual height and your bottom may end up looking bigger than it actually is!
We already know that cropped pants come in various lengths, what is essential to also know that they also come in various leg shapes – you have the comfortable, relaxed straight leg fit, or the flared leg fit and even the cigarette or pencil fit. How do you decide which one will suit you?
The ground rule is to avoid drawstrings or elasticated waistband unless you are a size 0, a toddler or are expecting. The drawstrings and/or elastic at the waist, tend to gather at the waist, adding pounds to your waist and bottom and making them look bulky. Choose pants with regular waistbands with a regular button / hook and eye closure.
Cropped pants (Capri) for tall and thin / hourglass figure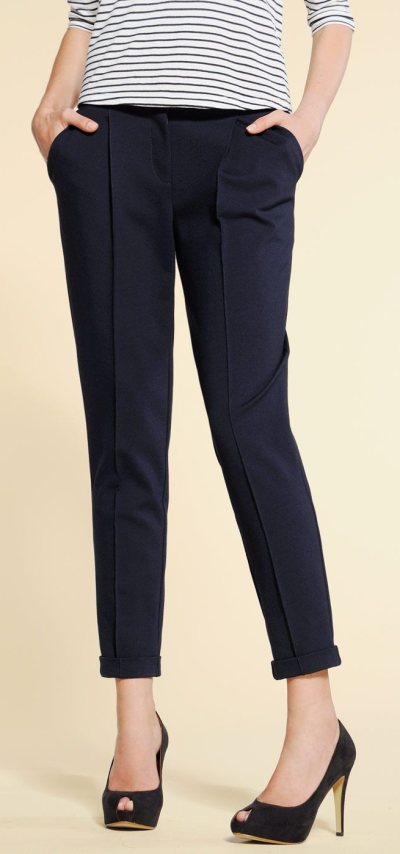 If you are blessed with an hourglass figure, with few problem areas, stick to flat front pants with tapered legs. This look works almost for everyone as this cut adds height to your frame without showcasing any of your problem areas. If you are tall and thin, you would also be amongst the few lucky ones who can carry off flared legs and cuffed legs as well. Since you do not have to worry about any problem area, all lengths of cropped pants should be okay. You could play around with hems as well. While, the best style is to have straight or tapered but neatly folded hems, you could however, also opt for folded/cuffed tapered hems.
Cropped pants / Capri for petite and plus size
If you are unsure of being able to carry the tapered look, or are a petite frame, or if you are a plus size having a problem of heavy thighs and calves, choose straight legs instead. Prefer wearing capris reaching below your mid calf or just above ankle. Length is important, as remember that wherever the pants end, that body portion is accentuated. Do not opt for flared legs as this usually accentuates your heavy ankles, thighs and is visually height stunting. Opt for straight neatly folded hems and avoid any design feature like ribs or cuffs at the hems as this will bring attention to your calves or ankles – wherever the pants are tapering off. Team the look with not too fitted top reaching mid hip, to create a slimming look.
What to wear with cropped pant / Capri and where to wear?
Crop pants for casual occasions

Cropped pants in shorter lengths are a great wear for spring, and are mostly worn for casual outings. They are a great change from the shorts and very feminine too!
For casual outings team the pants with tee shirts, vests and tunics. Always remember that if the pants are loose, do NOT wear loose tops as the look will be too casual, plus will add a few pounds to your frame. Wear well fitting tops, vests and tunics instead, over loose pants to balance the look. Team the look with flat sandals, gladiators or pumps. A lot of people prefer wearing sneakers with their cropped pants. Not my personal favorite though, the 'sneaker' look is  okay for a casual walk or going to the market.
You could choose bright colors, checks, geo and floral prints for casual occasions.
Crop pants for formal occasions

Just above the ankle length, tapered legs cropped pants look chic and great for formal occasions. Team the look with well fitting ( not too tight) tunics and blousons. Add on a light weight jacket or a colorful scarf to complete the look.
Alternatively, you could also try the baggy cropped pant with hemmed cuffs to a semi formal event. When you are wearing a baggy cropped pant, team it with a fitted top or tunic to look chic. Avoid loose tops as the look could instantly change from classy to trashy. You could wear slim heels if you are attending a formal do. Avoid chunky, overdone shoes, if you are a petite frame as not only do they look over the top, they also make you appear shorter that you actually are. Flat ballerinas look great for formal occasions as well.
Stick to neutral colours such as khaki, beige, black and shades of white for formal occasion. Avoid prints and patterns for strictly formal events.
Cropped pant trend for spring 2011



Cropped pants are touted to be big for spring 2011, as showcased by designers D and G, Emilio Pucci and others in their shows. The look that will rule the catwalk and the fashion scene is the tapered legs look.
Designers are also swearing by the gaucho look, which is the loose/ relaxed fit at the hip tapering down to be cuffed  hem look.
While a slim silhouette will carry off the above looks well, you too will be able to carry off the look if you team your cropped pants with the right top and shoes and a matching attitude. After all, if you are confident of yourself, anything will look great!