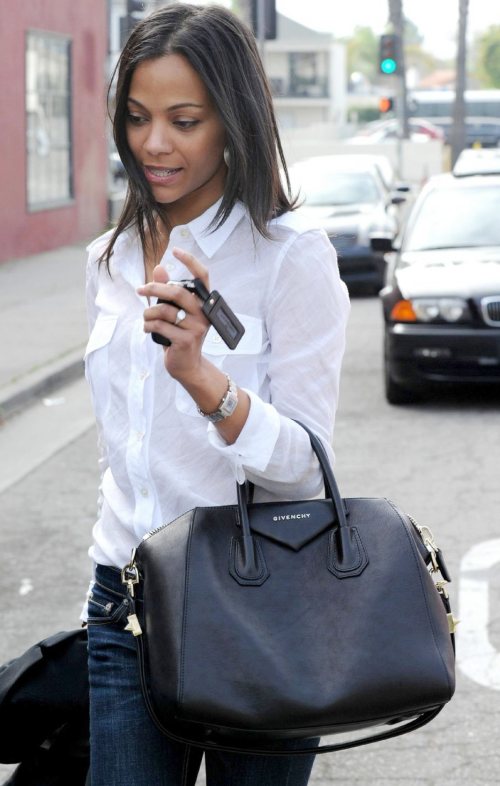 Zoe Saldana was seen at XIV Karat Beverly Hills in a look that couldn't have gone wrong. Opting for a crisp white shirt, bell bottom jeans, black high heeled shoes and the unmistakable black Givenchy bag, she made her semi-formal look complete. Zoe went for a few accessories like her silver hoop earrings, formal wrist watch and navy blue muffler wrapped loosely around her neck. With a black jacket in her hands, she looked ready for a day out on the streets of California. The simple and smart outfit looked even better because of the actress's narrow built. The hair was let lose and straight.
Semi formal clothing works equally good for both formal and casual occasions. Denims worn in a slightly formal manner are a really good choice while going out shopping or a meeting outside office. Zoe has been seen in variations of her semi formal look these days in Beverly Hills and each of these looks is carefully assembled to be completely chic and stylish.
How to rock a semi-formal look a la Zoe:
If you are wondering how to make yourself look like this lovely Avatar actress, here are some details you should consider –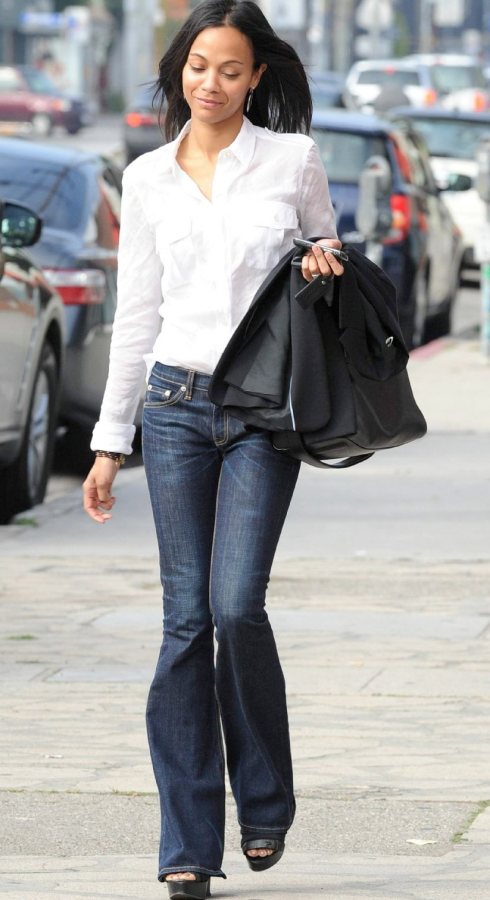 While choosing your shirt, go for a full sleeve option preferably in cotton. Make sure the sleeves are of the exact length you desire.  Do not go for an extremely fitted shirt as it might make you look uncomfortable in them. Semi formal clothing is also about comfort and ease so make sure you go for a shirt that does justice to your figure but leaves enough space for you to breathe. The shirt shouldn't have a very structured crease and should fall freely on you. Keep them casually tucked in.
Go for low waist jeans that are either bootleg or straight fit. You might be able to carry off a bootleg better if you are tall. If not, opt for a straight fit silhouette. For a look like this, what you should avoid is skinny jeans or jeggings.
Accessories are kept to a bare minimum. You will notice Zoe doesn't even have a belt on though there was scope for it. This is done to stress on comfort and also to avoid taking all the attention to it. Any accessory you use on white shirt and basic denim has a tendency to appear prominent so if you are confused about which ones to choose, its better to avoid using something that might not blend in well. A plain muffler during winters or spring is ideal or a scarf for summers. Also, take care while choosing your jewelry. The design should be as simple as possible. A plain ring and earrings will do the trick.
Footwear makes all the difference in this look. Make a conscious effort to wear heels, not necessarily pointed but something considerably high. You can try wedges or pumps that can be closed, with straps or peep toed. Heels will make your gait more feminine and elegant.
The bag you carry should reflect your taste in the subtle and classy. So go for a tote bag of good quality and plain exterior in neutral shades such as black, brown, grey or beige.
Image: celebritieswonder