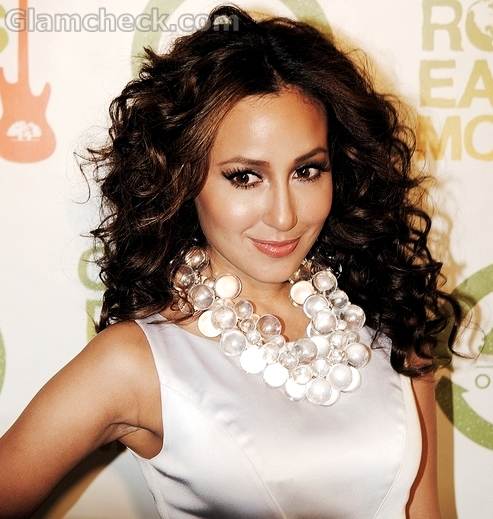 Adrienne Bailon : Curly Hairstyle for medium length hair
Every coin has two sides to it, similarly fashion can be considered in the same league. Though one side is to makes fashion statements and let the herd follow it or do your thing and let other people take notice of you and appreciate your sense of boldness.
One of the people to follow the other side of fashion is singer, actress, dancer, in other words a pool of unimpeachable talent, Adrienne Bailon. Her versatility with fashion comes across as a very interesting part of her. She considers Jenifer Lopez as her role model and admires her as a person when it comes to super cool music and amazing fashion sense.
Seen here at the 2nd Annual Origin Rocks Earth Month Concert at NY, she was seen in a very different avatar. The most noticeable thing about her was the crazy experimentation she had done with her hair. The usually straight and neat hair had taken a curled look.
It usually comes as risk factor if you don't inspect your face structure and go for the curls. But in her case it works completely in her favor. Her dark brown tone with accents of deep golden enhances her curls and gives her a completely fresh look. The subtle make up with the main emphasis on eyes and high cheek bones compliment the whole look. Adrienne's oval face structure allows her to experiment with a lot of hair style which a lot of people feel less advantageous to.
If you get to know how and what works well for your face and body, then you can go crazy experimenting with your hair. Make it straight, curl them, perm them and what not. Just know your look well and you too can work wonders.
Image: P R Photos