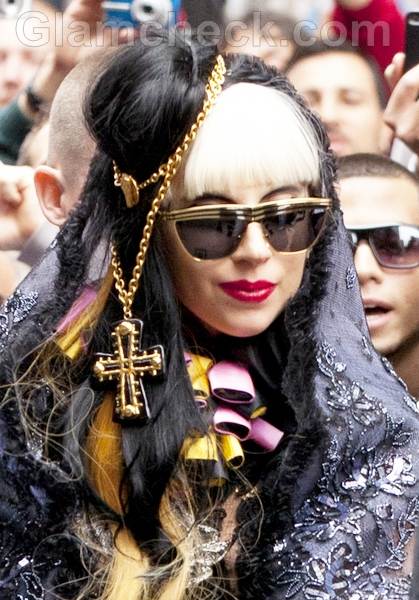 Lady GaGa did not disappoint her fans when she turned up in her trademark style for her interview with David Letterman, and changed her outfit twice at that.
She arrived at the venue in a see through net concoction and veil that spelled "bride meets nun".

Lady GaGa fashion
The flowers added to the bride look, while the golden gross chain accentuated the nun feel. She chose to keep her eyes shaded with black and gold glares. The scarlet lips were a nice touch and her dainty anklet gave a delicate edge to the lethal footwear.
For the show itself, the "Poker Face" singer chose to wear a biker jacket with umbrella shaped shoulder pads.

Lady GaGa at David Letterman Show
Leather bikini, garter belts and boots completed the ensemble and a mask added to the mystery element. GaGa chose to sport hair extensions, and one could see strands of her, now favorite, comic book blonde in it.

Lady GaGa
Her red lips were in tandem with her manicure and complemented the black attire. She played up her nails with studs that completely matched her gold bangle.
Only GaGa can make such a smooth transition from confused bride nun to biker chic in a mere matter of hours.
Image: P R Photos