Birth of The Babydoll Dress
In 1956 Carroll Baker featured in a controversial black comedy – BabyDoll. Besides being a super hit, the movie also started a fashion phenomenon – the Babydoll dress. Something that initially was intended as nightwear made its way to Haute Couture with flamboyance. The Babydoll dress first came into fashion in the swinging 60's, withCarroll Bakerportraying the role of Baby Doll – a thumb sucking, still sleeping in a cot 19 year old baby-girl in the now famous Babydoll dress.
These dresses are slips or negligees that are just thigh high, usually exposing the underwear, and are mostly made in very soft, translucent materials like nylons, silks or chiffons. The Babydoll dresses are associated with childish sexiness. They came back with a bang in the 90's with Alicia Silverstone and Courtney Love. 
 They are often categorized as adult wear and are also found in the lingerie sections of most high fashion brands like Victoria's Secret.
Babydoll Dress : Things to keep in mind
These dresses are easy to wear and don't need too much of an effort or polishing. The Babydoll dress highlights your best assets. So if you get it right it will make you look like a million dollars. They are feminine and girly yet graceful.
There are certain things one should keep in mind while adorning this dress:
It is a common belief that that the shorter your hem line the taller you look. Ou Contraire it might end up making you looking like a tent.
Remember to not go over the top with the bling and the jewellery. It tends to take away from the costume and look overdressed.
Types of Babydoll Dresses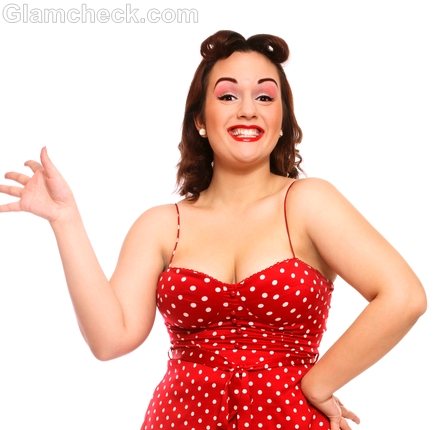 There are several types/ styles of Babydoll dresses. They are versatile and easy to accessorize.
They come in different cuts to suit different tastes and body types – very loose, loosely fitted, short, mid length, pleated, slitted. They have various designs for sleeves too – long sleeves, puffed or balloon sleeves, spaghetti straps or noodle straps.
Babydoll dresses are made to flatter the woman's body and take focus away from the problem areas.
A Babydoll dress mostly has details on the bust in the form of lace, embellishments, ribbons which make them look very feminine, while giving them childish innocence.
The bust is often called a 'bralette' to highlight the cleavage. The trimmings attached to the garment – bows or ruffles – give it a delicate feel. The short dress flows freely and loosely below the bust. These dresses are considered very sexy and chic. Though, you need to be careful to not wear these short, flowing dresses on a windy day, as they could cause much embarrassment.
These short, flowing dresses are now a hit with most starlets as daywear.
The materials generally used in these numbers are very feminine. Soft fabrics like georgette and satin are used to make the attire look womanly. They are very summery dresses and airy.
Babydoll Dress as Lingerie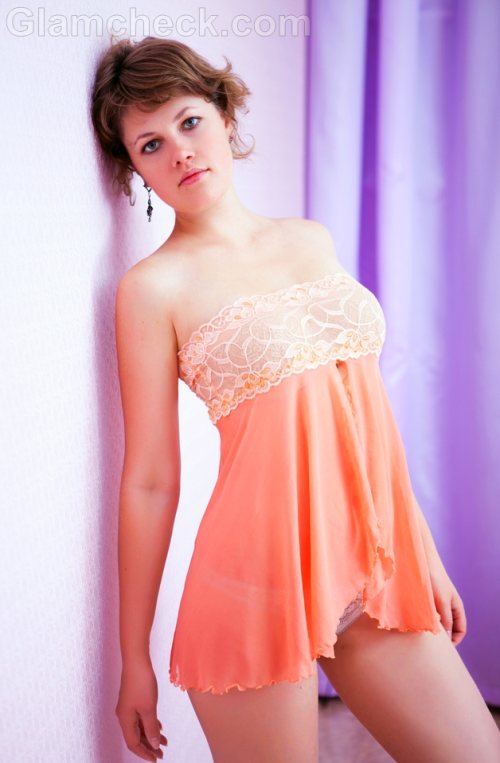 The original concept of the Babydoll dresses was nightwear or lingerie. They are till date very popular as undergarments. They are incorporated as a part of lingerie in all big brands. Lace, ruffles and ribbons give it a sexy, feminine and sensual feel. Babydoll dress makes a woman look very desirable and that is the purpose of the dress. They often have a slit in front and come with matching underpants and stocking, in the lingerie section. Fur is used to add delicacy to the garment.
Babydoll dress for different body shapes
Tall and Lean
Babydoll dress goes exceptionally well with tall and lean body types. You could go for a high neck with ruffles, a plunging neckline (bralette style), or the bustier with prints, sleeveless or spaghetti. Since you are already tall and lean you could go for the minis with the dress ending mid thigh or higher to show lots of leg. Here you can choose flounce, girth and bounce. But be sure to choose the dress carefully or before you know it instead of C for Classy you start looking C for Crass.
Petite and curvy
For the petite and curvy, you could choose soft satin fabrics that accentuate your assets and bring out the best in your figure. Trimming like bows and ribbons give the outfit a distinct look. Detailing gives a grown up feel to the look and even with the small stature you look graceful, very elegant and fresh. Try spaghetti or satin band shoulder straps. These are very flattering and look delicate.  Avoid printed material as it makes you look smaller and boxy.
Plus figure
If you are not skinny, wear a single tone babydoll dress with a straight cut, but, not too loose. Balloon sleeves tend to give this plain, straight cut a dressy feel. This flatters your curves and the monotones make you look slimmer. The hem should be about 3-4 inches above the knee to give the impression of height. If you do not want to show off your legs there is an option of wearing leggings or bright coloured stockings under the dress that make it look very funky. The trick, here, is to choose the ensemble carefully and match the leggings to camouflage your flaws.
Accessorizing Babydoll dress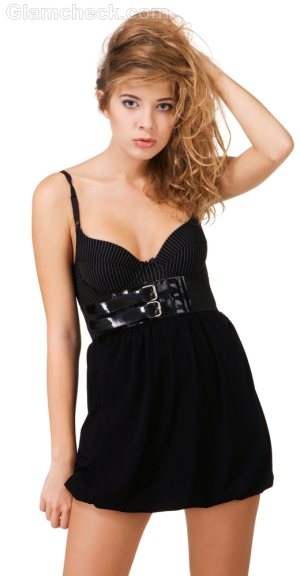 Team your babydoll dress with a pair of flat pumps and a tote bag for a casual and relaxed look. And for a fancier outlook you could wear high-heeled pumps, long, metallic beaded necklaces, clutch bags and fancy hair-bands.
Get the back-combed coiffeur and the dramatic long eyeliner to get the perfect 60's look.
Try broad leather belts with prominent buckles for the party look and to add an edge to the garment.
Thigh high stockings add to the glamour quotient. They are a classic match for the Baby Doll Dress.
The Babydoll dress is a perfect pick for a summery day. Classic designs by Balenciaga and Anna Sui of the Babydoll dress are now available at brands like Miss Sixty, Promod, Kazo, etc. Make a statement, by picking up a Babydoll dress for you, and get ready to turn heads.
Image: Shutterstock