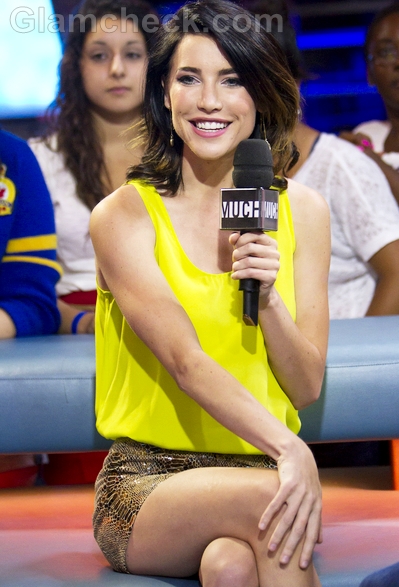 The snakeskin trend had never really gone out of fashion, or faced a long absence from the runway – what with it showing its presence at the Christope Josse Haute Couture Fall/Winter collection in Paris last month. However, people are usually a bit wary about donning a snakeskin outfit in fear of going overboard – after all, even a superstar like Jennifer Lopez makes snakeskin trend mistakes. However, actress Jacqueline MacInnes shows us how to incorporate the snakeskin trend in the right way.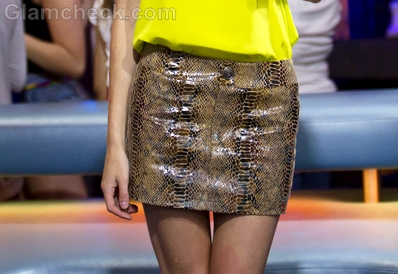 MacInnes made an appearance at the CTV Queen Street Headquarters in Toronto for New.Music.Live in a snakeskin print short skirt and a lime green tank top, and she looked downright smart in it. She also showed us how to wear the snakeskin trend in the right manner.
Snakeskin trend style tips that can be picked up from Jacqueline McInnes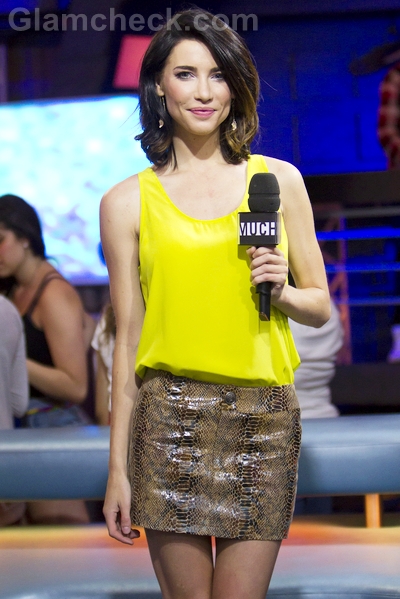 Focus on wearing just one piece that has a snakeskin print. If the top has such a print then keep the lower part of the outfit simple or vice versa.
If it is a one piece attire – like a snakeskin print dress then keep the makeup subtle and the footwear too. Don't bling it up too much.
You can also keep the outfit snakeskin print free and concentrate on stilettos, instead, that have python designs. There is something rather sexy about snakeskin print footwear.
If you are not too comfortable about wearing an outfit that has snakeskin print but still want to follow the trend, then you can always wear accessories that have this type of a print. You can also opt for a snakeskin manicure, and if that is too much for you – then simply get your manicurist to imitate the snakeskin look with the use of right nail colors.
So, go ahead and sport the snakeskin trend in the right way like Jacqueline MacInnes, and you do not have to worry about going overboard.
Imge: P R Photos