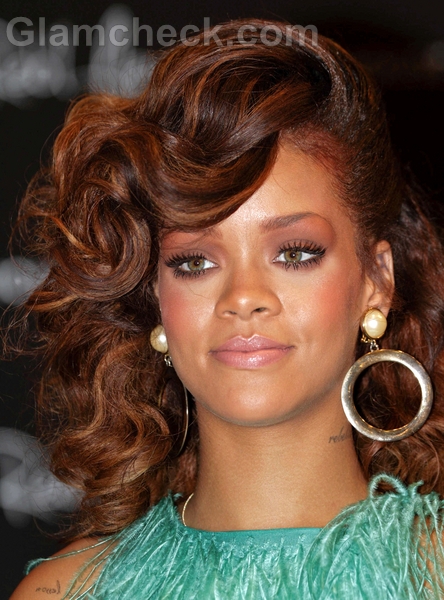 When Rihanna launched her new fragrance, Reb'l Fleur, last week – we were delighted. No not because we loved the perfume, we still have to get our hands on the bottle, the reason was her hair.
It seems that Rihanna has chosen to leave her red hair days behind for the time being. She is back to a delicious chocolate hue – which has a range of sub colors of brown in it. What we also liked is the dramatic side swept curly hairstyle that she sported – in fact; Rihanna takes this style to a different level altogether.
Rihanna has always been a stalwart when it comes to hair experimentation, and she shows us yet again that she is the trendsetter with this hairstyle – which is a perfect mix of vintage, big hair and side swept curls.
Though of course, you might want to visit a beauty salon if you want to copy Rihanna's side swept curly hairstyle, unless you are a complete pro at DIY hair. In that case, we would love to hear from you, about what is the best way possible to get a gorgeous style like this at home!
And, yes, though it is the hair that is the focus of our attention here – do take a look at those eyes! Now, that's a stunner.
Image: P R Photos