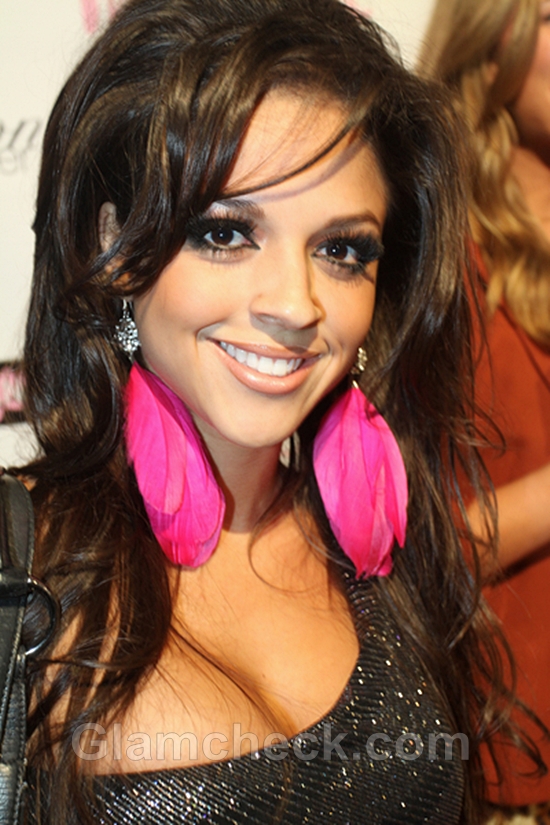 Venezuelan model Andrea Gomez was very in vogue at The World Networks launch party on 19th October which was held at the W. Hotel in Los Angeles, California.
The dusky beauty teamed her shimmery one-shoulder black dress with a pair of hot pink feather earrings. The dress itself had a metallic feel to it. And we all know how tough it can be to find suitable accessories for shimmery, metallic clothes.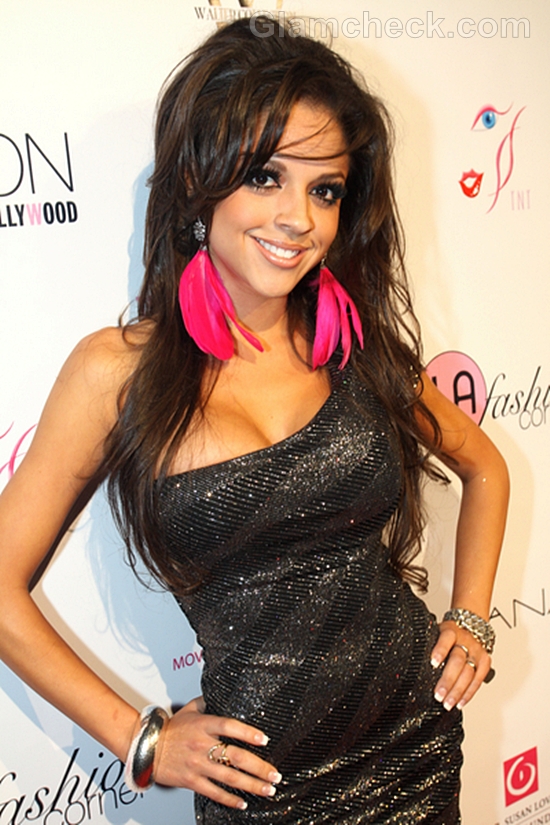 Andrea's use of the casual feather earrings with the formal dress is ingenious. The solid color of the pink earrings is perhaps what makes it more acceptable as an accessory for a gown. Plus, she's young and hot and the earrings state loud and clear that the girl is fun and likes to have a good time. So far, no celeb has been bold enough to wear feather accessories at a formal event unless they were going with the Bohemian look. Andrea's gumption is sure to see this trend being emulated. Kudos, Andrea, for showing us how it's done. But she could have gone easy on the other accessories – the rings and the different bracelets on each hand were a bit much.
Get The Look
Feather accessories will give your outfit the drama it needs to really stand out. Feather earrings are very fashionable as they make it look as though the color is actually an extension of your hair. You can wear feather earrings, feather neck pieces and feather hair accessories for a day out once in awhile or at a themed party. You could wear your cool feathers all the time, but you will personally get fed up of them and the look is best if not repeated often. It's also prudent to avoid feathers at work unless your workplace has a casual dress code or your boss is into fashion. When wearing feather accessories, make sure it is the only piece of your ensemble that attracts attention, otherwise your look will be too busy.
Image: P R Photos