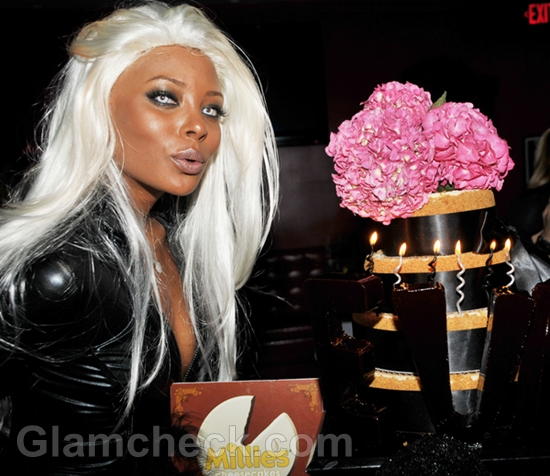 Model Eva Marcelle is starting her birthday celebrations a little early this year. Knowing that folks would be too caught up in Halloween on her real birthday on October 30, she decided to throw a pre-Halloween birthday bash at the Phillipe Chow restaurant in West Hollywood, California on October 26. And what do you think the theme of her party was? You got it – Halloween. Eva and her guests were in costume for the evening. Quite a treat for the staff at Phillipe Chow. But the highlight of the night was Eva herself.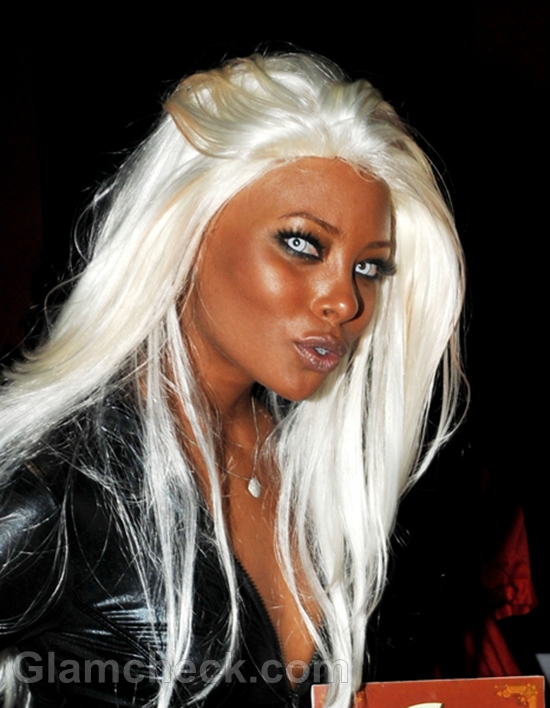 Eva transformed herself in keeping with the Halloween spirit. Her choice of costume was not recognizable, but you have to agree that it was extremely sexy. The TV star wore a a full-sleeved black leather top with the zipper left open almost all the way to her waist, exposing a a toned chest and admirable cleavage. She paired this with a pair of tight black leather pants accessorized with a black belt. But this was still not enough black or leather for Eva Diva. She also had on shiny black leather gloves that came up all the way to her elbows, and  high-heeled, above knee-length black leather boots. For a costume that was so covered up, it was pretty hot.
As if the body-suit was not tantalizing enough, Eva went all out with her hairstyle to really turn up the heat. She wore a peroxide blond wig that was almost white. The long hair was left loose – slightly wavy voluminous tresses falling down her shoulders and over her chest in a very provocative way.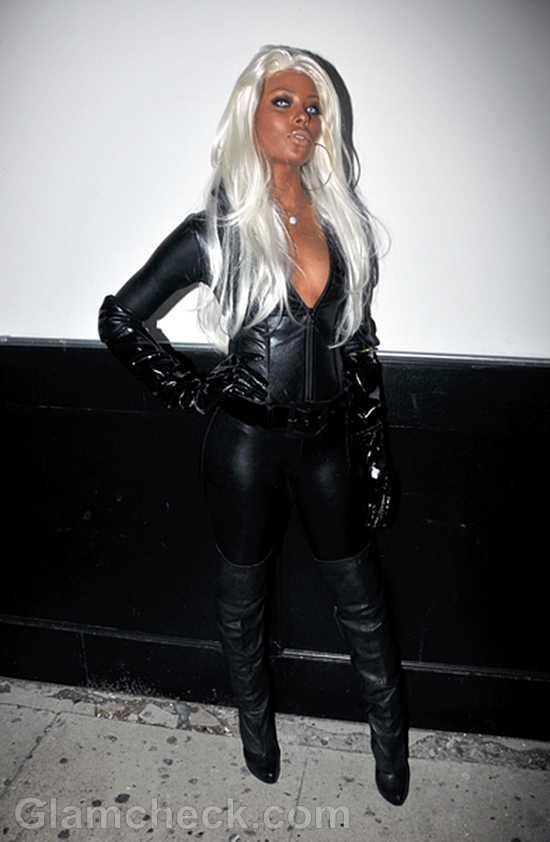 She pulled out all the stops for her makeup too. The focus of her face was some very dramatic eye makeup with false eyelashes – she even went so far as to wear almost-white colored lenses that gave her a really spooky look. Her skin was darkened with some tan makeup, and a shade of dark bronzer defined her cheekbones. She completed her look with soft lip gloss.
Some jewelry added just the slightest hint of sparkle to her haunting costume. She wore over-sized hoop earrings and a pendant that made the plunging neckline even more prominent.
Now we still do not know exactly what her costume was about. She was either supposed to be Storm from X-Men or a variation of Batman's Catwoman or maybe some made-up superhero we have never heard of. Whatever it was, we don't really care. Getting to see her in this enticing persona was enough to get us thinking about how we can spice up our own Halloween costumes.
Get the Look
Halloween allows you to turn yourself into whomever or whatever you want. So all those fantasies or dreams you had as a child can come to the fore. Do not hesitate in the least to go wild and come up with a costume that will make you the center of attention. Who knows, your outfit may get you noticed by bosses at work or by the cute guy at the bar you always go to. Take a chance and let the inner child, diva, or temptress out this coming Hallow's Eve. Even if you mess it up, you can always say it was a part of your costume and you meant for it to be that way.
Image: P R Photos