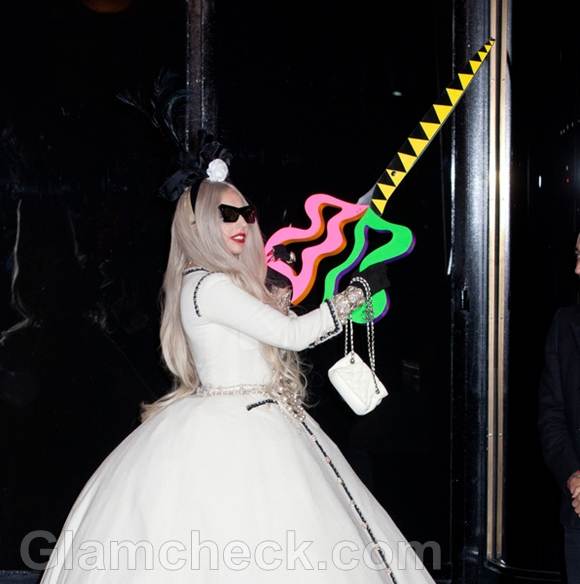 Pop star Lady Gaga inaugurated her very own Gaga's Workshop at Barneys New York in New York City on November 21. And as always, the lady did not disappoint with her choice of apparel for the ribbon cutting that marked the opening. In keeping with the holiday spirit, the 25-year-old wore a custom gown from Chanel which made her look like the angel on top of the Christmas tree. Well, a cutting-edge, more modern version of an angel, anyway.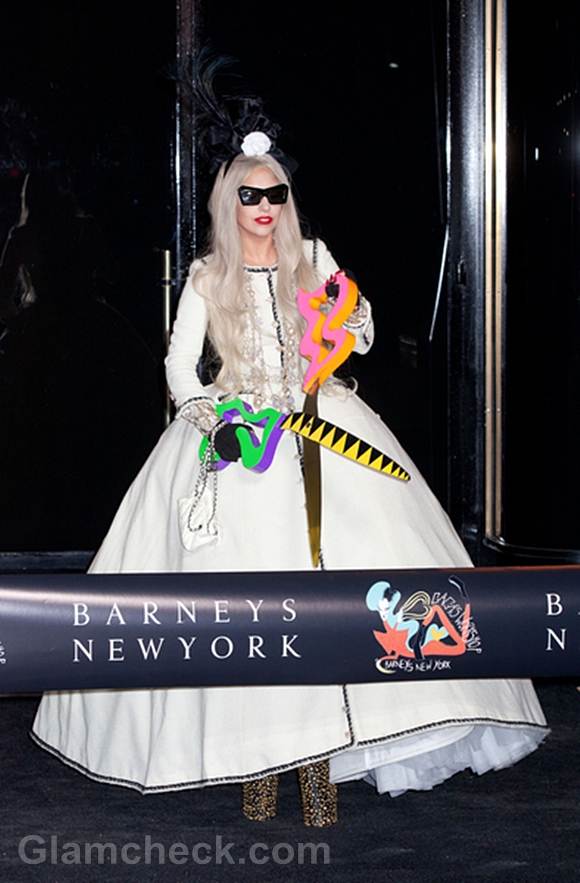 The Judas hitmaker wore a white, full-length, full-sleeved Victorian style gown with black trimming on the sleeves, collar and down the front of the dress, and a ballooned out skirt. She accessorised with rope up on rope of pearls in different colors and sizes, chunky bracelets on both wrists, and a pair of black gloves with the tips cut out. All the better to show off her witch-red pointed nails – a little unsettling, but she makes it work.
Gaga carried a white Chanel handbag with a black camellia accentuating it – a flower she seems to have favored for this outfit since she also wore a head piece with a prominent white camellia in her long, blond hair which was left loose and came down in wind-blown waves.
Of course, there has to be a touch of Gaga's trademark outrageousness in there somewhere, which was apparent in the platform heels that she wore. We can't really see the shoes because the length of the dress covers them up, but there's still a good half foot of the heels showing underneath. Now that's what we call height enhancement.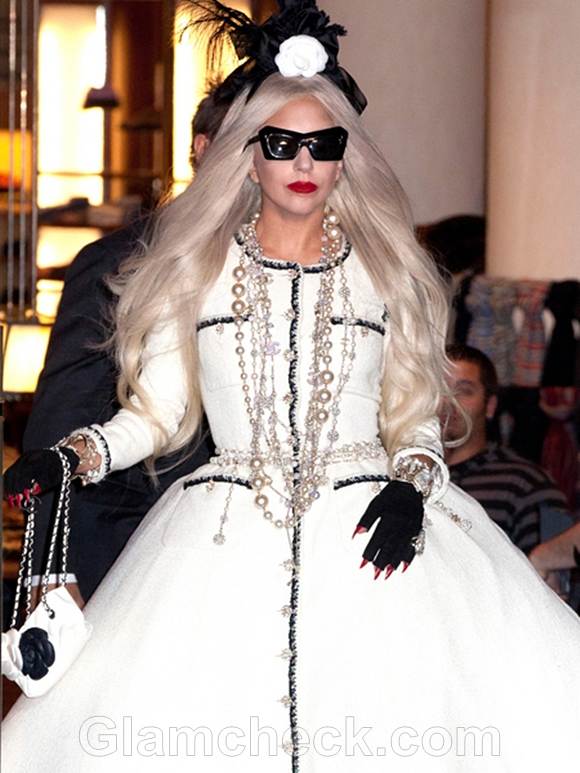 And finally, we come to the makeup which was mostly natural except for a slash of bright red on her lips. She completed her whacky Christmas-themed ensemble with a pair of sunglasses.
Her outfit makes us want to pull out our Christmas trees right now and start setting up the Christmas decorations. It also makes us think about what we're going to be wearing for the Christmas bashes this year. OK, so we can't all afford to hire Karl Lagerfield to design elaborate costumes for the holiday season. But you can still put together an interesting outfit with whatever you do have in your wardrobe. Think red, green, silver, white, bells, sparkle, shine and glitter, throw in a a few handfuls of fun, and you'll be the belle of any Christmas ball.
Image: P R Photos