Accessories always add the next dimension to an outfit and mostly make for one of the most interesting and eye catchy elements of the look. These form as perfect aids to dramatize a simple silhouette and color as these instantly bring about a change. Of all styles of accessories that exist, each of them have a role to play and each in its own way. Going by typical traits of accessory,  hair accessories not only helping in keeping the mane sorted which is their functionality but adds to the character of the outfit too and that is in terms of aesthetics. Owing to the role that these elements of fashion have to play, the style pick of our day is a Pom Pom Hair Accessory spotted at Francis Montesinos's collection showcased at Mercedes Benz Madrid Fashion Week for Fall Winter 2012.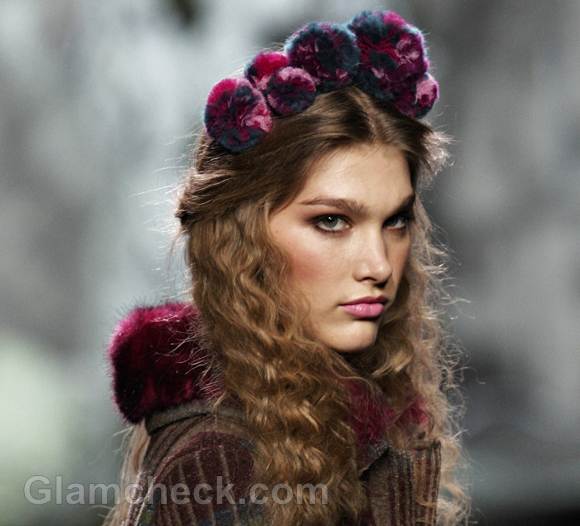 Pom Pom Hair Accessory 
When the deeper tones of color are seen usually taking over Fall Winter, a softness was added to the collection with Pom Pom hair accessory.  An edgy take to the head gears spotted during the season, the hair accessory was formed with poms poms of various colors ranging from blues to wine shades.
An accessory like this which is strikingly different from the usual often is styled best with a simpler version of dressing. Taking cues from the show itself, a thick winter jacket does justice to the mood of season. Wear solid colors with the hair accessory to avoid a lot of movement in the garment.
The D-I-Y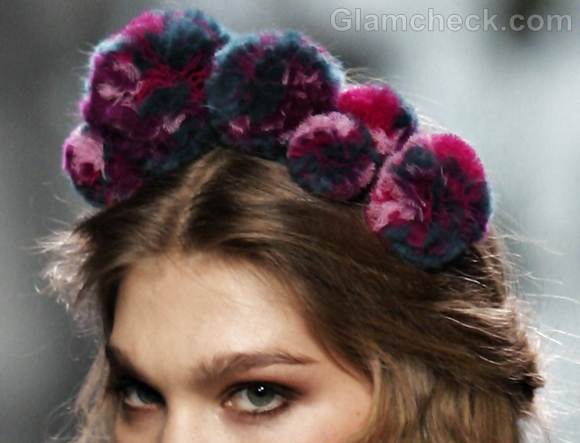 Add fun to the concept of accessorizing by making one for yourself, and in the color tones of your choice.
Start by getting the elements right. One would need poms poms, thread and a needle, a suitable hair band and a fabric or the ribbon.
The first step would be wrapping the hairband with an interesting fabric that also forms the base color. The option of using a hair banad as it is always open.
Choose or create suitable poms poms that have some sort of color story, these could be of same color or contrasting. Choose your style and start attaching these in the band with needle and thread.
Glue these together at certain points for rigidity.
Make sure the poms poms used are of a good quality and finish because untidy ones force a shabby look.
The Pom Pom hair accessory is a fun twist to the usual wardrobe. This accessory might not last the ever changing fashions moods but will definitely do justice to the momentary ones.
Image: Shelly Wall / Shutterstock.com