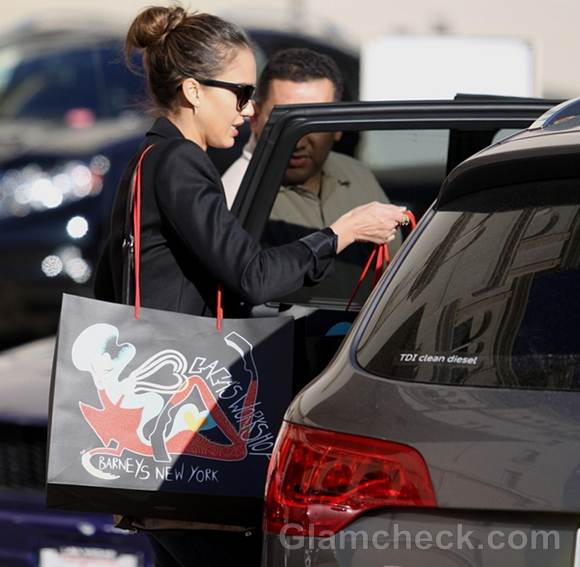 You rarely see a Hollywood star looking relaxed and taking a break from her designer wardrobe.
And if we didn't know her face so well, we would have overlooked Jessica Alba as just one of the thousands of beautiful Californians doing some late Christmas shopping in Beverly Hills. The Fantastic Four star was dressed very casually as she spent her hard-earned money at Barneys New York in Beverly Hills on December 22.
The 30-year-old actress wore simple blue jeans, a white T-shirt, a black jacket, and black and white sports shoes to match the outfit. She also donned large black sun glasses to shield her eyes from the blazing California sun.
Her makeup was natural – almost non-existent – with just a hint of pink on her lips. And her hair was simply tied up in a wonderfully casual bun. She wore a few small pieces of jewelry to add a little sparkle – a pendant, a pair of diamond earrings, and a large finger ring.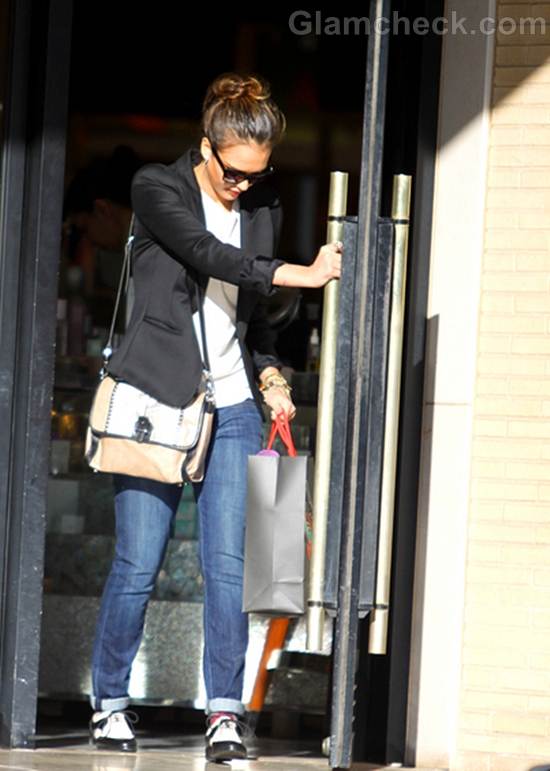 Jessica proves that you don't need to dress sexy all the time to be seen as a sex symbol. She looks lovely even in this simple outfit, and would get second or third looks even if it were simpler.
Get The Look
The charm in this outfit is its minimal use of color and its inherent simplicity. You should have at least one pair of blue jeans in your wardrobe. Plus a simple white tee and a black jacket. This is the most basic you can get while still looking stylish.
You can switch the white T-shirt for a grey one. Or wear a black shirt with a white jacket. If you want more color, you can try adding a splash of it with brightly-colored shoes.
This is a perfect outfit for when you plan on being out all day and want something that is comfortable and will be able to withstand the rigors of a long day outdoors.
Image: P R Photos